Newsletter Sign Up
Stay updated on news, articles and information for the rail industry
Rail News Home
Safety
June 2017
Rail News: Safety
Guest Commentary: Railroads must learn from Amtrak tragedy, implement safety technology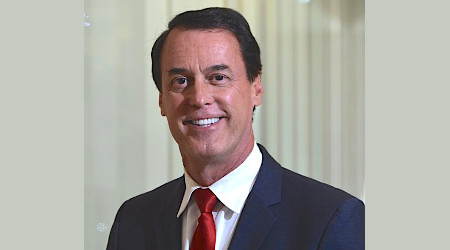 By Keith Millhouse
Founder and Principal, Millhouse Strategies

Former Amtrak engineer Brandon Bostian was arraigned last month on charges of involuntary manslaughter in the 2015 Philadelphia Amtrak disaster that claimed eight lives and injured 200. This was Amtrak's failure as much as Bostian's; it didn't have to happen.

"It's widely understood that every person, no matter how conscientious and skilled, is fallible, which is why technology was developed to backstop human vulnerabilities," said National Transportation Safety Board (NTSB) Chairman Christopher Hart at a public meeting held in May 2016.

Amtrak failed to implement a decades-old safety technology that would have prevented the incident. Positive train control (PTC) combats human error by automatically stopping a train that's on course to collide with another, on a track it shouldn't be on or going too fast.

On May 12, 2015, Bostian had whipped the Amtrak 188 around a bend at 106 mph where the speed limit was 50. An investigation found that he was distracted.

The investigation of the 2008 Metrolink crash in Chatsworth, Calif., determined that the Connex engineer, Robert Sanchez, was texting when he ran through a red signal and collided head on with a freight train. Twenty-five people died and over 130 were injured. The tragedy was gruesome and preventable. Had PTC been in place, it would have stopped the train.

Amtrak's long delay isn't unique, but the crash in Philadelphia could have been prevented, if the company had followed Metrolink's lead. I was elected chairman of Metrolink's board shortly after the 2008 train collision. The disaster rocked our community.

Under my leadership, Metrolink became the first commuter-rail operator to implement PTC. If Amtrak had moved with the speed Metrolink had, the Philadelphia accident wouldn't have happened.

To prevent this type of tragedy elsewhere, Congress enacted the Rail Safety Improvement Act of 2008, which required many freight and commuter railroads to implement PTC by 2015's end. In late 2015, Congress extended the deadline to Dec. 31, 2018 (and to Dec. 31, 2020, in certain cases) after the Government Accountability Office determined that Amtrak and some Class Is weren't on schedule to meet the initial deadline.

There was no reason that Amtrak couldn't have learned from the Chatsworth tragedy. The company shouldn't have needed a tragedy of its own before it implemented the technology.

Railroads are now hustling to meet the end-of-2018 deadline. And in wake of the Amtrak crash, the company has implemented PTC on its Northeast Corridor.

Amtrak and other companies have also been sluggish to adopt another safety technology that could save lives: inward-facing cameras. Amtrak only moved to install the cameras two weeks after the Philadelphia accident. There are still Amtrak lines without the technology now. Metrolink's inward-facing cameras have been operational since 2010; even a cursory following of the aftermath of Chatsworth should have forced every rail operator in the country to install these cameras immediately.

"Recorders are readily available, easily installed, and largely affordable," according to the NTSB's latest "Most Wanted List of Transportation Safety Improvements." The NTSB recommends all controlling cabs have crash-proof, inward-facing cameras that "can verify that train crew actions are in accordance with essential safety rules and procedures…"
Yet, Amtrak's train in the Philadelphia crash wasn't equipped with an inward-facing video recorder. That information would no doubt have helped investigators determine exactly what happened in the accident; it may also have altered the conduct of the engineer and heightened his awareness; the key factor in the accident according to the NTSB.

Bostian said he "doesn't remember" what happened prior to the accident. While this may be true, it's an often-repeated phrase by engineers in accidents, and if there were inward-facing camera we would know if protocol had been followed. If an engineer is following protocol, but still causes an incident, the videos can help administrators implement policies so it doesn't happen again.

Often companies don't implement inward-facing cameras due to fierce resistance from unions, which want to protect their members from unfair snooping by rail administrators. After the Chatsworth collision, the unions challenged Metrolink's right to implement inward-facing cameras. They lost in the United States District Court for the Central District of California, and then again in the Ninth Circuit Court of Appeals. They didn't pursue an appeal to the United States Supreme Court , which arguably would have opened up the cameras to nationwide use — which is what needs to happen immediately.

Companies can't bend to the unions at the expense of safety. Besides, unions should embrace the technology. Oftentimes, engineers aren't at fault for incidents and a video recording can absolve them from any undeserved consequences.

Amtrak and other companies need to be proactive rather than reactive in implementing safety technology that can save lives, and all railroads need to learn from the tragedies of others and not wait to have their own.

Keith Millhouse, the founder of Millhouse Strategies, is an attorney, government relations and transportation/infrastructure consultant based in Southern California. While chairman of Metrolink, he enacted what's considered one of the strictest rail safety standards in the nation. Millhouse previously served as a member of the Ventura County Transportation Commission and was a regional council member at the Southern California Associate of Governments. He can be reached via email at keith@millhousestrategies.com.
---
Keywords
Browse articles on
Amtrak
positive train control
Metrolink
inward facing cameras
rail safety
National Transportation Safety Board
Contact Progressive Railroading editorial staff.