Newsletter Sign Up
Stay updated on news, articles and information for the rail industry
Rail News Home
Safety
January 2017
Rail News: Safety
FRA's Feinberg: There's been grade-crossing safety progress, but states, railroads and tech companies can do more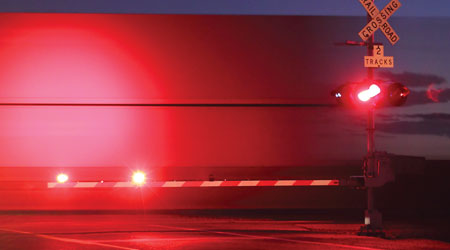 By Julie Sneider, Senior Associate Editor
Sarah Feinberg had been serving as the acting administrator of the Federal Railroad Administration (FRA) for less than a month when a deadly collision occurred Feb. 3, 2015, between an MTA Metro-North Railroad train and an SUV at a grade crossing in Valhalla, N.Y. The SUV stopped on the track after the warning gates lowered to signal the approaching train, which ultimately slammed into the vehicle. The collision led to a fire that engulfed the SUV and the train's first rail car; the motorist and five train passengers died.
While Feinberg and other FRA administrators often speak of the need to improve safety statistics in all aspects of railroading, Feinberg has been particularly passionate about grade-crossing safety since President Obama officially nominated her to the FRA post in spring 2015. Incidents at crossings and trespassing on rail rights-of-way remain the No. 1 cause of death and injury in rail transportation; more than 200 people are killed every year in crossing accidents in the United States, according to Feinberg.
Her passion comes from the belief that all grade-crossing deaths are preventable. Feinberg has spent the better part of her FRA tenure calling on states, communities, law-enforcement agencies railroads and, more recently, technology companies to step up safety measures to prevent fatalities at crossings.
Although crossing safety progress has been made over the past two years, work remains on several fronts, Feinberg said in a recent interview.
"Our fatality numbers in 2015 were down from the grim numbers of 2014, but we don't know yet if we will sustain that progress through 2016," she told the Railroad Safety Advisory Committee during a September 2016 meeting in Washington, D.C., according to a text of her remarks. "And I can tell you that there have already been far too many incidents at crossings this year — incidents which have killed children and parents, and sometimes entire families."
Event recorders, more inspections
As FRA administrator, Feinberg has urged state departments of transportation to help railroads investigate 5,000 crossings with interconnected traffic lights to make sure they're synced to sufficiently warn drivers and pedestrians to stop prior to a train's approach. FRA regulators also have asked states to install event recorders at traffic lights connected to crossing systems so that information obtained during inspections can be used to improve safety.
Moreover, federal regulators at Feinberg's urging have worked with local police departments to step up enforcement around crossings. That effort was in response to an uptick in crossing fatalities in 2014, when 267 people died in incidents involving trains and vehicles — up from 244 fatalities in 2015, according to FRA data.
In spring 2015, the FRA launched a campaign to partner with tech companies like Google to use federal data that pinpoints the nation's 200,000 crossings to add visual and audio alerts to GPS map applications. Last month, the National Transportation Safety Board (NTSB) echoed that call in a report on the board's investigation of a fatal Metrolink crash in Oxnard, Calif. In February 2015, a Metrolink commuter train collided with a truck that was abandoned on the track after the driver got lost and mistakenly turned at a crossing onto the railroad's right of way. The train engineer later died of his injuries. Data from the truck driver's cell phone indicated he had been using a mapping app when he made the wrong turn.
The NTSB now recommends that Google, Apple, Garmin, HERE, TomTom, INRIX, MapQuest, Microsoft Corp., Omnitracs, OpenStreetMap US, Sensys Networks Inc., StreetLight Data, Teletrac and UPS of America incorporate crossing-related GIS data, such as those being prepared by the FRA, into their navigation applications to provide drivers with additional safety cues to reduce the likelihood of crashes at or near public and private crossings.
"I'm very hopeful that having another safety-expert voice saying this is the right thing to do will spur these tech companies to put this issue at the top of their priority list," Feinberg says, adding that she has been frustrated they have not moved faster to do so.
At the state level, some state transportation departments have done a better job than others at tackling crossing safety, she believes. New York is one example. After the Valhalla incident, New York Gov. Andrew Cuomo, Metropolitan Transportation Authority Chairman Thomas Prendergast and Metro-North officials were in regular contact with the FRA about how the state could improve rail safety.
In November 2016, Cuomo signed two bills aimed at reducing train-motor vehicle incidents at crossings. One law will require coordinated, frequent inspections of traffic control devices at crossings; the other will require the New York State Department of Transportation (NYSDOT) to study each crossing and make improvement recommendations by April 1. The stricter measures also increase fines against drivers who disobey signs at crossings, raise penalties against railroads for neglecting to report to the state when crossing accidents occur, and require the state to align its regulations with federal reporting requirements.
Also last year, the FRA awarded the NYSDOT $5.15 million in grant funds to make crossing improvements. The awards included $1.34 million to add highway traffic signal preemption to seven crossings on MTA Metro-North's Harlem and Port Jervis lines, which would activate signals at the intersections and allow queued traffic to exit onto the highway before the railroad warning systems are activated. Another grant — for $1.91 million — will be used to cover the cost of installing CCTV cameras to record movements at 43 crossings within Metro-North territory to investigate specific incidents and analyze potential safety improvements.
Those FRA grants were among $25 million the agency doled out as part of the Railroad Safety Infrastructure Improvement Grants in 2016. In total, 23 projects in 14 states and the District of Columbia received funding for crossing improvement or separation projects.
If only more states were as aggressive as the Empire State, Feinberg says.
"Until states realize that their DOT and highway office are as accountable for highway grade-crossing accidents as my office is, we're just not going to see the improvements that we need to," she says.
An overpass to safety
Not that there hasn't been progress elsewhere. One major crossing project completed late last year was a $41 million grade separation at 25th Avenue in Bellwood, Ill. Begun in 2014, the project was designed to eliminate a conflict point between trains and regular vehicle traffic, reduce congestion, improve safety and ensure better response times for emergency vehicles.
The overpass project was part of the Chicago Region Environmental and Transportation Efficiency (CREATE) Program, a $4 billion public-private effort launched in 2003 to separate freight and passenger trains at six key junctions; eliminate about two dozen crossings; and increase rail capacity, speed and reliability in the Chicago area.
The 25th Avenue overpass now accommodates two lanes of traffic in each direction over Union Pacific Railroad tracks. Each day, up to 59 Metra trains and 52 freight trains pass through this location, according to CREATE officials. On average, 19,000 vehicles travel that stretch of 25th Avenue daily, with 3,500 of them getting stopped by trains before the overpass was built, resulting in 28,400 annual hours of motorist delays.
In North Carolina, the state Department of Transportation (NCDOT) will wrap up this year the multi-year Piedmont Program, which calls for improving the 174-mile North Carolina Railroad Co. corridor's safety and capacity for freight and passenger trains between Raleigh and Charlotte.
Launched in 2010, the program has been funded using $546.5 million in American Recovery and Reinvestment Act funding. Work featured the closure of 36 crossings and construction of 12 grade separations, says NCDOT Rail Division Director Paul Worley. The last of the Piedmont crossing projects concluded in 2016, including four that allowed for the closure of six street-level crossings in Harrisburg alone, according to NCDOT.
Those are examples of crossing improvement efforts that Feinberg would label as progress. As a regulator, Feinberg has focused on measures she believes would have the greatest impact on saving lives and preventing injuries.
"Luckily, rail is a safe mode of transportation across the board — and it's improving all the time," she says. "If you look at where my priorities have been, they've followed where we can have a significant impact. Grade-crossing incidents and trespassing continue to be the leading cause of injury and death in the rail industry. So, clearly, we can have an impact there."
[Editor's note: To read examples of Class Is' crossing safety efforts, read this feature.]
As her time as FRA's top regulator winds down — she officially leaves office on Jan. 20 when Donald Trump is inaugurated the 45th president — Feinberg believes she helped raise awareness of crossing safety.
"A lot of the steps we've taken will show us results over time," she says. "So, for example, the integration of the grade-crossing data into mapping applications: We're still waiting for the tech companies to integrate that data. Once they do that, we can start to measure the impact."
She's also pleased with local police departments that have increased their presence to enforce laws prohibiting motorists from driving through crossings when gates are lowered and warning lights are flashing.
"But look, I'll never be satisfied until we're at the point where there are zero fatalities and zero injuries," Feinberg adds. "Rail-crossing safety really is a challenge that has been with us for a very long time. So, part of the challenge is finding potential solutions that approach the problem in different ways that will allow us to have more success."
Looking to the future
Finding new solutions to old safety problems is something she hopes the industry, working with the next FRA administrator, will continue to address. Railroads should invest even more in making improvements at crossings, closing them where they can, and working with state DOTs and local communities in addressing safety problems they've identified, Feinberg believes.
"My successor will have to continue a lot of this work or we won't see the improvements that we need to see," she says.
She also hopes more answers will be found through creative applications of technology.
"For now, the best solution we have is integrating the data into mapping applications," Feinberg says.
But as technology in motor vehicles evolves, she envisions a day when locomotives and motor vehicles will communicate with each other to automatically prevent vehicles from moving into crossings when trains are approaching.
"We're not at that point yet, but I think that's something that we could be seeing in the next couple of years," she says.
Email comments or questions to julie.sneider@tradepress.com.
---
Keywords
Browse articles on
grade-crossing safety
Sarah Feinberg
Federal Railroad Administration
MTA Metro-North Railroad
National Transportation Safety Board
Metrolink
CREATE
Google
Metropolitan Transportation Authority
New York State Department of Transportation
North Carolina DOT
Contact Progressive Railroading editorial staff.