Newsletter Sign Up
Stay updated on news, articles and information for the rail industry
Rail Product News
12/9/2016
Wilmore: Electronics: Power conditioner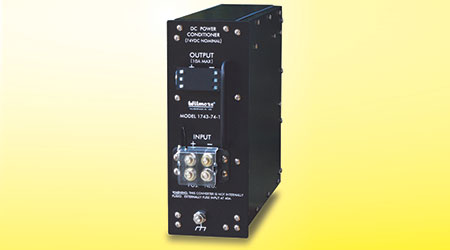 Wilmore Electronic Co. Inc.'s Model 1743-74-10 power conditioner is a dc-dc converter that allows 74-Vdc locomotive electronics — including PTC equipment — to continue functioning through both under-voltage and over-voltage power bus anomalies.

Designed to operate from input voltages in the range of 20Vdc to 135Vdc, the converter works by automatically boosting abnormally low voltages and limiting abnormally high voltages such that its output remains between 55Vdc and 82Vdc — well within the operating range of most locomotive cab electronics, according to Wilmore.

The Model 1743 power conditioner provides a continuous-duty output current of up to 10 amperes and is available in flange-mount or LSI rack-mount (3 MCU) enclosures. Features include 2,000-Vdc isolation between converter circuitry and chassis, high operating efficiencies, a wide operating temperature range (-40°C to +70°C) with convection cooling, and rugged construction to withstand the rigors of on-board use.