Newsletter Sign Up
Stay updated on news, articles and information for the rail industry
Rail Product News
12/9/2016
RedHawk Energy: Solar, wind hybrid power systems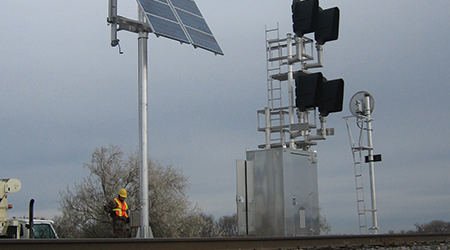 With the enactment of PTC in 2008, RedHawk Energy Systems has played a major role in providing reliable wayside power systems for several of the Class I railroads in their effort to build-out wayside infrastructure to support all the complexities and increased power demands of PTC.
Most notably, RedHawk Energy deployed Solar & Wind Hybrid Power Systems which provide the necessary prime and/or backup power for remote site and dark territory locations where standard utility power isn't available, reliable or just too costly. Many of these systems consist of RedHawk's patented 20' RP Series Retractable Mast, Solar Arrays, Wind Generators, Saft Sunica.plus Nickel Cadmium Batteries and All-Aluminum Battery Boxes.
The company's RP Series Retractable Mast is capable of retracting solar arrays and wind generators up and down a pole structure. This helps facilitate safe and convenient installation and maintenance, while also eliminating the need and expense of having a lift or bucket truck onsite. To maximize system operability, purpose designed Saft Sunica.plus Nickel Cadmium Batteries provide long life, low maintenance energy storage for when the sun isn't shining and the wind isn't blowing.
Finally, the robust All-Aluminum Battery Boxes protect batteries at sites where increased power loads and equipment have outgrown the original bungalow's design.