Newsletter Sign Up
Stay updated on news, articles and information for the rail industry
RAIL EMPLOYMENT
Rail Product News
10/24/2017
Kontron: TRACe V40x-TR computers for passenger-rail surveillance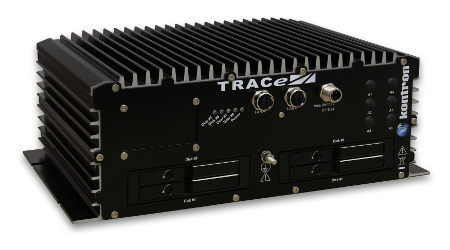 Kontron has introduced the TRACe V40x-TR, a new fanless computer designed for IP-based video surveillance on passenger trains.

TRACe can store, process and analyze imagery in real time, or stream video recorded by surveillance cameras. In standard configurations, the robust TRACe V40x-TR is compliant with the EN50155 standard for electronic equipment on rolling stock, Kontron officials said in a press release.

TRACe V407-TR model is based on a sixth-generation Skylake Intel® Core™ i7-6600U processor with soldered 8-gigabyte DDR4 memory and 32-gigabyte SLC Flash, while the TRACe V403-TR version is based on an Intel Core i3-6100U processor. The TRACe V40x-TR family features two independent networks with M12 connectors for recording IP camera video streams.

Power supplies range from 24 VDC to 110 VDC nominal input voltage, accommodating everything from light-rail vehicles to high-speed trains, Kontron officials said. The front plate provides two isolated and lockable M12 connectors, meeting the EN50155 standard. The rear plate hosts standard connectors for maintenance: display port, USB 3.0/2.0, and serial lines.

The TRACe V40x-TR meets all railway application requirements including on-board CCTV, entertainment and infotainment passenger information systems (PIS), as well as train control and management systems (TCMS).

TRACe comes with two removable drive bays, enabling a storage capacity of up to 4 terabytes. The devices also feature a health management unit to continuously monitor the most important functions with multiple sensors, according to Kontron. An integrated microcontroller monitors several temperature sensors, controls supply voltages and current.

Kontron's health management software package covers all vital TRACe resources required to report, log, and transmit any information and event during operation. Health management data are accessible locally, via ethernet/intranet or internet/cloud. This enables data analytics to support asset management, preventive maintenance and fleet management that can be provided by Kontron's CMON-line monitoring solution.

TRACe V40x-TR supports Kontron's security solution, APPROTECT, which is powered by Wibu. This solution is based on an integrated Wibu security chip and offers comprehensive security mechanisms such as IP and copy protection while avoiding reverse engineering, Kontron officials said.