Newsletter Sign Up
Stay updated on news, articles and information for the rail industry
Rail Product News
2/10/2017
IPS Cranes: IPS Metro Crane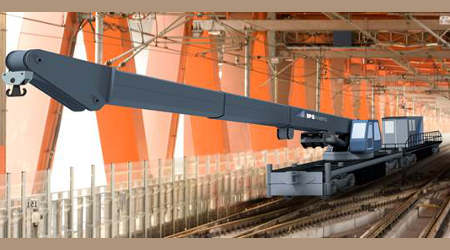 IPS Metro offers the IPS Metro Crane, an emission-free railway track crane used for maintenance of the underground rail systems.

The company's engineering team based in Northern Minnesota and Germany designed the crane, which has the capacity to lift heavy loads while working inside the subway system. The crane is a "completely green machine with battery backup," the company said in a press release, adding that "IPS Metro is the only company in the United States that has the ability to manufacture this type of crane."

Manufactured in Duluth, Minn., the crane can be driven and operated by existing power supply (catenary or third rail), electric and its self-propelled emission free system. It can travel up to speeds of 80 km/h. The crane also has no counterweight, no set up time and no tail radius to "disturb adjacent track when slewing," the company said.