Newsletter Sign Up
Stay updated on news, articles and information for the rail industry
Rail Product News
4/9/2018
HARTING: Han® HPR connector series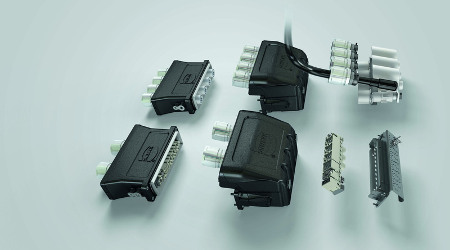 HARTING has expanded its rugged Han® HPR connector series to help rolling stock manufacturers assemble complex electrical systems of modern equipment.

The new Han® HPR 22 Slim connector can accommodate up to four 250A contacts, while its flat profile is ideal for height-restricted spaces like the underside of a rail car, HARTING officials said in a press release.

In addition, its "ultra-slim profile" leaves room in wiring pathways for other critical systems. Its design was optimized in conjunction with a Viennese customer that needed a connector to fit a roughly eight-centimeter gap between a tram body and bogie, according to the company.

HARTING also has added sizes 16 and 34 to the Han® HPR EasyCon line, which was originally launched with size 24. The two-part hood and mounting housing can be screwed together in a few simple steps, with space inside for cables for car-to-car or motor connections.

The EasyCon connectors also offer more high-current carrying capacity and configuration possibilities than standard Han® HPR interfaces. The size 16 can house 2-4 high-current contacts (up to 2 x 650A), suitable for connecting compressors, single-wheel drives and ventilation systems.

Additionally, the size 16 connector can be configured as a hybrid with power, signal or data modules from HARTING's Han-Modular® lineup, with more 100 inserts to choose from.

The size 34 comes in a straight version for traction motor connections and angled version for car-to-car jumper connections. They can accommodate up to four 650A contacts each, and, as a hybrid, they can house up to 12 Han-Modular® inserts.