Newsletter Sign Up
Stay updated on news, articles and information for the rail industry
Rail Product News
12/9/2016
Gannett Fleming: Design and program management services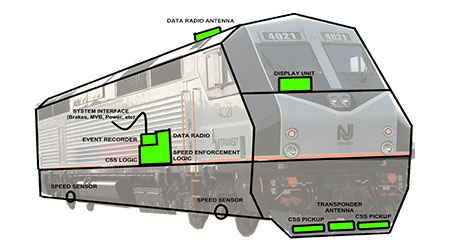 Gannett Fleming Transit and Rail Systems (GFT&RS) provides design services and program management services for PTC across the country.

In the 1990s, GFT&RS assisted Amtrak in the development of the Advanced Civil Speed Control System (ACSES) which was required for the 150 mph Acela service on Amtrak's Northeast Corridor. This ACSES system set a precedent for the PTC systems installed nationwide. GFT&RS still assists Amtrak in further deployment of PTC, both ACSES and IETMS.

GFT&RS has designed and managed deployment of PTC on the Southeastern Pennsylvania Transportation Authority's (SEPTA) commuter-rail system, which is being successfully placed in service in 2016. We are also assisting New Jersey Transit and the Northern Indiana Commuter Transportation District (NICTD), and have supported the MTA Metro-North Railroad and Long Island Rail Road projects. In addition, the Amtrak, SEPTA, NJ Transit and NICTD PTC projects all involved freight tenant railroads, which often required PTC in different formats and configurations.

GFT&RS includes a staff of more than 50 railway signal engineers, most of whom are competent in PTC design. Several of our signal engineers have special expertise in back office servers and databases for PTC implementation Coordination and interoperability among railroads that are close by, or operate on each other's tracks is part of every implementation. GFT&RS understands the commuter and freight industries, and we have knowledge of newly adopted FRA requirements.

We also have a group of railway communications engineers who can assist in acquiring radio frequencies, and in performing spectrum analyses to locate radio locations for reliable operation. We have located radio antennas on train vehicles to minimize interference with other collocated radio antennas.

By hiring GFT&RS, you can be assured that your system deployed will be proven technology, implemented on a predictable schedule within your budget, without the technology missteps so many others have made.

GFT&RS is a division of Gannett Fleming, Inc., which has more than 100 years of successful engineering services across a wide spectrum of clients and locations. GFT&RS has been in the business of railway systems engineering since 1964 and has been integrated into the Gannett Fleming organization since 1993.