Newsletter Sign Up
Stay updated on news, articles and information for the rail industry
Rail Product News
12/9/2016
Dayton-Phoenix Group: Optimizing cab space for monitoring device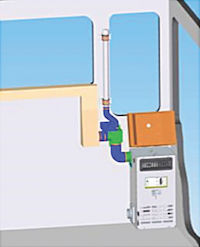 The Rail Safety Act of 2008 ushered in the need for the development and advancement of new technologies to automatically stop a train and prevent certain kinds of accidents from occurring. Much of the implementation would require new technologies that didn't exist when the law was enacted in 2008. It also ushered in an immediate concern for relocating existing controls and peripheral equipment.
Over the years cab space has been optimized to include a variety of control, monitoring and environmental items. At Dayton-Phoenix Group (DPG) we immediately began working with our end rail users and OEM locomotive customers to address the needs for retrofits to exiting locomotive units and the requirements for new rail locomotives.
It was determined for most units, the optimum location for the new PTC monitoring device would be in utilizing the space currently occupied by our cab heater units. Since additional space for relocation of the heater unit in the cab was limited the DPG Engineering group developed a new compact design that provided a space for the new PTC monitor as well as the heater and its' window defrosting unit. This design provides the Engineer with a clear view of the area in front of the train and allows easy interface with the PTC monitor.
With the addition of the PTC monitor and its communication system, the DPG engineering team also conducted additional Electromagnetic Interference testing. Often referred to as radio-frequency testing, this test looks at any disturbance that might affect the monitoring systems communication. In this case we are looking for anything generated by the operation of our DPG PM 5006-50 and DPG 5006- 50 series cab heaters to look for any potential electromagnetic interference. Through this testing process we were able to determine that our heating system when operating provided no harmful frequency to interfere with the monitoring and communication system.