Newsletter Sign Up
Stay updated on news, articles and information for the rail industry
<< Rail News Home: Rail Industry Trends
3/10/2017
Rail News: Rail Industry Trends
U.S. railroads post 1.8 percent traffic gain in ninth week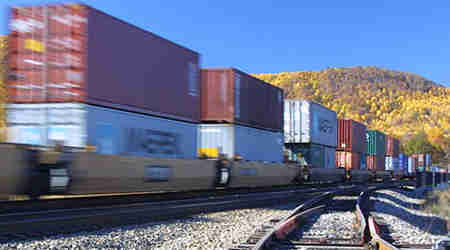 U.S. rail traffic continued on an upswing in the ninth week of 2017, with railroads logging a 1.8 percent increase in carloads and intermodal units compared with the same week a year ago, the Association of American Railroads (AAR) reported this week.

Total U.S. carloads for the week ending March 4 were 262,743 units, up 6.3 percent compared with a year ago. U.S. weekly intermodal volume dipped 2.3 percent to 258,864 containers and trailers in the week compared with 2016.

Five of the 10 carload commodity groups that AAR tracks on a weekly basis posted increases compared with the same week in 2016. As has been the case in recent weeks, coal again logged an increase for the week and rose 18.7 percent to 85,183 carloads compared with the ninth week of 2016.

Other commodities that posted increases were grain, up 7.5 percent to 23,991 carloads; and miscellaneous carloads, up 7.3 percent to 10,635 carloads.

Commodity groups that posted decreases compared with the same week in 2016 included petroleum and petroleum products, down 8.3 percent to 9,864 carloads; chemicals, down 2.7 percent to 32,057 carloads; and motor vehicles and parts, down 1.6 percent to 18,593 carloads.

Canadian railroads reported 80,555 carloads for the week, up 12.8 percent, and 60,691 intermodal units, up 4.6 percent compared with the same week in 2016. Mexican railroads reported 16,074 carloads for the week, down 0.4 percent compared with the same week last year, and 10,928 intermodal units, up 0.6 percent.

For the first nine weeks of this year, U.S. railroads' cumulative volume rose 2.3 percent to 4,651,727 carloads and intermodal units; and Canadian railroads' cumulative volume picked up 7.7 percent to 1,254,709 carloads, containers and trailers compared with the same period last year.

Mexican railroads have transported less traffic so far this year. They reported cumulative volume fell 6.1 percent to 230,269 carloads and intermodal containers and trailers during the first nine weeks this year compared with the year-ago period.
---
Keywords
Browse articles on
Association of American Railroads
traffic report
Contact Progressive Railroading editorial staff.