Newsletter Sign Up
Stay updated on news, articles and information for the rail industry
Rail News Home
Rail Industry Trends
September 2019
Rail News: Rail Industry Trends
Rail industry constituents recognize the need to develop more diverse workforces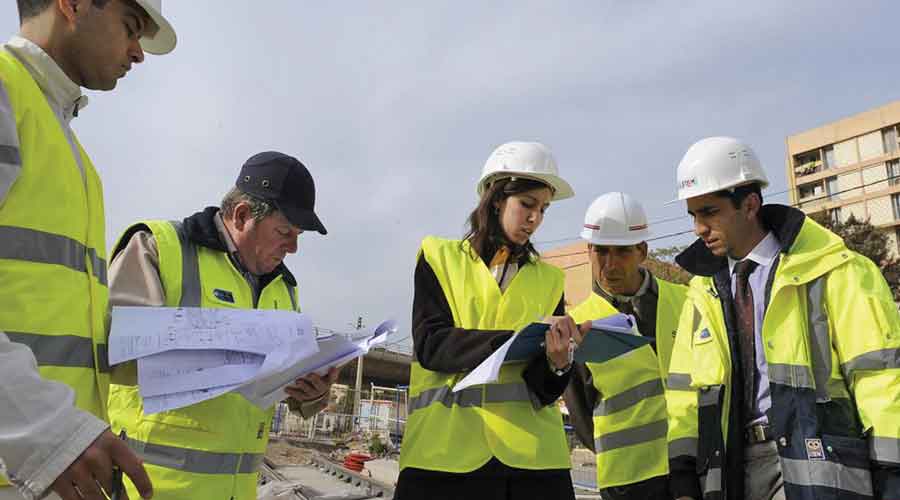 By Vesna Brajkovic, Associate Editor
Years ago, when a more senior member of a short-line association committee noticed newcomer Judy Petry, then controller and now president of Farmrail System Inc., in his usual seat at a committee meeting, he didn't skip a beat. "That's my chair," he said.
Petry began to stand to pick a new seat before her friend and fellow committee member, the late Maggie Silver, rested her gentle hand on Petry's to keep her seated.
"This is your chair. You have earned the right to choose where you sit. Stay here," short-line industry pioneer and longtime Pinsly Railroad Co. President Silver told Petry, motioning for her to look around and notice they were the only women at the table. Petry said you could have heard a pin drop in that room. Silver died in 2014 at 88.
Petry's decision to keep her seat at the table, with the guidance and support of Silver, is just one small example of how women have continued to claim spaces in top positions across the rail industry.
This year, women continue to make strides by achieving leadership roles at North American railroads and rail industry constituents. A few recent examples include: Isabelle Courville's appointment as Canadian Pacific's first woman chair; Cathrin Banks being named president of the Maryland and Delaware Railroad Co. and becoming what is believed to be one of the youngest women to lead a U.S. railroad; Lorie Tekorius's promotion to The Greenbrier Cos. president and chief operating officer; and the Washington Metropolitan Area Transit Authority (WMATA) naming three women — Lisa Woodruff, Shanita Bowman and Laura Mason — to lead rail operations for the first time as senior vice president for rail services, VP of rail transportation and chief of the rail infrastructure, maintenance and engineering department, respectively.
Male-dominated workforces
Workforce data from several Class I reports illustrate that while women continue to rank in high-visibility positions, men represent the majority of the industry's workforce:
• Women comprised 5 percent of Union Pacific Railroad's total workforce in 2018, according to the railroad's annual "Building America" report.
• Of CP's total 12,163 employees in 2017, 1,156 were women and 11 percent of new hires were women, according to the railroad's 2017 sustainability report. In 2018, 16 percent of all CP employee promotions were women, CP spokesperson Jeremy Berry said in an email.
• Of CN's 24,364 employees in 2018, 2,108 were women, according to CN's 2018 data supplement report.
• Women comprised 5 percent of Norfolk Southern Railway's 22,774 unionized workforce in 2016, according to NS's sustainability report that year.
• Women represented 6 percent of CSX Corp.'s workforce in 2018, according to CSX's corporate social responsibility data supplement report.
• Women represented 5 percent of Kansas City Southern's total workforce in 2018, KCS spokesperson Doniele Carlson said in an email.
Women are most under-represented in skilled trades and railroad field operations, Carlson said.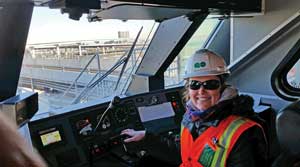 E. Marceta
Lack of diversity has consistently ranked among the top five workforce challenges in the rail industry, according to the the Federal Railroad Administration's (FRA) latest workforce trend report, issued in 2016.
Industry stakeholders told the FRA during data collection for the inaugural workforce trend report in 2011, that a primary source for recruiting new talent came from referrals from existing employees between 2008 and 2011. While this effort seemed to boost employee loyalty at the time, it did not encourage recruitment professionals to select diverse candidates.
With railroads pulling on a small pool of talent, and later eliminating many clerical positions — a department that had historically been dominated by women — the already low number of women in the railroad sunk lower. In 2016, recruiting emerged among the top five workforce challenges in the trend report.
Today, a national shortage of people entering science, technology, engineering and math (STEM) fields means the railroad industry must compete with other transportation modes to recruit and retain workers to fill positions left open by retiring baby boomers.
Now more than ever, the industry must cast a wider net to find and attract new talent to railroading, including women and others historically under-represented in the workforce.
Positions are open and ready to be filled. Alstom, for example, has hired an average of 3.3 employees every single working day for the past year due to its rapid growth, and still has many openings, Alstom Communication Director Michelle Stein says.
A shortage of candidates with STEM skills and specialty skills such as welding and electrical, means companies' hiring teams today have to be more creative and deliberate about their recruiting practices than in years past.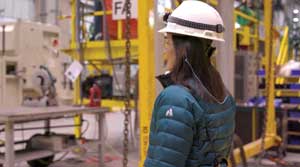 Progress Rail
As railroads compete for talent interested in careers in transportation and candidates have more choices, that's when diversity, industry reputation and career support become more important.
As the FRA noted in its 2016 report: "Much like cars, planes, ships and tanks, trains have a natural appeal and can be inspiring, but that may not be enough to convince the up-and-coming labor force to choose railroad careers."
The Brand Renaissance
Railroading's general reputation as an "antiquated" industry may be hurting railroads' efforts to recruit more women and younger workers into the sector, says Michele Malski, founder and president of SPRING, a recruiting and retention firm.
Lack of industry knowledge paired with a reputation for being a stressful, demanding career, as well as heavily male-dominated, could be factors that limit interest in railroad careers, according to the FRA report.
That's why it's time for a complete rebranding of the industry's public image, or as she likes to put it, a "brand renaissance," says Malski, who chairs the American Short Line and Regional Railroad Association's Young Professionals committee.
And the rebranding starts with railroads, rail industry suppliers and other relevant auxiliary support companies putting their best foot forward when recruiting new talent from the high school to college levels, and beyond, Malski says.
She emphasizes that a recruiter has to be more than qualified and good at their job, they have to emulate what railroading wants to attract: passionate and qualified people from all walks of life.
"A recruiter should embody what the company stands for, have the experience and first hand knowledge," Malski says. "[The company has to] trust that this employee is sharing the benefits of said company, not spreading false rumors, accusations or any toxicity into a new applicant."
By positioning railroading as a viable career option for women, led by the best and the brightest railroaders, the industry can claim its position as a great employer for the next generation of diverse workforces, Malski says.
"That's how we can sustain our workforces long term," she says. "Start with the basics. Start building those relationships with these candidates little by little, from the front line, with our best foot forward in our recruiting game."
Having a presence at a variety of recruiting events allows hiring teams to "chip away at the idea that railroads are not a viable career option" and effectively lead the way into changing the minds of many people, Malski says.
Missed opportunity
Although railroading's opportunities for innovation may be obvious to longtime railroaders, people who've never been exposed to the industry may not be aware of the career possibilities, explains WMATA SVP for Rail Services Lisa Woodruff.
"Great careers in the rail industry are really for everyone and I wish we had better ways for letting young people know about that," Stacey Mortensen, San Joaquin Regional Rail Commission Executive Director, said in an email.
That's why WMATA's Laura Mason says it's up to the industry to appeal to those outside of it.
"I think we need to do a better job of describing what makes it so fun to work here and the impact that we have," she says.
Mason began her career as an electrical engineer at Bechtel Corp., where she became lead field planner for a rail extension project in the Dulles Corridor in Washington, D.C., which is operated by WMATA. In 2017, she transitioned to WMATA as director of the SafeTrack maintenance program. Within three years she became chief of the maintenance of way department, acting assistant general manager of rail services, and, most recently, chief of rail infrastructure maintenance and engineers, a newly created position.
Following recruitment, the highest retention rates of women comes when companies support new hires with mentors and training and leadership programs. For example, Amtrak and Alstom have developed leadership programs specifically designed to create a network of support for women in all ranks.
Alstom's "Women of Excellence" program is an employee-led resource group focused on building a culture that fosters innovation and well-being in the workplace. It also provides a forum to help promote women's access to senior positions. Amtrak's Notch 8 program has similar goals.
Senior leadership at both organizations encourage women employees to become involved in the programs, which offer training and professional development. The programs also create a support network for employees to connect with others in similar positions inside the companies and the industry.
For example, Melanie McKim — Amtrak's regional coordinator for production systems — says the fact that she's surrounded by 15 men in her office could leave her feeling a bit isolated. But through her involvement in a women-run organization such as the National Association of Railway Business Women (NARBW), McKim has come to learn she's not alone.
"Having a Notch 8 group and NARBW, where we meet monthly, we know we're not alone," says McKim, who's now the national president at NARBW. "If we have concerns or issues, we have someone to bring them up to. We have peers who understand how the railroad works, and we can support each other when issues arise."
Women-focused retention practices
Support for women in railroading can also be found at company-sanctioned conferences and events. Progress Rail, for example, hosts a Women in Leadership Conference that includes influential speakers in the rail sector and encourages attendees to network and share their personal leadership journeys.
Development programs, networking opportunities and associations allow members to have a ready pool of potential mentors to choose from, Malski says.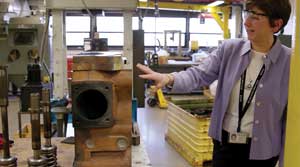 Progress Rail
And it's essential for all employees to find a mentor, or multiple mentors, throughout their career to excel in the railroad industry, she says.
"These are the people that are going to tell you the honest truth, the good, bad and ugly. They're going to have your back. They are your champions," Malski says.
Diversity matters
Encouraging diversity in railroading, and building a culture of support, enables employees to bring their authentic self to work every day and become engaged in the industry's future.
Emilia Marceta, Metrolinx project manager for signals, communications and network infrastructure, is an example of that.
She was first introduced to the industry in 2007 when she worked at GO Transit as a communications cooperative education student. By 2011, Marceta was managing a multimillion-dollar track protection contract in a department full of seasoned railway professionals. She was the only woman on the team and new to rail operations, track, signals, structures and construction.
"I had a strong desire to find other women in the industry that were relatable to me," Marceta said in an email. "I wanted to find peers who could appreciate the demands of track protection, who understood railway operating rules, knew the stresses of incident investigations and how to operate a hi-rail vehicle, among other things. I wanted to connect with women who lived the 'boots on the ground' mentality and understood its importance alongside design work and project delivery."
She found the support she was looking for, and more, by joining the League of Railway Women. Ultimately, her experience influenced her decision to focus Marceta's long-term career on the rail industry.
Now, she is LRW Public Relations and Outreach Committee chair and LRW's 2018 Member of the Year for her dedication to supporting the growth of women in rail.
As veteran railroaders reach and exceed retirement ages and the industry is left competing for qualified talent to fill vacant positions, railroaders must look toward their most under-represented talent pools and find ways to appeal to them. In an effort to attract more women especially, railroaders are challenged to rebrand the rail industry's reputation of being old-fashioned and male-dominated.
Email comments and questions to vesna.brajkovic@tradepress.com.
---
Keywords
Browse articles on
Women in rail
recruiting
retention
diversity
mentorship
STEM
Judy Petry
Isabelle Courville
CP
WMATA
Lisa Woodruff
Shanita Bowman
Laura Mason
Metrolinx
Emilia Marceta
Alstom
Michelle Stein
Progress Rail
Michele Malski
SPRING
Stacey Mortensen
San Joaquin Regional Rail Commission
Melanie McKim
Amtrak
National Association of Railway Business Women
League of Railway Women
Contact Progressive Railroading editorial staff.