Newsletter Sign Up
Stay updated on news, articles and information for the rail industry
Rail News Home
Rail Industry Trends
January 2016
Rail News: Rail Industry Trends
Progressive Railroading's 20 most-read news stories of 2015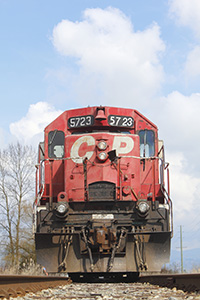 © Modfos
Dreamstime.com
Amtrak
talks service suspension.
Canadian Pacific
seeks to acquire
Norfolk Southern
. A governor/presidential candidate vetoes the repeal of a state's railroad trespass law. The shuffling of a railroad's executive deck and the trimming of another. The 2015 class of
Rising Stars
. A crude-oil train derailment that got congressional attention and an Amtrak derailment that got everybody's attention. Angst about the 2015
positive train control (PTC)
deadline, angst about the subsequent PTC deadline extension bills and the relief/disappointment surrounding the eventual PTC deadline extension. The political football that is transportation bill funding and a late-in-the-second-half story about same. States and cities landing TIGER VII grants. Your news interests were all over the transportation map in 2015. Here are 20 for 2015 — the 20
Progressive Railroading Daily News
stories you clicked on most often in 2015:
1.
Amtrak may pull plug on Southwest Chief, River Runner
(6/12/15)
2.
Canadian Pacific discloses offer to Norfolk Southern
(11/18/15)
3.
Gov. Walker vetoes repeal of railroad trespass law
(7/13/15)
4.
Reports: Canadian Pacific considering takeover of Norfolk Southern
(11/10/15)
5.
CSX shakes up senior management team after Munoz resigns
(9/9/15)
6.
Progressive Railroading names 2015 'Rising Stars'
(3/24/15)
7.
Amtrak may suspend rail service in mid-December
(10/7/15)
8.
Canadian Pacific sweetens bid to acquire Norfolk Southern
(12/16/15)
9.
BNSF crude train derails in N.D.; senators call on Foxx to issue emergency order
(5/7/15)
10.
Senate committee passes PTC deadline-extension bill
(3/26/15)
11.
Bill introduced to extend PTC deadline
(10/1/15)
12.
White House threatens veto of House transportation funding bill
(6/2/15)
13.
NTSB investigating fatal Amtrak derailment near Philadelphia
(5/13/15)
14.
Amtrak was close to turning on PTC, Boardman says
(5/15/15)
15.
USDOT begins notifying states, cities of TIGER VII grant awards
(10/27/15)
16.
Feinberg: FRA is sticking to PTC deadline, will assess fines
(6/25/15)
17.
NS board to CP: Buyout offer is 'grossly inadequate'
(12/14/15)
18.
Watco reaches deal to acquire Kinder Morgan terminals, reassigns three execs
(1/23/15)
19.
CP issues revised buyout offer; NS rebuffs it as a 'reduced proposal'
(12/8/15)
20.
Report: Union Pacific to trim management staff; Nissan recognizes UP customer service, environmental efforts
(8/13/15)
Next week, we'll share our most-read feature articles of 2015.
— Pat Foran, editor
---
Keywords
Browse articles on
Progressive Railroading
rail news
Amtrak
Rising Stars
PTC
Canadian Pacific
Norfolk Southern
Contact Progressive Railroading editorial staff.