Newsletter Sign Up
Stay updated on news, articles and information for the rail industry
RAIL EMPLOYMENT
Rail News Home
Rail Industry Trends
June 2017
Rail News: Rail Industry Trends
At Railway Interchange 2017, keynote speakers to provide inspiration, insight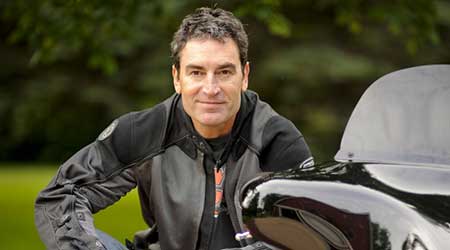 When railroaders gather, interesting conversations happen. Sparking those conversations at Railway Interchange 2017 will be a wide range of insightful and inspirational keynote speakers and presenters, along with the exhibition and technical conference.
"We remember things that are different. We are attracted to things that are different. What are you willing to do today that is different than what you did yesterday for the guy who could put you out of business tomorrow?" That's a quote from motivational speaker and former Harley-Davidson Motor Co. Director of Communications Ken Schmidt, who is presenting the keynote address at the joint opening General Session on Monday, September 18.
Schmidt was part of one of the most celebrated turnarounds in corporate history, and he played an active role in transforming the motorcycle company into one of the world's most dominant brands. He will share stories of Harley-Davidson's techniques for competing with weapons stronger than price, and how railroaders can transform their own companies. Attendees will learn how a company can build a fanatically vocal customer base, create a passionately loyal corporate culture, and develop leaders who inspire and motivate.
The conference portion of Railway Interchange 2017 includes technical and educational programs hosted by the American Railway Engineering and Maintenance-of-Way Association (AREMA) and the Coordinated Mechanical Associations (CMA). A schedule for the four-day event is available online.
AREMA is planning 80 technical presentations, five educational seminars, and informational committee meetings. At the AREMA Annual Committee Chairs Luncheon on Tuesday, September 19, Michael J. Wheeler, the executive vice president and chief operating officer of Norfolk Southern Corporation, will talk about how that Class I is continuing to reinvent itself.
AREMA conference activities also include a presentation of the Dr. William W. Hay Award for Excellence, a spouse/guest program, and student activities. At the closing AREMA General Session on Wednesday, September 20, Wall Street transportation analyst and Progressive Railroading columnist Anthony B. Hatch with ABH Consulting will provide his insights on the state of the industry.
The Coordinated Mechanical Associations' technical and educational sessions will be held during exhibition hours: 10 a.m. to 5 p.m. on Monday, September 18, and 8 a.m. to 1 p.m. on Tuesday, September 19. Detailed plans are still evolving, but there will be sessions from all CMA groups:

• Air Brake Association (ABA)
• International Association of Railway Operating Officers (IAROO)
• Mechanical Association of Railcar Technical Services (MARTS)
• League of Railway Industry Women (LRIW)
• Locomotive Maintenance Officers Association (LMOA)
The exhibition portion of the event, which showcases the latest technology, services, and research, is hosted by the Railway Supply Institute (RSI), the Railway Engineering-Maintenance Suppliers Association (REMSA), and Railway Systems Suppliers, Inc. (RSSI). The contiguous exhibit hall will feature over 600 exhibitors from the mechanical, signaling, communications and maintenance-of-way industries.
"We're anticipating another great Railway Interchange in 2017 following the 2015 conference and exhibition, which drew 9,000 attendees," said RSI President Tom Simpson.
"This will be the fourth time that we will have the opportunity to bring our technical conference together with the exhibition provided by RSI, REMSA and RSSI, and it's sure to be a fantastic event," added AREMA Executive Director and CEO Beth Caruso.
Railway Interchange 2017 takes place Sunday, September 17 through Wednesday, September 20 at the Indiana Convention Center in Indianapolis. An outline of the schedule is available online at www.railwayinterchange.org. You can also see updates via Twitter by following @RailwyInterchg.
---
Keywords
Browse articles on
Railway Interchange
Ken Schmidt
AREMA
Railway Supply Institute
Railway Systems Suppliers Inc.
Coordinated Mechanical Associations
Contact Progressive Railroading editorial staff.