Newsletter Sign Up
Stay updated on news, articles and information for the rail industry
Rail News Home
Positive Train Control
9/10/2019
Rail News: Positive Train Control
FRA: Railroads posted PTC implementation progress in Q2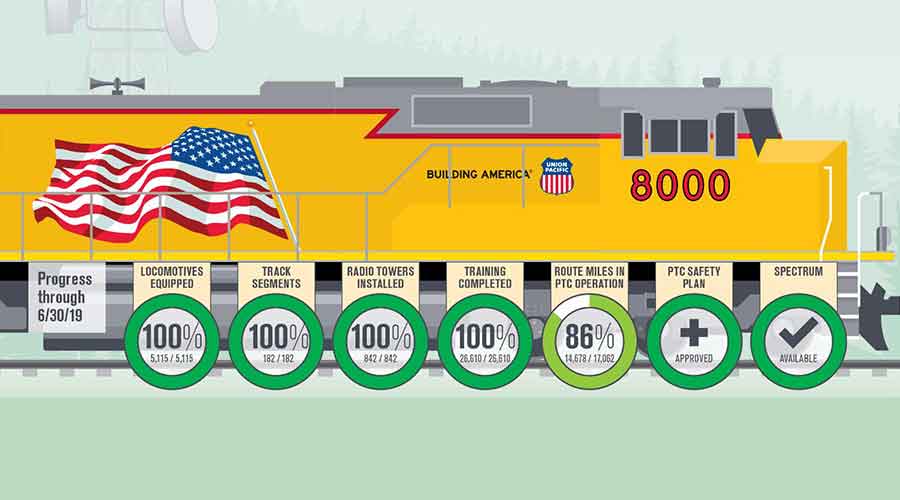 The 42 railroads that are subject to the statutory positive train control (PTC) mandate continued to make steady progress with implementation in the second quarter, the Federal Railroad Administration (FRA) announced yesterday.
Based on the railroads' Q2 progress reports, PTC systems were in operation on about 50,300 of the nearly 58,000 route miles required to be equipped with the technology, a 4 percent increase in route miles since Q1, FRA officials said in a press release. Class Is reported that PTC systems were in operation on about 91 percent of required mainlines as of June 30, also a 4 percent increase since Q1.
For Amtrak, 899 of 901 required route miles were governed by a PTC system at Q2's end. The national intercity passenger railroad also reported that its operations are currently governed by a PTC system on at least 16,032 of the 19,119 route miles where Amtrak operates as a tenant railroad on other railroads' PTC-equipped mainlines
Meanwhile, commuter railroads reported they were operating their PTC systems in revenue service demonstrations on 698 route miles and in regular revenue service on 443 route miles as of June 30. In total, the involved route miles rose 12 percent since Q1, FRA officials said.
Despite the progress, railroads must still complete significant work to fully implement their PTC systems by Dec. 31, 2020, especially activating systems on the remaining required mainlines and achieving the necessary interoperability with other railroads, they said. The FRA is directing its attention and resources on the technical challenges facing the railroads, including commencing revenue service demonstrations, interoperability testing and safety plans
"[We are] determined to help all affected railroads successfully satisfy the statutory deadline for full PTC system installation, testing, certification and ultimately initiate operations governed by PTC on all required territories," said FRA Administrator Ronald Batory.
FRA officials continue to host meetings with dozens of individual railroads and groups of railroads, vendors, suppliers and subject matter experts to actively monitor developments and identify potential solutions to arising challenges.
In addition, the FRA is holding regular meetings with Amtrak and commuter railroads that operate on or near the Northeast Corridor and in the Northeast. The FRA also plans to host the remaining four of six PTC collaboration sessions over the next 16 months to share best practices and jointly resolve common technical problems.
Contact Progressive Railroading editorial staff.
More News from 9/10/2019