Newsletter Sign Up
Stay updated on news, articles and information for the rail industry
Rail News Home
People
August 2019
Rail News: People
Rising Stars 2019: Nicolas Mabboux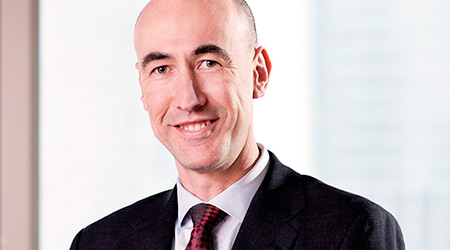 Nicolas Mabboux, 39
Director of IT application management and delivery
CN

Nominator's quote: "Nicolas is able to break the traditional barrier between teams that develop technology and teams that benefit from it, significantly improving the relevance of the technology developed for CN's core rail and corporate stakeholders. His leadership and vision has ensured that his team is developing products more aligned to the needs of railroaders and bringing them to market much faster, thus delivering greater value to the organization." — Leslie-Anne Lewis, CN

Why did you pursue a career in the rail industry?
I have spent my entire career applying technology in order to help simplify complex technical processes and transform businesses within industries such as utilities, mining or transportation.

When I arrived in Canada from France in 2005, I had the opportunity to join the rail industry as my first job in a new country. I was working in accounting, but was involved in the management of our joint facilities contracts, and had the opportunity to be exposed to the operations function of this fascinating industry.

A railroad is such a complex system that requires a lot of precision to operate. However, serving our customers requires just as much business agility and flexibility. Technology has a lot to do with combining these two objectives, and the railroad is a unique system where innovation opportunities are extremely promising. This is why I chose the rail industry to pursue a technology career.

Describe your education after high school.
I studied computer and telecom engineering in Paris, and graduated with a Master of Science degree.

At that time, I quickly realized that understanding technology's central role and the importance of its business application was going to make a big difference in terms of future employment. I immediately followed by enrolling in an MBA program in Quebec City, Canada. Ever since, my career has been a continuous learning opportunity.

How are you making a difference in the rail industry?
CN is pioneering a number of technology initiatives in order to make our railroad safer and more efficient. My team is contributing to the digitization of the railroad, leveraging modern technical capabilities such as artificial intelligence, robots, and modern software engineering platforms, while also utilizing automation to a large degree.

This platform-based approach allows us to achieve much faster speed, cost efficiency and reliability in helping CN transform and modernize. I believe my team and I are contributing to the innovation of the railroad industry, every day.

Describe an interesting, unusual or little known fact about you.
I am an avid sailing competitor and have been racing since I was a kid. I race on soft and hard water, as most of our lakes freeze in Canada in the winter. I regularly travel far distances and visit very unusual places to pursue my competitive sailing passion. Last winter, I raced in the iceboat world championships in Ohio, along with skippers from all over the world.

What was your very first job?
My very first job was in technology, as a developer, supporting a French utility company preparing for the deregulation of the electricity market.

What is your philosophy toward life and/or your career?
Work and live with passion! My two children who are 3 and 6 years old help me daily to remember that there needs to be a healthy balance between life and career. I believe this is extremely important to be a strong performer at work.

It is also important for me to feel that my career and life have a greater purpose than my own personal growth. I am very team oriented and want to ensure my teammates are enjoying their work as we tackle challenges together. I like the perspective that the work we do at CN is contributing to the North American economy.

What advice would you give to new railroaders who want to advance in their careers?
Become informed about what other parts of your organization do. For example, you cannot be a good technologist and ignore what signals mean, how a locomotive works, or the complexity of switching at a yard. It is all intertwined and important to understand.

As well, I would say if you are working in operations, your work will inevitably involve leveraging or interacting with technology.

I would also advise new railroaders to jump on any opportunity to learn and discover new aspects of the railroad.

What do you think will be the biggest trend to affect railroading over the next decade?
Definitely automation. Technology capabilities are evolving at such a pace that railroads will be able to set new standards in operations and customer service, while driving safety levels up even higher. The Internet of Things will scale to the point that railroads' physical assets will be more and more connected, allowing for a correlation of a huge amount of data that we will leverage to raise the bar on efficiency, customer service and safety.

As technology continues to emerge, our industry will be disrupted by new models and new competitors leveraging new technologies. Now is the time for us to transform, improve through innovation and modernize.
---
Keywords
Browse articles on
Nicolas Mabboux
CN
director of IT application management and delivery
Rising Stars 2019
Contact Progressive Railroading editorial staff.