Newsletter Sign Up
Stay updated on news, articles and information for the rail industry
Rail News Home
People
August 2019
Rail News: People
Rising Stars 2019: Kimia Khatami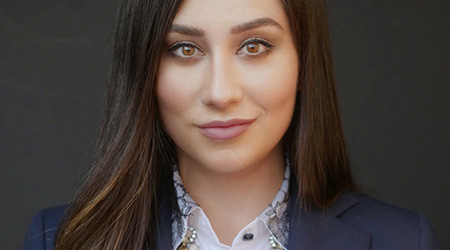 Kimia Khatami, 27
Director of customer service
Pacific Harbor Line Railroad
Nominator's quote: "Pacific Harbor Line is a complex, growing railroad and it serves a critical role as a last-mile railroad for carload business, and an origin point for four-plus dozen intermodal trains per day. Kimia is a major key to our success and she is relied upon regularly by the operating team as well as the executive team here at Anacostia." — Eric Jakubowski, Anacostia Rail Holdings Inc.
Why did you pursue a career in the rail industry?
I pursued the rail industry because very early on it became apparent that the work we do is impactful on an international level. Railroads, to an extent, provide economic equality to parts of our country that otherwise would not have access to goods available in larger metropolitan areas. I play a role in contributing to the sustenance of our economy and helping a historically significant industry move forward into the next generation.
Describe your education after high school.
I attended Brigham Young University in Provo, Utah. While in my sophomore year, I was accepted into a research program abroad through our political economic development lab and spent the summer living in Uganda. It was there that I discovered my passion for infrastructure development and transportation. I completed my bachelor's degree in political science with a minor in business management, and hope to continue onto my master's degree in the very near future.
It was in my senior year that I was recruited by Union Pacific Railroad and began my railroad career.
How are you making a difference in the rail industry?
In my current role and capacity, the difference I've made in our industry has been my commitment to bridging our various departments and ensuring that we remain on the forefront of developments from a legislative, regulatory and technological standpoint.
What is an interesting, unusual or little known fact about you?
In recent years, I have picked up woodworking and have built a few live-edge wall art pieces and coffee tables. It started off as a Christmas present idea and turned into a part-time hobby.
What was your very first job?
My first job ever was a pet-sitting business that I started in our neighborhood at the age of 9 and I did quite well. The first job I actually interviewed for was for a cashier position at CampingWorld where I learned that the RV business is actually quite lucrative.
What is your philosophy toward life and career?
There are a few that I try to live by, but one that has governed my decision-making throughout my career is that "comfort breeds complacency." When you begin to resist challenge and accept the status quo, you can no longer serve in your highest capacity.
What is your advice to new railroaders who want to advance their careers?
To continuously seek outside educational opportunities to advance your skill set and grow your overall confidence. For example, take on additional responsibilities through community organizations and you will gain leadership and communication abilities that are not taught through formal education.
Most important, be introspective and willing to change. As you further your career, you will identify many areas that need improvement, but the key is that the change must start with you in order to radiate outwards and influence your surroundings.
What will be the biggest trend to affect railroading over the next decade?
The development of cargo visibility and communication technology. The total market share of railroads has historically been restricted due to our inability to quickly conform to customer demands. Today, we must be able to track and transmit accurate data to help our supply chain partners grow their businesses. Our future success will rely on addressing constant change and investing in IT products that stay ahead of the curve.
---
Keywords
Browse articles on
Kimia Khatami
Pacific Harbor Line Railroad
Rising Stars
Anacostia Rail Holdings Inc.
Contact Progressive Railroading editorial staff.