Newsletter Sign Up
Stay updated on news, articles and information for the rail industry
Rail News Home
People
August 2019
Rail News: People
Rising Stars 2019: Devin Rouse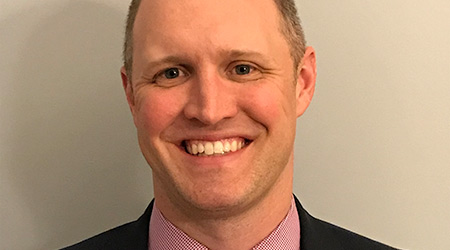 Devin Rouse, 35
Passenger-rail division staff director
Federal Railroad Administration
Nominator's quote: "Mr. Rouse has a stellar reputation within FRA and the railroad industry. He is an intelligent, hardworking engineer and project manager and is well respected by his staff, his peers, and especially by the railroad rolling stock equipment manufacturers and the leadership of the 28 commuter railroads around the nation. Senior leadership at FRA routinely assign the toughest and most sensitive tasks to Mr. Rouse. They have complete confidence that he will complete the task while professionally representing the policies and the positions of the FRA and the U.S. Department of Transportation." — Robert Lauby, Federal Railroad Administration
Why did you go into railroading?
I always knew I wanted to pursue a career in transportation and engineering, however I didn't intentionally set out to work in the rail industry. During my undergraduate work at Virginia Tech, I submitted a last-minute application and was accepted into Norfolk Southern's cooperative education program. Working in the former N&W Roanoke Locomotive Shops, I was mentored and taught by some great people. That experience inspired me, and I developed a tremendous respect for railroad engineering and history.
Describe your education after high school.
After high school I earned a bachelor's degree in mechanical engineering from Virginia Tech. A few years later I pursued a Master of Science in civil and transportation engineering. At the time, I was working as a design engineer on many civil and track related issues, so I had the fortunate opportunity to directly relate what I was learning to what I was doing. Soon after joining the FRA, I finished my master's degree and went on to become a registered professional engineer.
How are you making a difference in the rail industry?
Two of my most significant contributions have been the development of new passenger-rail equipment safety standards and my work in positive train control (PTC). This work has directly impacted the public in a positive way, and I am very passionate about making rail travel safer and more efficient, particularly as we look to the implementation of next generation equipment and technology within the U.S.
What is an interesting fact about you?
Besides railroading, my other passion is music. I will play just about any instrument I can get my hands on, and was a fairly accomplished bass guitar player at one time. With two amazing kids and three to four hours of commuting each day, it is rare to pick up an instrument these days. Now it's fun for other reasons, as I get to watch my kids become more interested and excitedly pull me downstairs to pick up an instrument and play with them.
What was your very first job?
During high school, and through college, I worked at Sears selling lawn and garden and sporting goods. For a time, to help pay for college, I also worked a night shift at one of their distribution centers in addition to the sales floor during the day.
What is your philosophy toward life and your career?
Seek out great mentors, attempt to find balance managing professional and personal goals and have patience, knowing you can't do it all, all at the same time. Balance and patience are probably the characteristics I strive for most in my career, and hopefully, I get it right occasionally.
What is your advice to new railroaders who want to advance their careers?
First, focus on finding a subject matter that you enjoy rather than chasing job titles. Too often, people have their eyes set on a certain job without understanding what that job actually entails, or the skills that are needed to perform the job successfully. If you enjoy what you do, and put the effort into doing your job well, the career opportunities will follow.
Second, don't be afraid to live outside of your comfort zone or take some calculated risks along the way. If you are asked to be a part of something outside of your routine, or there is something you are interested in or think you can contribute to, don't be afraid to get involved and be a leader. You're not going to have all the answers and you will likely not be the most experienced in the room, but you'll never know what you're capable of (and just as importantly, neither will others) if you always watch things from the sidelines.
What is the biggest trend to affect railroading over the next decade?
The role of technology, specifically software driven electronics within the industry. Those who have worked with me have heard me mention many times that the investment in PTC infrastructure, and the skilled workforce it requires, will accelerate the use of other technologies throughout the industry as the industry tries to gain a return on its investment.
Advancements like machine learning algorithms to improve operations and efficiency, and the use of multiple technologies to provide compound data points and monitor trends, can have an exponentially positive effect on safety and preventative maintenance, just to name a few examples.
---
Keywords
Browse articles on
Devin Rouse
Federal Railroad Administration
FRA
Rising Stars
Contact Progressive Railroading editorial staff.