Newsletter Sign Up
Stay updated on news, articles and information for the rail industry
Rail News Home
People
August 2019
Rail News: People
Rising Stars 2019: Audra Rodgers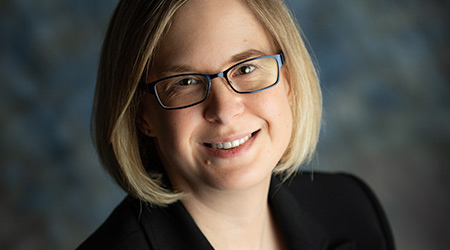 Audra Rodgers, 39
Rail structure lead, U.S.
AECOM
Nominator's quote: "Being a project manager is a demanding job, especially when you are in the first 10 to 15 years of your career. However, Audra makes it look effortless, with an ability to combine her engineering knowledge with client management, team engagement and financial accountability. Audra makes other engineers want to do their best work while empowering her team members with confidence. These traits in a project manager are impossible to teach, which makes them so much more valuable when found." — Alanna Strohecker, AECOM, 2015 Rising Star
Why did you go into railroading?
I have wanted to design bridges ever since I decided to become a structural engineer. During my internship in college, I worked on the Nebraska Department of Transportation inverted T standards. The precast plant, where I had my first job, made products for railroad bridges. This sparked my interest in becoming a railroad bridge engineer. I found designing rail bridges more interesting than designing highway bridges.
Describe your education after high school.
I attended college at the Omaha campus of the University of Nebraska-Lincoln and received my Bachelor of Science in civil engineering with an emphasis on structural engineering. I then received a graduate research assistantship from the university and continued on to receive my Master of Science degree in civil engineering with an emphasis on structural engineering.
For my graduate thesis project I designed, fabricated and tested 60-foot-long concrete poles in the university structures lab as I worked to help design a new precast, post-tensioned segmental pole system. In the end, my fellow graduate students and I were successful and named as joint inventors on Patent No. 6851231.
How are you making a difference in the rail industry?
While I am making a difference in the industry in multiple ways, I am most proud of mentoring the next generation of rail structural engineers. I host "Webex Lunch and Learn" training sessions on topics such as drilled shaft design.

I am also proud of having found ways to organize the wide range of talent in our very large firm. I coordinated the efforts of our rail structures professionals across the Americas so that we work together as a collective group. Our rail engineers throughout the company now use collaboration tools such as instant messaging and screen sharing to share their expertise.
What is an interesting fact about you?
I was born with three holes in my heart and had two heart surgeries before I was 2 years old. As a child, I was ill quite a bit of the time because of this and chronic asthma. I am very healthy now, but these challenges as a child helped to build my character. I never accepted being told that I cannot or should not do something in life. Overcoming challenges has become a part of my nature.
What was your very first job?
My first job after college was for a local precast plant near Omaha, Nebraska. I designed precast wall panels, shear walls and parking garages.
What is your philosophy toward life and your career?
I always give my best to any task that I take on and never consider my work as a "job." I am lucky because I get paid to do something I love. I believe that bringing the passion that comes with enjoying my work to my daily activities has played a huge role in my success. I take great pride in my work and have a personal stake in every project I work on. That leads to putting the best effort and quality I can into every project and deliverable that I oversee or produce. I have taken this approach my entire life, from high school, to college, to raising my three boys. In order to succeed you have to be "all in!"
What is your advice to new railroaders who want to advance their careers?
Find good mentors inside and outside your company. I try to learn from everyone I meet, taking what I see as the best qualities and strategies and applying them to my own situations. Always keep enhancing your technical and business knowledge. The world is ever changing, and you do not want to get behind the times. Finally, get excited and passionate about what you do. Engaging others is a critical part of your career and if you are not passionate about what you do others will not be either.

What will be the biggest trend to affect railroading over the next decade?
Innovation and technology are going have the most impact in the coming years. New technologies are being developed constantly inside and outside our field. You can see this in the recent developments in drone usage for inspections and surveys, in advanced LiDAR scanning, and in operations modeling. As an industry, I see us using and advancing these technologies in ways not even considered yet to further optimize railroading and increase efficiency and operational lifespan.
---
Keywords
Browse articles on
Audra Rodgers
AECOM
Rising Stars
Alanna Strohecker
Contact Progressive Railroading editorial staff.