Newsletter Sign Up
Stay updated on news, articles and information for the rail industry
Rail News Home
People
August 2019
Rail News: People
Rising Stars 2019: Amanda Limburg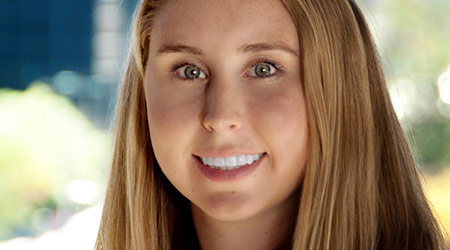 [Editor's note: This article was updated Aug. 1 to correct the employer of Limburg's college internship.]
Amanda Limburg, 31
Denver Freight Rail Team Leader
David Evans and Associates Inc.
Nominator's quote: "In our industry, we need more people like Amanda. Her mentorship of students, younger engineers and peers not only improves the quality of the industry as a whole, it provides a source of inspiration for the next generation of rail industry professionals" — Levi Turner, David Evans and Associates Inc.
Why did you pursue a career in the rail industry?
I wouldn't say I pursued it at first. While in college, I had a civil engineering internship where I was placed on the rail team of a civil engineering firm near Berkeley for the summer. One thing led to another. Now that I have been involved with the industry for a while, I value being a member of the niche group of rail professionals within the broader civil engineering community. It's a great place to be if you like to help solve real world challenges and improve the country's infrastructure.
Describe your education after high school.
I attended the University of California, Berkeley, where I ultimately received a degree in civil engineering. I gravitated toward the transportation classes and was relieved that I actually enjoyed the major I chose somewhat on a whim. Recently I've been taking a few online graduate classes through the University of Illinois.
How are you making a difference in the rail industry?
With David Evans and Associates, I've been leading the development of our rail group in Colorado and have been serving our railroad clients through management of several projects. Through my work I help improve the industry through design, development of efficient approaches, and being adaptable to the changing needs of the industry. I also serve as the student chapter coordinator for Committee 24 of AREMA. Through that role, I work to give wider exposure of the rail industry to college students.
What is an interesting, unusual or little known fact about you?
I am a decent painter. I painted the graphics for the save-the-dates for my upcoming wedding this fall and a few other artworks around our house.
What was your very first job?
The summer after my freshman year of college, I was a camp counselor for
an elementary-age kids program. We supervised the kids on excursions every day to places like the beach, museums, the movie theater and amusement parks. It was great fun. I've yet to be as tan as I was during that summer.
What is your philosophy toward life and career?
To put it simply, prioritize and do a good job. At the end of the day I want to feel good about what I've put forth to my family, friends co-workers and clients.
What is your advice to new railroaders who want to advance their careers?
Keep an open mind, work smart and hard, and establish strong connections within your community.
---
Keywords
Browse articles on
Amanda Limburg
David Evans and Associates
Rising Stars
Contact Progressive Railroading editorial staff.