Newsletter Sign Up
Stay updated on news, articles and information for the rail industry
RAIL EMPLOYMENT
Rail News Home
People
December 2019
Rail News: People
Curiosity drives Arpin, LRW's 'Woman of the Year'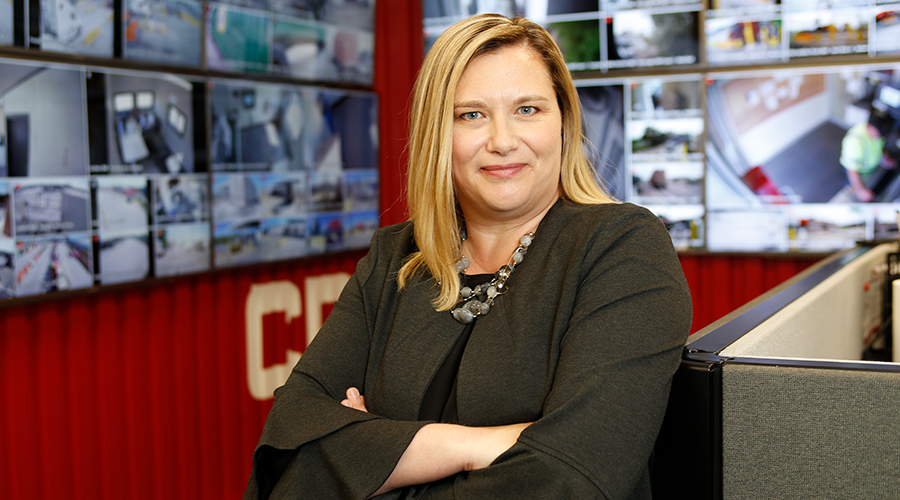 By Julie Sneider, senior associate editor

Pam Arpin has been intrigued with railroads for as long as she can remember. As a child, the native Canadian counted the rail cars along the flat Saskatchewan landscape while traveling with her family to her grandparents' house.

A few years later, after earning a degree in finance at the University of Saskatchewan, Arpin went to work for Canadian Pacific in 1997 as a marketing and sales account representative in the resources and products group. Since then, she's moved six times between Calgary, Alberta, and Winnipeg, Manitoba, as she's sought to gain knowledge in various departments at the Class I.

Today, Arpin, 44, is assistant vice president of customer and corporate services. Her duties include oversight of CP's Shared Service Center in Winnipeg, where she's responsible for improving the customer experience, and driving down costs by applying innovative solutions and technological advancements.

Under her leadership, the center — which employs more than 400 people — has expanded its scope. Launched in 2012, it evolved from a place that housed CP's clerical workforce to an operation that now "touches every CP dollar," including finance activities, customer service, truck dispatch management and payroll, according to company officials.

In September, the League of Railway Women (LRW) recognized Arpin's accomplishments by naming her the "Railway Woman of the Year" for 2019. Co-sponsored by Progressive Railroading, the award honors women in the rail industry who demonstrate vision, initiative, creativity and guidance in a leadership role. They're also recognized for being innovative and problem-solvers, for overcoming challenges and for bringing "consistent excellence" to their companies and surrounding community.

Those qualities describe Aprin to a T, say LRW leaders and the CP executives who nominated her for the award.

"Pam Arpin has been a leader for men and women in the rail industry," said LRW President Tanis Peterson in a press release announcing Arpin as the 2019 award recipient. "She is a true visionary who has supported women throughout her career."

In his letter nominating Arpin, CP President and Chief Executive Officer Keith Creel wrote that her work is "integral to CP's future and she continues to navigate the changing customer landscape with confidence."

Arpin is grateful to CP for allowing her to define her role based on her interests.

"I'm very curious and have a voracious appetite for learning," she says. "I've always had a leaning toward the science and analytics of process improvement. Through my curiosity and roles at CP, that really became a target of what I wanted to concentrate on."

Taking ownership of one's career is essential in order to grow as a professional, Arpin believes.

"You can't just expect the company to determine what you should do next," she says. "I've determined what I want to do and what I'm most interested in. And I think that's led to most of my success in that I'm extremely engaged in what I do."

One example of her analytical mind and drive is the CP FastPass project, which she led two years ago. The project created a mobile application that enables truck drivers to use an automatic gate kiosk to enter and exit the railroad's U.S. and Canadian intermodal terminals. The project helped reduce costs and improve fluidity.

"We had a 500 percent improvement in truck times coming into and out of our terminals," says Arpin.

Now, she's leading the introduction of robotics process automation (RPA) across CP. RPA, or "bots," involve virtual workers that perform business tasks similar to users, and enable organizations to automate existing high volume and/or complex data handling actions as if the business users were doing the work, Arpin explained in an email.

"The 'bots' help improve accuracy, reduce costs and improve customer experience by allowing for faster processing times," she said. "This leads to quicker responses to the customer; providing more accurate data entry, thus decreasing errors throughout the shipment's lifecycle and improving CP's overall ability to service our customers."

So far, CP has deployed 15 bots in less than a year to support processes in many areas, including operations, financial and intermodal.

In addition to her knack for innovating, Arpin is known around CP for being a coach and mentor. CP executives chose her to be among the first participants of the company's Coaching Capability Program, created in 2018 to further develop the next generation of senior leadership.

"Pam completed the program with flying colors, again demonstrating her drive and leadership," wrote Creel.

To Arpin, mentoring others is a way of giving back for the "strong mentorship" she's received over the years.

"I think mentorship is critically important and is something that we all need to do more to help create the capacity for individuals to succeed," she says.
---
Keywords
Browse articles on
Pam Arpin
Canadian Pacific
League of Railway Women
LRW
Railway Woman of the Year Award
2019
Tanis Peterson
Keith Creel
Progressive Railroading
Saskatchewan
robotics process automation
CP FastPass
Contact Progressive Railroading editorial staff.