Newsletter Sign Up
Stay updated on news, articles and information for the rail industry
RAIL EMPLOYMENT
Rail News Home
People
August 2019
Rail News: People
Rising Stars 2019: James Schwichtenberg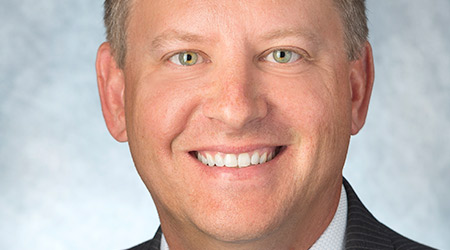 James Schwichtenberg, 39
Vice president and chief safety officer
CSX

Nominator's quote: "Jim has had a dramatic impact on CSX's safety performance since joining the company as chief safety officer in May 2018. [He] oversaw a comprehensive safety review by an independent consultancy, refocused the CSX discipline policy on behavior modification, successfully advocated for inclusion of safety targets in annual incentive bonus programs, implemented new training for front-line managers, increased rules observations in the field, and intensified focus on critical rules with the greatest potential to reduce life-changing injuries. His innovative approaches and engagement have returned CSX to a position of safety leadership in the industry."
— Diana Sorfleet, CSX

Why did you pursue a career in the rail industry?
As with any young person, I didn't really know what I wanted to do, but I did know I wanted a job with a future. I had been told that to have any kind of success you needed an education in technology, but around the time I was entering the workforce, I was hearing rumblings about the dot-com bust. In railroading, I saw an industry that has been around since the 1800s, and it just seemed like a safe bet.

Describe your education after high school.
I wasn't ready to jump into college after high school. I knew that railroading offered an opportunity for good pay and career longevity for those who are willing to work hard, so I signed on with the railroad. I started at Union Pacific.

After five years with the UP, I took a job with the Federal Railroad Administration (FRA) and was there for four years when I was offered a promotion that took me to Washington, D.C. Around that time — almost a decade after graduating from high school — I started thinking that college was a good idea to help unlock future opportunities. At that point, I had a career and not a lot of time to attend classes. I found Strayer University a block away from my office and worked toward completing my bachelor's degree in business administration while also starting a family and leaving the FRA to go work for CN.

How are you making a difference in the rail industry?
My greatest hope is that I am helping to strengthen the safety culture, but you can never really know what incidents you helped prevent. That's the toughest part of being in a safety job. At the time this interview will be published I'll be finishing my first year at CSX, and we have seen a lot of progress. Currently, we have the right team with the right initiatives to address challenges and seize opportunities. Safety is a moving target, however, and we need to stay vigilant and ready to act on early indications before they have a negative impact or turn into a trend.

What is an interesting, unusual or little known fact about you?
I genuinely care about people and try to put myself in their shoes. I have battled through challenges in my personal life — my wife and I suffered a tragic loss when our first child, Evelyn, passed away shortly after birth in 2012. In 2017, my wife was diagnosed with cancer, and I witnessed her incredible strength as she battled back through chemotherapy and surgeries. I think my life experiences have shaped my leadership qualities more than any classroom education or previous jobs.

What was your very first job?
worked as a car porter at a Chevrolet dealership in the Chicago suburbs. It was a fun job for the summer. I learned to drive a manual transmission in a Geo Tracker — an important life skill for someone who loves muscle cars.

What is your philosophy toward life and/or your career?
Not a lot of things are worth being stressed over. Take life as it comes and remember to take care of yourself. Personal well-being is the most important job you have.

What is your advice to new railroaders who want to advance their careers?
Don't be afraid to move or try something new. The great thing about this industry is that you can have mini-careers within the railroad. I know people that have gone from safety to HR and from finance to IT. There is lots of opportunity for those who are willing to seize it.

What do you think will be the biggest trend to affect railroading over the next decade?
Technology will continue to advance. If I think about the long history of the railroad, things have not really changed that much. The rails have always been 56½ inches apart. Automatic couplers and diesel locomotives have certainly been innovative — and now, PTC. But I'm excited to see what the future holds.
---
Keywords
Browse articles on
James Schwichtenberg
vice president and chief safety officer
CSX
Rising Stars
2019
Contact Progressive Railroading editorial staff.