Newsletter Sign Up
Stay updated on news, articles and information for the rail industry
Rail News Home
People
July 2019
Rail News: People
Rising Stars 2019: Mickaela Doyle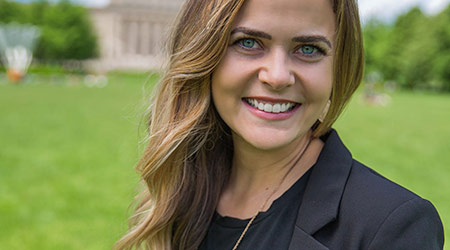 Mickaela Doyle, 29
Director of finance
Watco Cos.
Nominator's quote: "Mickaela serves as an excellent example of one of the industry's rising stars. Her knowledge of rail finance, operation, policy and development make her indispensable to Watco, and the industry as a whole." — Rick Baden, Watco Cos.
Why did you go into railroading?
I just lucked into it. Admittedly, I knew very little about the rail industry when I first started at Watco. Rail is one of the oldest industries in our country and plays such a vital role in our economy, but yet somehow it stays relatively under the radar.
Describe your education after high school.
After high school I studied accounting at Truman State University in Kirksville, Missouri. My second semester I decided I wanted to try my hand at going pre-med, but my first physics course had me running back to the school of business. I took an introduction to finance class with a professor named Paul Fellows that ultimately got me interested in pursuing a degree in finance. Professor Fellows later recommended me for my role at Watco, so he probably has shaped my career path more than he ever thought he would.
How are you making a difference in the rail industry?
I have had the opportunity to support a lot of growth capital investments in my time at Watco. Most of those opportunities have come from listening to our customers and trying to find solutions to the challenges that they face. I think the Watco team is showing the industry what kind of growth can be achieved when you listen to your customers.
What is an interesting fact about you?
I am a huge soccer fan, and I follow the Major League Soccer closely. I love the atmosphere going to Sporting Kansas City games and have been patiently waiting for my home town of St. Louis to get an MLS team.
What was your very first job?
Working the concession stand at my elementary school when I was about eight. My mom would have me make change for the customers to try to hone my mental math skills.
What is your philosophy toward life and your career?
My outlook changes the more that I learn and grow. I have been lucky enough to have multiple exceptional mentors in my career who have intentionally invested in me to help my development. I still have a lot to learn, but right now I am focused on developing and encouraging other people in the same way that I have been supported.
What is your advice to new railroaders who want to advance their careers?
First and foremost, be kind and focus on relationships. There will always be work that needs to be done, but if you focus on your relationships you will be able to accomplish great things as a team. Second: Show up and be helpful. Even when you are the least experienced person in the room, if you show a willingness to jump in and help in any way possible, that will always go a long way.
What will be the biggest trend to affect railroading over the next decade?
Technology and automation will likely have the largest impact on the railroad industry. I also think we are on the verge of having some of the more experienced members of our industry reach the age of retirement. It will be very important for companies to think about succession planning and investing in training the next generation of railroaders. When you combine that experience with a fresh perspective, you'll start to see new solutions to problems that companies didn't know they had.
---
Keywords
Browse articles on
Mickaela Doyle
Watco Cos
Rising Stars
Contact Progressive Railroading editorial staff.