Newsletter Sign Up
Stay updated on news, articles and information for the rail industry
Rail News Home
People
August 2019
Rail News: People
Rising Stars 2019: Amanda Patrick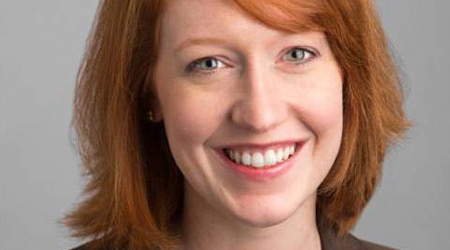 Amanda Patrick, 36
Vice president of trade shows and member relations
Railway Supply Institute

Nominator's quote: "Amanda Patrick is a consummate professional. Her significant contributions are readily recognized by anyone who has attended RSI Rail Expo or Railway Interchange events, and, of course, the RSI Board of Directors and RSI's 225-member companies. She had had a positive impact on the railroad industry."
— Patrick Ameen, Amstead Rail Co., RSI Board member

Why did you pursue a career in the rail industry?
Initially, it was a job I intended to be more of a stepping stone, but it wasn't long before the industry grew on me. Other than an abandoned track that went through my hometown, I didn't know much about the railroads. Being from a small town that frequently refers to itself as "flyover country," I really liked the idea of helping companies from all over the U.S. to lend their voices in Washington, D.C. Once I got into the event planning space, I found a lot of personal and professional value in helping companies promote their wares and services on the trade show floor and sharing ideas and research through conferences.

Describe your education after high school.
I went to college at Southeast Missouri State University, a good school that wasn't too far from home. Soon after 9/11 occurred, I became curious about how policy and governments worked, so I majored in political science. My small world had become large and complex — I wanted to be a part of it. Being from the "Show-Me" state I wanted to see government in action. My first dose of this was after Hurricane Katrina when I volunteered at an evacuees shelter. I learned how government organizations like the Federal Emergency Management Administration (FEMA) and the Corps of Engineers can dramatically affect the lives of ordinary citizens.

How are you making a difference in the rail industry?
At Railway Supply Institute, where I have worked since 2008, I help to manage our conference and expo. I am proud of this work because I enjoy setting up opportunities for people to connect and learn. I love to see what companies can do with 100 square feet of space and I relish the opportunity to hear a person speak at a conference for the very first time.

When I started volunteering with the League of Railway Women, I was in charge of the website, but eventually I found myself in a larger role of helping to lead and organize the association as a whole. I am proud to be a part of LRW's mission to cultivate and connect women in rail.

What is an interesting, unusual or little known fact about you?
I spent most of my childhood in my parent's pizza restaurant — Little Pizza Heaven — in Caruthersville, Missouri, where I waited tables, prepared food and washed dishes. That's where I learned the value of hard work, how to deal with all types of people and how to manage high stress situations.

What is your philosophy toward life and/or your career?
One mantra I use to manage my life is "just do the next right thing." When I am overwhelmed with balancing my life, I just do the very next thing I need to do instead of looking too far ahead, which can be paralyzing. Sometimes it's as simple as "write the first sentence of an email" or "go pick up your kids from school," but it puts me in a place where I can focus and feel more in control.

What is your advice to new railroaders who want to advance their careers?
Find yourself a network of people in your field that you can relate to and can talk to about your career and things you are interested in work wise. This will encourage you to keep learning and, inevitably when you have some kind of career issue, you have a group of people to support you and give you good counsel.

What will be the biggest trend to affect railroading over the next decade?
I think we are seeing a competent pool of people retire and we need new enthusiasm, knowledge and talent to take our job producing, environmentally friendly, business savvy industry forward. ... I think it's critical for us to show those entering high school, trade school and universities the kinds of well-paying and fulfilling jobs there are in this industry from welding, to engineering, to construction, to marketing.
---
Keywords
Browse articles on
Amanda Patrick
vice president of trade shows and member relations
Railway Supply Institute
RSI
Rising Stars 2019
Contact Progressive Railroading editorial staff.