Newsletter Sign Up
Stay updated on news, articles and information for the rail industry
Rail News Home
People
July 2019
Rail News: People
Rising Stars 2019: Jeffrey Brantz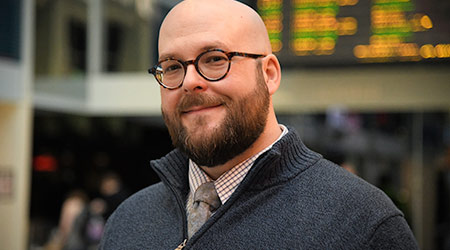 Jeffrey Brantz, 39
Business system analysis manager
Metra
Nominator's quote: "Leadership requires the ability to see forward into the future and imagine what is possible, not necessarily what is easy, have the confidence to pursue the right path, and then gain the trust and commitment of all team members needed to execute effectively. It is not often that this type of leadership, the ability to see the future combined with the skills needed to construct a workable path to get there, are found in the same person. Metra is fortunate to have such a person in Jeff Brantz." — Cherie Kizer, Metra
Why did you pursue a career in the rail industry?
Growing up, my grandfather worked for the railroad as a yardmaster. In fact, his house was so close to the yard that he would watch train movements from his front porch. When I moved to Chicago and received a call to interview for Metra, I immediately thought of how much his work with the railroad had meant to my family.
Describe your education after high school.
I went to the University of Wyoming to pursue a degree in electrical engineering. But at the start of my junior year I switched to computer science because I was interested in programming. I decided to finish my bachelor's degree in Chicago and graduated with a Bachelor's of Science in technical management.
Then, I decided to pursue a master's degree. Just after my first semester I received the call from Metra. My first two years were spent learning how commuter rail operated and also completing my master's degree.
Describe how you are making a difference in the rail industry.
One of the proudest moments during my career was the role I played in launching Metra's mobile ticketing platform. When I first came to Metra tickets were audited by conductors with punches and all credit card sales were done over the counter at ticket windows. During a very short time we had to identify how to accept credit cards and integrate with Chicago Transit Authority and Pace Ventra cards. I worked with conductors to create ticket features they would need to validate on board. Then we leveraged current ticketing policies to drive the business rules. After we had a working model, we quickly trained conductors to recognize the tickets and accept the new process. Currently, over 45 percent of tickets are sold through the mobile app.
Where I am making a difference is creating ways to leverage technology to improve processes. I am currently the project manager to replace all of the GPS and communication equipment on board trains and at platforms. It will take nearly two years and require a cross-functional effort from several departments to accomplish the work. In the end, we will improve communication to our customers and empower them to make travel decisions through a refreshed website and mobile application.
What is an interesting, unusual or little known fact about you?
I grew up in a small town in Wyoming and didn't take public transportation until I was 26. Now, I rely on it so heavily that I go weeks without driving.
What was your very first job?
Working for an A&W restaurant. I even had the privilege of dressing in a 6'5" root-beer bear costume and running around the parking lot to drum up business.
What is your philosophy toward life and career?
I am a tinkerer by heart. I love to know how things tick. I tend to learn as much as I can about how something operates and then see if there is room for improvement. I incorporate that same philosophy where I work. If I see that there is an issue, or that there could be improvement, I immediately think of ways to solve the problem.
What is your advice to new railroaders who want to advance their careers?
Pay attention and learn from those around you. When I first started out I knew very little of the industry and there were a lot of people who were gearing up to retire. I spent a lot of time working with different departments and asking a lot of questions. I was fortunate to have a few mentors through the years that not only helped me understand the operations, but also supported me as I moved up through the organization. It is really important to look at the whole picture and not just focus on the operation today.
What will be the biggest trend to affect railroading over the next decade?
Technology on the railroad will continue to be the biggest trend. We have already started to see how positive train control is going to affect the operation. As an industry, we will have to find ways to improve upon that systems and work toward changing the way "we have always done things." In a few years we will be looking for ways to utilize PTC for train spacing and automating safety functions. As we refresh our infrastructure, we will find ways to improve communications with trains and crews.
---
Keywords
Browse articles on
Jeffrey Brantz
Rising Stars
Metra
mobile ticketing
Contact Progressive Railroading editorial staff.