Newsletter Sign Up
Stay updated on news, articles and information for the rail industry
RAIL EMPLOYMENT
Rail News Home
People
July 2019
Rail News: People
Rising Stars 2019: Matthew Bell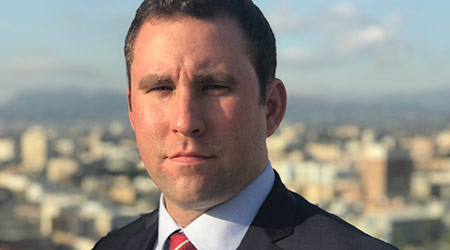 Matthew Bell, 31
Rail government affairs consultant

Nominator's quote: "Over the past four years, Matt led, managed or participated in every aspect of the operations of the National Railroad Construction and Maintenance Association (NRC), including membership, directory formulation, conference logistics, safety regulation meetings, safety awards and committees, grassroots events, finances and government affairs. In 2018, Matt led the NRC's grassroots effort, which included 20 grassroots events — an 82 percent increase from the prior year." — David Bergstrom, Ragnar Benson Construction

Why did you pursue a career in the rail industry?
Railroads have been an interest of mine since I was a kid. After college I was lucky enough to work on various federal transportation issues. Republicans and Democrats rarely see eye to eye on federal issues, but rail, infrastructure and transportation issues had, and still have, good bipartisan support. Working both sides of the aisle is exciting and enjoyable.

Describe your education after high school.
Ohio University, Bachelor's of Science in political science/pre-law, with a minor in business and a certificate in political communications. Completing a master's degree in public policy from George Mason University.

How have you made a difference in the rail industry?
By advocating for increased contracting out of America's legacy rail transit systems, gaining co-sponsors for 45G, winning grant funding for railroads, and participating in moving USMCA and increased federal funding for rail, intermodal and ports, I feel that I am contributing to moving the industry forward.

I was honored to have led the NRC and to have worked for this great rail industry association for almost five years. Having led the most successful NRC auction with Danny Brown and Thomas Blackmon (over $140,000 raised for NRC scholarships and grants) and the most successful NRC conference and breaking and sustaining 400 members for five straight years are accomplishments I am proud of.

I also enjoyed giving back to the next generation, under the leadership of Daniel Stout, providing grant funds to college railroad engineering and construction programs. I enjoyed meeting the marvelous faculty and staff at the University of Tennessee, University of Kentucky and Penn State. These college programs and the students who graduate from them illustrate that the future of the industry is bright.

Describe an interesting, unusual or little known fact about you.I was an NCAA Division I college athlete. While in high school at a club meet, I swam the 100 meter butterfly against Michael Phelps before Michael competed and won any Olympic gold medals.

What was your very first job?
Swim coach during the summers in high school.

What is your philosophy toward life and/or your career?
Work hard every day, treat everyone with respect and cherish the friendships and work relationships you make.

What is your advice to new railroaders who want to advance their careers?
Working in the railroad industry, whether in D.C. or around the country, is not a 9-to-5 job. If new railroaders want to succeed, they must be committed to their work, have the ability to deal with adversity, and have a strong work ethic and high professional integrity.

What do you think will be the biggest trend to affect railroading over the next decade?
Technology and innovation — for the railroads, shippers and the rail construction and supply industry — will have a big impact on railroading. Over the next decade, autonomous trains and rail equipment will change the labor landscape. It is important that we adopt, educate and train the next generation of railroaders.
---
Keywords
Browse articles on
Matthew Bell
Rising Stars
2019
rail government affairs consultant
NRC
Contact Progressive Railroading editorial staff.