Newsletter Sign Up
Stay updated on news, articles and information for the rail industry
Rail News Home
Passenger Rail
6/13/2018
Rail News: Passenger Rail
APTA recognizes transit-rail agencies for safety, security excellence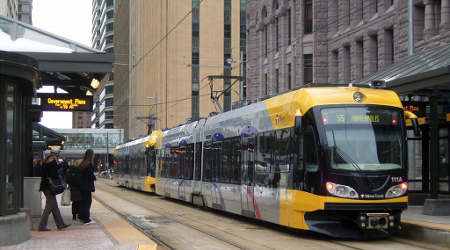 The American Public Transportation Association (APTA) yesterday announced the winners of the 2018 Rail Safety and Excellence Awards at the association's annual Rail Conference, which this year is being held this week in Denver.

The awards recognize recognize public transportation organizations for their "innovative and proactive" safety and security programs. It also provides value to the industry by benchmarking successful programs so other public transit systems can adopt them and derive similar benefits, APTA officials said in a press release.

Nominations are evaluated based on four criteria: effectiveness, benefit level, innovation and transferability. The top honor is the Gold Award, which is given to organizations with the best overall rail safety or rail security program. A Certificate of Merit is given to organizations in recognition of exceptional achievement in safety or security.

"The accomplishments of these leaders are setting the stage for the next generation of advances to make safe rail travel even safer," said APTA President and Chief Executive Officer Paul Skoutelas.

Winners are awarded in three categories: commuter/intercity rail, heavy rail and light rail/streetcar.

In the commuter/intercity rail category:
• APTA awarded Gold recognition to MTA Metro-North Railroad for its community safety outreach program known as Together Railroads and Communities Keeping Safe (TRACKS). Launched in 2016 in response to a crossing incident, the program has reached more than 150,000 people in the railroad's service area. Metro-North attributes a 33 percent decrease in trespasser strikes to the program.
• APTA awarded a Certificate of Merit to Metrolink in Los Angeles for several safety initiatives, including its implementation of positive train control (PTC). Metrolink management, staff and board members have collaborated to implement the railroad's safety initiatives. PTC development, inward facing cameras, a training video and rail cars with crash energy management technology are some of Metrolink's advancements. The initiatives have contributed to a decade of increased safety, according to APTA.

In the heavy-rail category, APTA awarded Gold recognition to the Metropolitan Atlanta Rapid Transit Authority (MARTA) for its efforts to improve safety and efficiency over the past three years. Among those efforts is a track allocation process designed to reduce standby costs and maximize track time. An executive-level commitment at MARTA ensures that employee and contractor safety is a priority by developing a formal process to implement safety critical projects.

In the light-rail/streetcar category, APTA awarded Gold recognition to the San Diego Metropolitan Transit System (MTS) for creating a program known as ART, or Anticipate, Recognize, Take Action. The program was created in 2016 in response to an increase in accidents between motorists and trolleys operating at street level. The program achieves the goals of reducing accidents, reducing cost and employing new safety training, APTA officials said.

APTA issued Rail Security Excellence Awards to Metro Transit in Minneapolis and the Metropolitan Transit Authority of Harris County in Houston (METRO).

Metro Transit received Gold recognition for using a federally designated Special Event Assessment Rating (SEAR) security plan for light-rail service during the National Football League's Super Bowl LII, which was held Feb. 4 at U.S. Bank Stadium in Minneapolis. The SEAR was located at the station serving the U.S. Bank football stadium in both the heart of downtown Minneapolis and within the hardened secured perimeter.

Metro Transit's Green and Blue lines and the Northstar commuter-rail system each saw their highest-ever January ridership totals, and nearly 210,000 additional rides were taken during Super Bowl festivities as the agency dealt with a snow weather event, public protests and demonstrations, and increased ridership.

APTA awarded METRO a Certificate of Merit for rail security excellence after increasing security presence and visibility in response to a customer survey. Security enhancements included METRO police on Segway and bike patrols, targeted deployments of fare inspectors and police personnel, and a new phone application that enabled customers to report non-emergencies in real time.

A year after stepping up security, the agency logged an 18 percent improvement in the number of riders reporting on the survey that they felt safer when riding METRO.
Contact Progressive Railroading editorial staff.
More News from 6/13/2018