Newsletter Sign Up
Stay updated on news, articles and information for the rail industry
Rail News Home
Passenger Rail
June 2019
Rail News: Passenger Rail
Passenger rail grows in Florida, as the state grapples with congested roads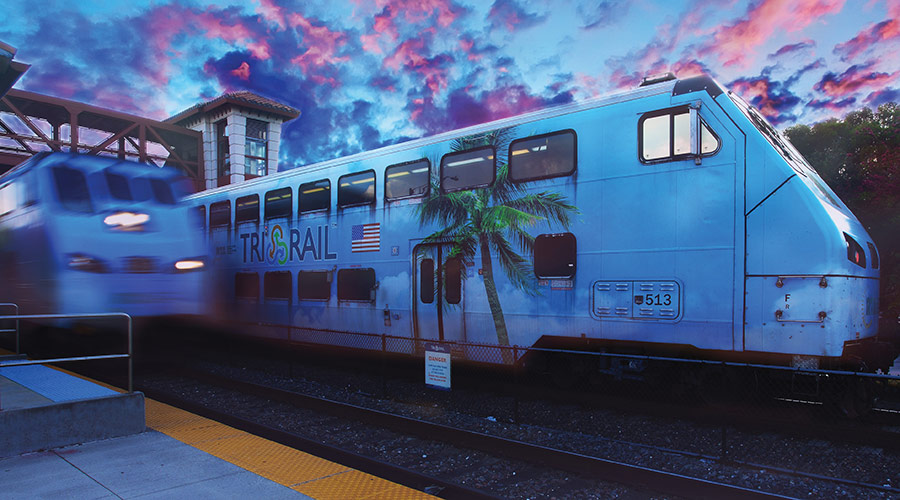 By Julie Sneider, Senior Associate Editor
In January, the South Florida Regional Transportation Authority (SFRTA) marked 30 years of providing Tri-Rail commuter-rail service along a 72-mile corridor from West Palm Beach to Miami International Airport. The service was launched initially by the Florida Department of Transportation (FDOT) as a five-year temporary traffic mitigation measure during an Interstate 95 widening project.
But the train service caught on with commuters over those five years — so much so that Tri-Rail has become an integral part of south Florida's transportation network, operating 50 trains on weekdays and 30 trains on weekends and holidays, according to SFRTA. Since its debut on Jan. 9, 1989, Tri-Rail has transported 92 million people in its service area through Broward, Miami-Dade and Palm Beach counties.
"I like to emphasize that every rider we have on the train is one car off I-95," says SFRTA Executive Director Steven Abrams. "The service is a benefit not only to the passengers, but also to everyone else who benefits from less congestion on our roads."
More south Floridian commuters are choosing rail to get to work or school than five years ago, according to Abrams. In 2014, the agency reported Tri-Rail's daily ridership at about 15,000; today, the agency puts that figure at more than 16,000. The primary reason: Traffic congestion on Florida's roadways, Abrams says.
And with the state's population projected to reach 24 million people by 2030 — an increase of 6 million from 2015's level — road congestion is expected to worsen. As a result, Abrams and other regional transportation leaders believe that commuter rail and intercity high-speed rail — such as what Virgin Trains USA (formerly Brightline) is providing between Miami and West Palm Beach, and eventually will offer to Orlando and possibly Tampa — should be part of the state's plan for managing the challenges that come with population and economic growth all over Florida.
While Tri-Rail's "bread and butter" is serving people heading to work or school, it's also transporting more "choice riders" — tourists opting to ride a train to or from the three Florida airports the railroad serves in Miami, Fort Lauderdale and Palm Beach, Abrams says.
A Tri-Rail rider nearly every day for the past 10 years, he also notices more construction workers on trains heading to their jobs.
"We've always had a blue-collar component — people on the train getting to work," Abrams says. "But now there's a construction boom going on [in south Florida], and I see any number of construction workers getting onboard every day. They're very identifiable wearing their safety-bright shirts and they're bringing their work gear with them." Tri-Rail's "seasonal" ridership — higher during the winter months as snow-bird retirees make their move to the warmer south — also is picking up during other times of the year.
"South Florida is becoming more of a year-round area," Abrams says. "As that evolves, the median age continues to drop. We do have a big retirement community, but more and more we have a year-round workforce."
Not only is Tri-Rail's ridership expected to tick up because more — and younger — people are moving to the area, but also due to SFRTA's plans to expand Tri-Rail service along the Florida East Coast Railway (FEC) corridor. For example, the proposed 9-mile Downtown Miami Link would enable Tri-Rail passengers to ride all the way to the MiamiCentral Station without having to transfer to Miami's Metrorail trains. Located in the government district in downtown Miami, the station currently serves Virgin Trains and connects to the adjacent Government Center Station that serves Metrorail, Metromover (an automated people mover system) and bus lines.
"That will be a one-seat ride for our passengers into downtown Miami, which is growing and is now a destination center," explains Abrams. "It's much anticipated and will be a more convenient way for our passengers [in Palm Beach and Broward counties] to get there. And Miami-Dade County will enjoy the economic benefits."
Exactly when Tri-Rail trains will start pulling into MiamiCentral hasn't been established, however. Work has been performed on the two sets of tracks Tri-Rail trains will use at the station, but agency officials are waiting for FEC to complete positive train control (PTC) installation and certification tasks. After that, SFRTA will apply to be a tenant on those tracks and then receive certification for its own PTC installation, according to Abrams. Both FEC and Tri-Rail are working under the Federal Railroad Administration's alternative schedule for PTC implementation, which requires PTC to go live by 2020's end, he notes.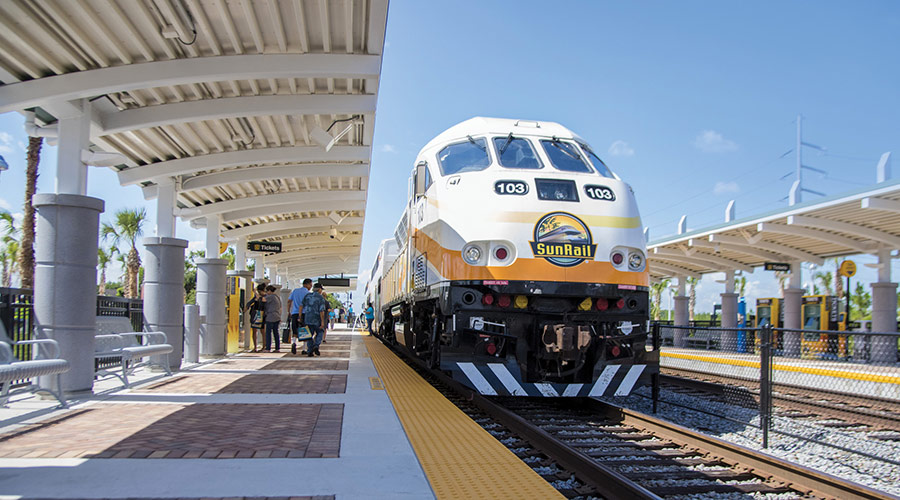 SunRail/Flickr
SunRail shines in central Florida
While Tri-Rail is transporting more riders in south Florida, SunRail is carrying more people in central Florida. The 49-mile commuter-rail system serves the city of Orlando and four counties: Orange, Osceola, Seminole and Volusia. When SunRail launched service in May 2014, it was operating on 32 miles of former CSX track from the city of Debary in Volusia County to Sand Lake Road in Orange County. Over that five years, SunRail has increased its service from 34 to 40 trips per day.
And in July 2018, SunRail opened its second phase, a southward expansion that added 17 miles and four stations, boosting the number of stations to 16. As a result, ridership jumped from 831,460 boardings in fiscal-year 2018 (which ended June 30) to 1.2 million boardings through April 30 of FY2019. Daily ridership averages around 6,000, with gains noted at stations beyond the expanded route.
SunRail riders are a mix of people traveling to work or the airport — and increasingly to leisure activities in Winterpark, Kissimmee and downtown Orlando, says SunRail spokesman Steve Olson.
This spring, SunRail Chief Executive Officer Nicola Liquori announced steps to bolster ridership. Among them: a partnership with a local trolley serving downtown Sanford from SunRail's Sanford station; a "Train to Plane" connection from the Sand Lake Station to Orlando International Airport via the nonstop LYNX 111 bus service; a new schedule timed to serve health care workers at Orlando's two major hospital campuses; and free rides this August and September for students and staff of University of Central Florida and Valencia College campuses in Orlando.
"We're looking at various things that we can do to add to the ridership and to the service we offer," Olson says.
SunRail also has offered special promotions, such as the "Choo Choo to the Zoo" campaign that encouraged parents and their children to take trains to the Central Florida Zoo & Botanical Gardens during spring break. The promotion offered a free shuttle from the Sanford SunRail Station to the zoo, where riders qualified for an admission discount. SunRail plans to offer the promotion again this summer.
Moreover, SunRail has adapted its schedule for special events, such as a southbound, late-night train that was added to weekday service when the Orlando Magic NBA basketball team played home games at the Amway Center in Orlando.
The key to serving special events is securing funding from an outside source — such as a city government, private donor or venue that wants rail service available, especially if an event is held on weekends. The state currently funds SunRail's operations and maintenance for weekday service. A new source of funding would be required to offer rail service for weekend events, Olson says.
A rail connection to Disney
Looking ahead, Sunrail officials anticipate gaining ridership from Virgin Trains' intercity high-speed rail service, as well. The only privately owned, operated and maintained intercity passenger-rail system in the United States, Virgin Trains was launched under the Brightline name by All Aboard Florida, which is part of Florida East Coast Industries. Virgin Trains provides service from Miami to Fort Lauderdale and on to West Palm Beach.
In April, the Orlando Sentinel reported Virgin Trains is planning a 20-mile extension to Walt Disney World from its future Orlando International Airport Station. The extension is slated to stop at SunRail's Meadow Wood Station, about 10 miles south of downtown Orlando in Orange County, which would provide SunRail a link to the Orlando airport. Differences between the two railroads would need to be resolved, but Virgin Trains President Patrick Goddard told the newspaper his company is ready to work them out.
"The Meadow Woods connection with SunRail obviously would be a pretty meaningful integration with the central Florida transportation network," said Goddard, according to the newspaper.
Virgin Trains is moving to rebrand the Brightline name per a strategic partnership and trademark pact signed in November 2018 with billionaire Sir Richard Branson's Virgin Group. Under the agreement, Virgin Group agreed to make a minority investment in Brightline; the rebranding of Brightline trains, stations and future developments will all be under the Virgin Trains USA name.
Rebranding and fundraising
That includes the downtown Miami station, which rebranded to Virgin MiamiCentral during a celebratory unveiling that Branson himself attended earlier this year. It also covers Brightline's acquisition of XpressWest, a Las Vegas-to-Los Angeles luxury rail service, as well as its plan to extend the higher-speed route from Orlando to Tampa.
To help pay for that expansion, Virgin Trains on April 1 successfully issued $1.75 billion in project revenue bonds through the Florida Development Finance Corp. (FDFC) — a financing that generated strong demand from investors. Proceeds will be used to pay for the $4 billion project to extend Virgin Trains' existing service to Orlando from West Palm Beach.
Construction on that segment began in mid-May; the project's contractors are Hubbard Construction Co., Wharton-Smith Inc., The Middlesex Corp., Granite Construction Inc. and HSR Constructors. HSR is a joint venture of three rail and transit contractors: Herzog, Stacy and Witbeck and RailWorks Corp. Expected to be a four-year undertaking, the project calls for 170 miles of new track.
Once Virgin Trains completes the entire Miami-to-Orlando route, the company anticipates annual ridership will reach 6.6 million passengers, according to a March 31 revenue and ridership report the railroad submitted to the FDFC. And if it obtains all approvals to build an Orlando-to-Tampa extension, Virgin Trains expects the route would add another 2.9 passengers annually.
Rail Passengers Association (RPA) President and Chief Executive Officer Jim Mathews believes the growth of passenger-rail service in Florida is a response to pent-up demand for surface transportation options other than cars and buses. Mathews himself has used Brightline/Virgin Trains while traveling in the state.
"We've seen ridership increase on Brightline for the initial phase of service. And we've seen excitement building around riding the trains," says Mathews. "The service is inducing trips and rail travel. And when you combine that with the real estate-driven business model that they have, they've cracked the code, I think."
The fact that Brightline was able to attract Virgin Group as an investor speaks to the potential for intercity rail in Florida, Mathews believes.
On a recent Brightline/Virgin Trains weekday trip between Miami and West Palm Beach, Mathews witnessed a mix of commuters, out-of-town business professionals and tourists using the train. On a weekend ride, he noticed tourists traveling between the two cities, as well as dressed-up younger adults boarding the train in Fort Lauderdale on their way to hit Miami's club scene. Mathews says the convenience of intercity rail service even made it possible for him to dine at a West Palm Beach restaurant while staying at a Miami hotel.
"My wife and I jumped on the train and it was an easy hour-and-five-minute ride," he says. "If we had rented a car to make the trip, the traffic would have been absurd."
As Virgin Trains completes its connection to Orlando's airport and theme parks, the potential to attract and serve international travelers who routinely ride trains in their home countries makes good business sense, Mathews says.
"If you look at Visit Orlando's stats on who comes to Orlando, the fraction of international visitors is huge," he adds. "When the Japanese tourists show up in Florida, they expect to take the train to Disney World with their kids. And the Europeans, as well — they've got the TGV, the Deutsche Bahn and the AVE — and they're used to rail travel."
Florida could serve as an example for commuter rail and intercity higher-speed rail startups in other corridors throughout the country — if there's financial support from public and private partners and if the return-on-investment case can be made, Mathews says. In areas without federal funding support, public-private partnerships would be necessary to make such rail service a reality, he believes.
"[RPA] would like to see a varied approach to this concept in states where there is a willingness to invest public funds," says Mathews. "There are multiple approaches you can take on a case-by-case basis."
Helping to raise Florida's rail profile
There's little doubt that Virgin Group's interest in Brightline has helped raise the profile of passenger-rail service in Florida, says Tri-Rail's Abrams.
"Brightline was already starting to raise that profile, but when Richard Branson came to town, that took it to another level," he says. "Obviously, Virgin is a brand that's recognizable around the world, so people are very excited about that. And we have no qualms about piggybacking on that enthusiasm and excitement for our commuter rail."
Although Brightline/Virgin Trains and Tri-Rail serve two different markets — one for the intercity, luxury traveller and the other for area commuters — SFRTA officials hope to work with the for-profit company to potentially expand commuter-rail service north to the city of Jupiter as part of the proposed Tri-Rail Coastal Link. The plan would involve integrating the existing Tri-Rail system — which currently operates on FDOT's South Florida rail corridor — with the FEC rail corridor via east-west rail connections. At this point, discussions are "very preliminary," says Abrams.
Testing community support for rail
Whether commuter-rail service will continue growing in Florida — or elsewhere, for that matter — will depend on local community and regional support, and the necessary financial resources. Community support for SunRail will be tested on that very point in 2021, when FDOT is scheduled to turn over the central Florida rail service's operations and maintenance to Orange, Osceola, Seminole and Volusia counties and the city of Orlando. SunRail was initially built and funded by the state, with the understanding that its operations and maintenance would be handed off to the local partners in seven years.
Currently, the local governments are working with a consulting team on a transition plan, including estimated costs, says SunRail's Olson. Whether the route's long-ago proposed 12-mile northern expansion from DeBary to a new station in DeLand in Volusia County comes to fruition might not be decided until after the transition in 2021. Among the yet-to-be-determined issues: How to pay for the proposed extension. The state had been counting on 50 percent of the dollars coming from the Federal Transit Administration, with the state and local sources covering the rest.
"But the federal participation has been difficult to secure," says Olson. "We are looking at options." Meanwhile, transportation planning leaders in other parts of Florida are asking whether they can get a commuter-rail service like SunRail in their towns, he says.
"But what those local governments need to know going in is, starting a commuter-rail service is a very complex process. It takes study and funding from federal partners — and it takes a local initiative to bring it forward. It also takes time — it doesn't happen overnight."
Despite the funding uncertainty, RPA's Mathews considers the interest in and expansion of passenger-rail service in Florida encouraging news for rail advocates in other parts of the country. He's hopeful that when Congress turns its attention to reauthorizing surface transportation funding — the Fixing America's Surface Transportation Act expires next year — there will be support for more federal funding of passenger rail as a solution to the nation's infrastructure needs.
"At least people are having the conversation," Mathews says, referring to the potential for expanding commuter and intercity rail in places like Florida. "At least there's recognition that something has to be done. We can't continue to just build roads."
Email questions or comments to julie.sneider@tradepress.com.
---
Keywords
Browse articles on
South Florida Regional Transportation Authority
SFRTA
Tri-Rail
south Florida
Steven Abrams
Virgin Trains USA
Brightline
MiamiCentral Station
SunRail
Florida East Coast Railway
Steve Olson
Sir Richard Branson
Rail Passengers Association
Jim Mathews
Contact Progressive Railroading editorial staff.