Newsletter Sign Up
Stay updated on news, articles and information for the rail industry
Rail News Home
Passenger Rail
June 2017
Rail News: Passenger Rail
Disaster training prepared MARTA for Atlanta's I-85 bridge collapse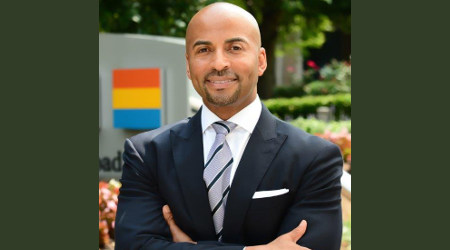 By Julie Sneider, Senior Associate Editor

As a massive fire raged under a section of Interstate 85 causing a bridge to collapse in Atlanta on a Thursday night in late March, city and state officials gathered via conference call to hash out a transportation action plan for the hundreds of thousands of drivers whose commutes were thrown into disarray.

No one was hurt, but the incident shut down a 3-mile section of I-85 and cut off access to a major roadway through Atlanta. The city already was famous for its traffic gridlock prior to the March 30 bridge collapse. Now that a key thoroughfare was out of commission for at least several weeks, Atlantans were facing a transportation nightmare.

Among the leaders on that crisis-response phone call was Keith Parker, general manager and chief executive officer of the Metropolitan Atlanta Rapid Transit Authority (MARTA), the primary transit service that operates the region's rail and bus services. Parker first realized the I-85 situation's gravity when he saw the thick, black smoke billowing from the fire one-third of a mile from MARTA's headquarters.

Within an hour, Parker, the Georgia Department of Transportation and other state and city officials had crafted a transportation implementation plan that included increasing MARTA train and bus service.

"We were able to increase service by 10 p.m. that night," says Parker. "Along with that, we had a concerted and consistent communications plan in place. Throughout that evening, early the next day and throughout the next weekend, I and others were doing media interviews telling people to try MARTA."

In addition to conducting news media interviews, MARTA communications staff used the agency's website and social media platforms — including Parker's own Twitter account — to get the word out about how to use MARTA trains or buses. By the next morning, MARTA saw a steady increase in ridership.

"Our biggest challenge was how to accommodate all those new people," says Parker.

Finding room for all those cars
Besides adding trains and buses to routes, MARTA increased the number of parking attendants at stations and MARTA police officers throughout the system to help direct the rush of commuters who were new to MARTA. The rush of riders prompted another concern: Where to park all those extra cars? Even though the I-85 collapse occurred during spring break when traffic was down, MARTA's station parking lots and decks were at or near capacity.

MARTA opened up 1,600 spaces at under-utilized stations, but the agency needed even more room for parked cars. Parker and agency staff talked with local businesses and organizations to identify ways to expand parking capacity at or near stations throughout the system. AT&T was among those that offered to help, providing 750 additional spaces.

MARTA also encouraged commuters to carpool, use ride-sharing services and "Kiss-and-Ride" lanes to get to rail stations. The agency's buses provided free transfers to the rail stations. And to make it easier for commuters to bike their way to a MARTA train, the agency added bicycle racks and bike repair kiosks. Commuters also could get real-time station parking capacity updates via MARTA's website.

"We were able to greatly expand our capacity and reduce some of the frustration of new and regular customers," says Parker. "Those efforts worked very well."

MARTA's typical ridership is 400,000 to 430,000 daily riders. During the six-week I-85 closure, the agency experienced a system-wide increase of more than 11 percent, with an initial spike the day after the bridge collapse of nearly 25 percent, according to MARTA spokesman Erik Burton.

Quickly accommodating a flood of new customers was a challenge for MARTA, no doubt about it. But at the same time, Parker saw it as an opportunity to attract and keep new customers.

To entice new passengers to get on board, MARTA offered deals such as discounted monthly passes, a new weekend family pass and a Groupon offering $12 for a three-day unlimited Breeze Card — an $18 value.

"The feedback we received from new customers was that they had no idea it was so easy to use MARTA," Parker says. "That's been the refreshing part of the experience for our [new] customers. When they get on a MARTA train, they know they'll be on time 97.5 percent of the time."

As of June 5, final data was unavailable to compare ridership before and after the bridge reopened the week of May 13. Still, agency officials believe MARTA will retain some of its new customers.

"Once those riders return to driving and experiencing the tough Atlanta traffic, we think they'll come back to MARTA," says Parker.

Parker's advice: Be prepared
Key to MARTA's response to the I-85 crisis was having a plan at the ready. Agency staff regularly participate in crisis-response training and disaster-preparedness exercises.

"It's just a matter of time before a transit agency will be faced with something like this," says Parker. "The event could be inclement weather, a terrorist attack or a chemical spill that shuts down an area. Whatever the case, something eventually will happen to a transportation network that will make public transit critically important. You have to plan for that eventuality."

In addition to being prepared, transit agency leaders "have to continue to remind ourselves to communicate, communicate, communicate," Parker adds.

"There is a tendency to relax once the plan is in place," he says. "But the public has to be constantly reassured and re-informed about how things are going."
---
Keywords
Browse articles on
Metropolitan Atlanta Rapid Transit Authority
MARTA
Keith Parker
Interstate 85
Georgia Department of Transportation
disaster planning
Contact Progressive Railroading editorial staff.