Newsletter Sign Up
Stay updated on news, articles and information for the rail industry
Rail News Home
Passenger Rail
September 2019
Rail News: Passenger Rail
LA Metro pushes timeline to complete key rail projects by 2028 Summer Olympics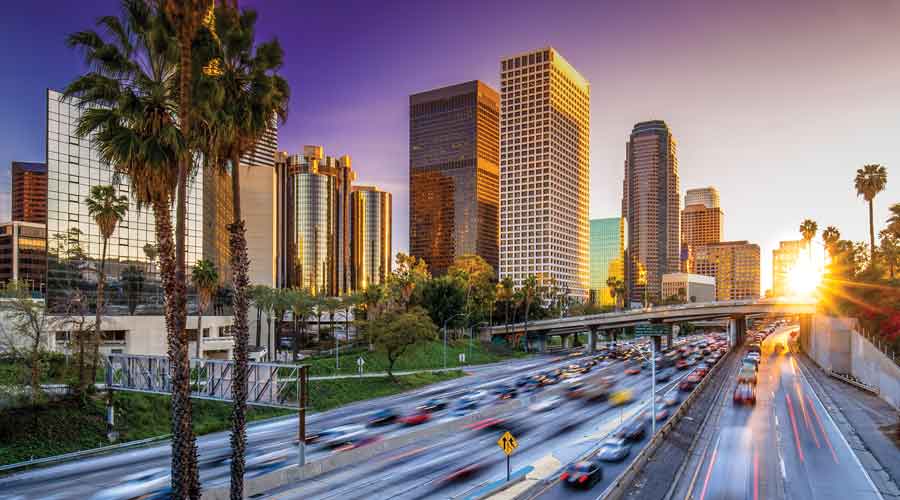 By Julie Sneider, Senior Associate Editor
The 2028 Summer Olympic Games in Los Angeles may be nearly nine years away, but the Los Angeles County Metropolitan Transportation Authority (LA Metro) is already immersed in planning for the event's impact on the region's mass transportation network.
When the Olympic torch is lit in Los Angeles Memorial Coliseum on July 21, 2028, Los Angeles will become the first U.S. city to host the Summer Olympics three times; the city previously hosted the games in 1932 and 1984.
In 1984, Jim de la Loza had recently completed graduate school and was involved in the city's early planning to host not only the Olympic games, but also a major arts festival to coincide with the games. Combined, the two events meant hundreds of thousands of additional people would be traveling throughout the LA region — and at that time, the area's transportation options included bus, but no rail.
Concern over how local streets and regional highways — infamously congested even back then — could absorb an influx of over 600,000 athletes and spectators prompted city planners to take a creative approach to managing traffic and transportation based on demand.
"They worked with the Rapid Transit District — the predecessor to Metro — to identify a fleet of buses that were focused on moving the athletes and people that were coming to town," says de la Loza, who's now LA Metro's chief planning officer. "They also looked at the streets and highways [that would be used during the Olympic events] and implemented a series of programs to encourage local businesses to spread out their employees' work hours or commute times in the morning."
Additionally, city officials encouraged businesses to allow employees to leave town on vacation during the Olympics, and they implemented a vehicle miles traveled tax (VMT) to further discourage drivers from unnecessarily using the roadways. The measures worked to reduce the flow of local residents' traffic so that Olympic athletes and spectators could get to where they needed to be much faster.
"If you were there, you would have seen Los Angeles move like it hadn't in a very long time," recalls de la Loza, who's involved in LA Metro's planning for the 2028 Olympics.
Of course, the city and county of LA have grown and changed quite a bit since 1984. The county's population has ballooned by about 2.5 million to over 10 million people, further exacerbating those notorious traffic jams. In 2018, Los Angeles was the nation's fifth and the world's 47th most congested city, according to INRIX Inc.'s annual global survey results. (According to LA Metro, Angelenos spend an average of 81 hours a year stuck in traffic.)
Turning to transit-rail to reduce congestion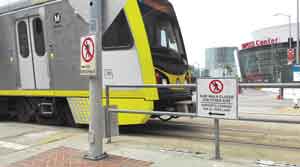 Walter Cicchetti/Shutterstock.com
Another difference between the LA of 1984 and today? The massive transportation expansion now underway. The big-picture plan was designed to improve freeway traffic flow by constructing and expanding rail and bus rapid transit, repaving local streets, and repairing old infrastructure and adding new. The plan's goal: Keep the region's transportation network in good working order so that both residents and visitors can travel in, around and through the region quicker and safer.
Many of the rail and bus projects are being funded by the county's Measure M sales tax that voters approved in 2016 to support transportation infrastructure construction and repair over the next 40 years. By the time thousands of Olympians and international visitors descend on the city in mid-2028, they'll find about $88 billion worth of new light-rail and subway lines, bus rapid transit options and express lanes open for service, according to the city's Olympics website. Although LA will mostly use existing facilities to house Olympic athletic events — such as the Los Angeles Memorial Coliseum, Staples Center, Dedeaux Field, The Forum and L.A. Convention Center — a construction boom will be evident as LA Metro speeds up many of those Measure M transportation expansion projects to be completed by 2028.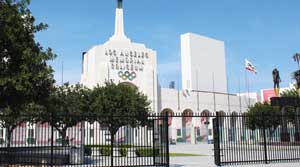 Barbara Kalbfleisch/Shutterstock.com
Weeks after Los Angeles was announced in summer 2017 as the 2028 Olympics host city, Mayor Eric Garcetti opened the starting gate of preparations by announcing the "Twenty-Eight by 2028" initiative, which calls for LA Metro to complete 28 major transportation infrastructure projects ahead of the summer games. Winning the Olympic Games has given the city a chance to "reimagine itself" for future generations, Garcetti said at the time.
"Twenty-eight by '28 will help us frame the progress we're striving to make in the years leading up to the games," the mayor said. "This is our opportunity to harness the unifying power of the Olympic movement to transform our transportation future."
After LA Metro staff developed a list of projects that could be completed or accelerated in the shortened time frame, the agency's board adopted the plan in early 2018. Most projects on the list were already scheduled for completion by 2028, but eight will be accelerated for completion and operation earlier than initially planned. Of those, four projects are high-priority rail lines that LA Metro has dubbed as the following "pillar" projects:
Gold Line Eastside Extension Phase 2, which would extend the Gold Line light rail east from the Atlantic Station. Two alignments are being studied: One along State Route-60 to South El Monte; the other along Washington Boulevard to Whittier. Total capital cost: $3.6 billion.
Green Line Extension to Torrance, which would extend passenger service along a 4-mile segment of the Harbor Subdivision Corridor from the existing Redondo Beach Marine Station to the proposed Regional Transit Center in Torrance. The extension would be served by the Metro Green and Crenshaw/LAX lines. The extension is expected to relieve congestion along the Interstate-405 corridor. It also would improve mobility in southwestern LA County by enabling riders to access the regional rail network through connections to the Blue, Expo and Crenshaw lines. Estimated cost: $1 billion.
Sepulveda Transit Corridor, which would help improve travel between the San Fernando Valley, the Westside and Los Angeles International Airport (LAX). The project would provide riders with transit-rail alternatives between the valley and LAX, including connections to existing and planned LA Metro bus and the Orange, Purple and Expo rail lines. A feasibility study is underway and is expected to be completed this summer or fall. Total capital cost: $8.57 billion.
West Santa Ana branch to downtown LA, which involves construction of a new light-rail line that would connect downtown LA to southeast LA County on a 20-mile corridor. In addition to downtown LA, the line would serve the Florence-Graham community, as well as Vernon, Huntington Park, Bell, Cudahy, South Gate, Downey, Paramount, Bellflower, Cerritos and Artesia. The project area is home to 1.2 million residents, a population expected to increase to 1.5 million by 2040. The project is undergoing environmental impact studies. Total capital cost: $5.56 billion.
Combined, the pillar projects are expected to cost about $18.86 billion. Funding sources likely will involve a combination of Measure M sales-tax proceeds and other local, state and federal dollars.
However, fast-tracking the projects by as much as 14 years to reach a 2028 deadline will impact construction expenses and funding resources. LA Metro board members learned in July that with the plan to construct the four pillar projects by 2028 comes a $3.3 billion funding gap. In addition, opening those lines earlier will incur $1.2 billion in operational expenses over a 10-year period, according to LA Metro staff estimates.
To fill in those financial gaps, the agency's staff is preparing a detailed list of funding options, ranging from debt financing to new revenue sources, de la Loza says. LA Metro's board is expected to consider those options later this year. Also under consideration will be public-private partnerships (P3) for at least two pillar projects — the West Santa Ana branch and Sepulveda transit corridors.
"We'll look at a P3 for the Santa Ana project to help accelerate delivery and maybe bring some innovation to the project," says de la Loza.
For the Sepulveda corridor, agency staff are exploring a pre-development agreement for a P3 arrangement that would involve the design, build, operations and maintenance aspects of the rail line. In either case, the use of P3s is being considered as a way to accelerate the projects' development through innovation, efficiency and cost reduction, de la Loza says.
As for the pillar projects themselves, all are in the planning phase, with environmental studies underway. Staff is preparing an accelerated project schedule, which will be ready for the LA Metro board's review by its December meeting, according to de la Loza.
"In the meantime, [LA Metro staff] is moving aggressively on the projects development on each of these projects," he says. "At the same time, we are looking at funding and accelerating environmental impact statements and reports on the project so that we don't lose any time. Currently, the West Santa Ana branch is completing its draft environmental; the Greenline is starting its initial by the end of this year; the Eastside is half way through its process; and Sepulveda Pass will be starting late this year or early next year."
Other infrastructure projects in play
In addition to the four pillars, LA Metro has other infrastructure projects slated for completion by 2028 that are designed to speed up the city's traffic flow, agency officials say. For example, when the entire Purple Line subway extension opens for service in 2027, it will provide a high-capacity, higher-speed way for commuters to travel between downtown LA, the Miracle Mile, Beverly Hills and Westwood.
Now under construction, the first phase of the $3.1 billion Purple Line Extension will lengthen the line from Koreatown's Wilshire/Western Station to the intersection of Wilshire and La Cienega boulevards at the eastern edge of Beverly Hills. That first 4-mile section is on track to open in 2023, LA Curbed reported in June. The entire extension, which LA Metro broke ground on in 2014, is one of the Twenty-Eight by '28 projects.
Both the existing and planned expansion of LA Metro's rail system will connect most of the region's major activity centers, says de la Loza. That's particularly good news for transportation planners for the Olympics and Paralympics events, which will be held throughout LA County.
LA Metro has faced some public criticism that the transportation network expansion — including the Twenty-Eight by '28 plan — won't actually deliver athletes and spectators to Olympic event venues. Earlier this year, the Reason Foundation — a libertarian think tank that has opposed transit- and high-speed rail projects — published an article on its website questioning whether LA officials were wasting time and money accelerating projects that "have little to do with the games."
Framing the projects around the Olympics is a way of "selling the politicians and the voters on the need to get new funding," Reason Foundation transportation policy expert Baruch Feigenbaum said in the article.
"This is about building transportation projects, regardless of whether there is a link to the Olympics," he added.
But de la Loza says that such criticism misses the point of LA Metro's transportation network expansion.
"What we're doing is connecting communities to the transit system that don't now have a connection to that transit system," he says. "That's what a number of these projects allows us to do. It's not just about the Olympics — yes, that is one big event — but these are 100- or 200-year investments that we're making. The system stays in place and the benefits help shape our county."
But there's little doubt that overcoming traffic gridlock was a problem that LA had to overcome in being considered for 2028 Olympics host city status.
"That was probably one of the biggest challenges: Our reputation for the number of freeways we have and how we would be able to maintain mobility," says de la Loza. "We succeeded by demonstrating the investment we are making and the ability to use those investments to keep the city moving. Also, we demonstrated that we've done it before."
Which brings de la Loza back to LA's transportation demand management plan that was applied so successfully during the 1984 Olympics. The region's infrastructure investments over the past 35 years — and those to come over the next nine years — will be combined with a transportation demand management plan that's designed to meet the needs of the Summer Olympics, as well as local communities during and after the games. The planners also will take into consideration how automation and other new technologies will evolve between now and 2028, de la Loza believes.
"I think automation may come into play in a number of potential areas, such as how we use our express lanes and high-occupancy vehicle system," he says. "We can look at automation in terms of improving capacity in some of these corridors, and there may be technology available to help us reduce collisions."
To be sure, LA Metro's transportation plan for the 2028 Olympics will involve plenty of input from and coordination with other city, county, state and federal agencies, as well as stakeholders in surrounding communities.
Adds de la Loza: "We will have to put in place [a plan] that runs just as smoothly as it did in 1984."
Email comments or questions to julie.sneider@tradepress.com
---
Keywords
Browse articles on
Los Angeles County Metropolitan Transportation Authority
passenger rail
Twenty-Eight by 2028
2028 Summer Olympics
Contact Progressive Railroading editorial staff.