Newsletter Sign Up
Stay updated on news, articles and information for the rail industry
RAIL EMPLOYMENT
Rail News Home
Passenger Rail
December 2018
Rail News: Passenger Rail
Outlook 2019: Micro-transit, funding, PTC will be among major issues in transit, APTA CEO says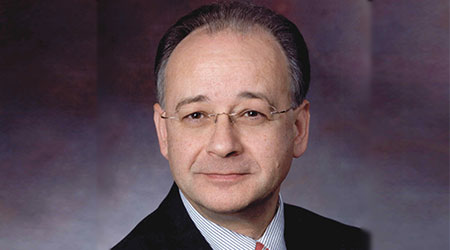 [Editor's note: As part of Progressive Railroading's 2019 Outlook coverage, we asked American Public Transportation Association (APTA) President and Chief Executive Officer Paul Skoutelas for his perspective on what the New Year might bring for transit-rail and other public transportation agencies and service providers. His responses to our editors' questions follow.]

What will be transit agencies' biggest challenges in 2019?
PS: It will be an exciting year full of challenges and opportunities for public transportation.

The overall challenge in the next year for public transit systems is to continue to provide safe, reliable and convenient services, while also adapting to the changing transportation world.

Public transportation is uniquely positioned as the backbone of this emerging integrated transportation system and we are already adapting with new services. Many systems now have partnerships in place with other mobility providers, such as transportation network companies (TNCs). Public transit systems are providing on-demand "micro-transit" services and are innovating with apps and fare technology. We need to continue to look forward to the future and evolve and work with our cities and states to become mobility authorities.

Another big challenge is that the public transportation industry is facing a $90 billion state-of-good-repair (SGR) shortfall. This shortfall impacts a public transit system's ability to modernize its service so it can offer the best and most efficient and reliable service. Funding to address SGR is key to retaining and attracting more riders.

Workforce development is a third issue that is on the front burner for public transit systems. As a $68 billion industry that directly employs 420,000 people and supports millions of private sector jobs, it is critically important to ensure that there is a strong, vibrant and inclusive skilled workforce to address current and future needs. With the transformation of the public transportation industry there is a need for a diverse and qualified workforce that has the knowledge, skills and the ability to adapt and grow along with the industry.

Last but not least, is the implementation of positive train control (PTC). Next year will be the beginning of the home stretch of PTC implementation as commuter rail systems continue to fully implement PTC before the December 2020 deadline.

What will APTA do to help agencies address those challenges?
PS: Last summer APTA held a Future of Mobility Summit for APTA members to come together to discuss new service approaches and new organizational models. In fact, one of the items that came out of this mobility summit was the development of a Mobility Action Plan. This multifaceted plan includes short-term and long-term action items that APTA will continue to work on, update and refine to keep up with all of the industry developments. We also had sessions at APTA's Annual Meeting and the Industry Leadership Summit and will continue to facilitate discussions and sharing among our members on this topic in 2019, and of course, include stories in Passenger Transport.

In the coming year, APTA will help to address the SGR shortfall by lobbying Congress on this very critical issue. We will also continue helping our transit agency members as they comply with FTA's Transit Asset Management rulemaking that establishes a strategic and systematic process of operating, maintaining and improving capital assets effectively through their entire life cycle.

APTA plans to continue its educational programs and conference sessions that help members develop their professional skills. Among the programs that will be offered in 2019: Leadership APTA, Mid-Level Manager Development Workshops, Emerging Leaders Program, and Bus Operator Survey and Selection Program (BOSS). Reaching out to younger generations is vitally important to ensure a workforce of the future for public transportation.

In 2019, the American Public Transportation Foundation will offer scholarships to students and the Garret Morgan Symposium, which reaches out to middle school students, will be sponsored by APTA. Also, APTA's biennial Passenger Rail Engineering Education Symposium will bring university educators and industry professionals together to address the workforce needs of public transportation.

With regard to PTC, APTA will continue to work with its commuter-rail members and help facilitate the sharing of PTC information. We will continue to work with the Federal Railroad Administration and will encourage Congress to make additional funding available.

What is APTA's main priority (as an association) next year?
PS: While there isn't just one priority, we need a plan to address the future. As APTA Chair David Stackrow Sr. said, "If we're going to redefine our future, we better have a solid strategic plan to guide us." APTA will be working on a comprehensive three-year strategic plan that will help us focus on and guide us in this evolving transportation environment. Focusing on public transit's role in this new mobility paradigm will be one of our top priorities.

APTA has also designated advocacy, workforce development, and the evolving mobility landscape as top issues.

What does APTA hope for from a new Congress in 2019?
PS: On the federal, state and local level, there is strong recognition that a good public transportation system is vital for the economic growth, prosperity and competitiveness of communities across our nation. Transportation is the backbone of the economy and public transportation is a critical part of the national transportation network.

We are working hard for enactment of a bipartisan infrastructure package that includes significant funding for public transportation. At a time when both parties are looking for accomplishments, it has been widely acknowledged that infrastructure is something that both parties could agree upon.

This legislation needs to also address the $90 billion SGR backlog in deferred maintenance and replacement needs that hinders public transportation systems across the country. The APTA report, "The Economic Cost of Failing to Modernize Public Transportation," quantifies that this backlog results in a loss of $340 billion to the U.S. economy over six years. Congress should address this shortfall in an infrastructure package so that needed modernization and repairs at public transit systems can take place.

We also urge Congress to continue to strongly support the Capital Investment Grants Program to meet the demand for new capacity across the country. In addition, as commuter-rail systems are in the final stages of implementing PTC, we will call on Congress to allocate federal funding for PTC. It will cost at least $4.1 billion to implement PTC in commuter-rail systems.

Finally, we will be strongly advocating for Congress to fix the Highway Trust Fund (HTF). Federal taxes on gasoline have been flat since 1993, resulting in an unsustainable gap in funding for highways and public transit. We need to address the shortfall in the HTF, increase funding for surface transportation, and move forward as a country.

I realize that this is easier said than done and it has been a topic of discussion for many years. However, now is the time for our leaders to come together to solve the HTF shortfall.
---
Keywords
Browse articles on
American Public Transportation Association
APTA
Paul Skoutelas
Outlook 2019
micro-transit
state of good repair
public transit
positive train control
PTC
Highway Trust Fund
HTF
workforce development
Congress
Contact Progressive Railroading editorial staff.