Newsletter Sign Up
Stay updated on news, articles and information for the rail industry
Rail News Home
Passenger Rail
September 2018
Rail News: Passenger Rail
Streetcar projects flourish as cities seek to attract businesses, millennials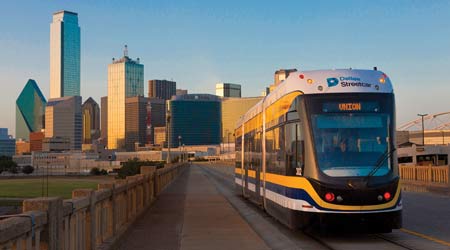 By Julie Sneider, Senior Associate Editor
When Oklahoma City opens its OKC Streetcar service later this year, the city will join dozens of other U.S. municipalities that have built similar modern starter systems over the past two decades. And like leaders in those other cities, Oklahoma City officials are hoping the new system will encourage more Oklahomans to step out of their cars to frequent businesses, entertainment venues, restaurants, shops and other establishments in the downtown.
"We have a vast audience that we are looking at in terms of ridership that's very diverse," says Michael Scroggins, public information officer for Embark, the city's transit agency.
The OKC Streetcar will have two route options — a 2-mile Bricktown Loop and the 4.8-mile Downtown Loop — and connect the city's Midtown, Business District and Bricktown areas. Riders will be able to use the line to reach other major "anchor" projects underway in downtown Oklahoma City, including a new convention center and hotel and a 70-acre park.
OKC Streetcar will serve 22 stops with five to seven vehicles — operating on rails flush with the street. The cars will be powered electrically via overhead catenary system on part of the route and batteries for the rest. Each streetcar can carry 104 passengers. Each stop will be served every 12 to 15 minutes.
In 2016, the city awarded a $24.9 million contract to Brookville Equipment Corp., which will supply seven streetcar vehicles. Brookville has manufactured vehicles for several U.S. streetcar programs.
Also in 2016, Oklahoma City selected a Herzog/Stacy and Witbeck Inc. joint venture to install rail for the streetcar. And in 2017, Embark awarded a $17.3 million contract to Herzog Transit Services Inc. to operate and maintain OKC Streetcar.
The project's total cost is estimated at $131 million, with funding coming from the city's MAPS 3 (Metropolitan Area Projects) program, a 1-cent, limited sales tax that pays for large-scale capital improvement projects. When the streetcar provides its first ride in December, the project's costs will have been covered.
"We will have built a system that's debt-free," says Scroggins.
Part of a trend
Oklahoma City is among the latest U.S. municipalities that have built or are about to build streetcar systems in recent years. Currently, there are four communities that are building or about to start construction of starter systems: Oklahoma City; Milwaukee; Tempe, Arizona; and Orange County, California.
Two of those — Oklahoma City and Milwaukee — are slated to open their lines this year.
The genesis for many of the streetcar systems built in more recent years was a change in how the U.S. government defines transit-rail projects that qualify for federal funding, according to Jeffrey Boothe, a consultant who has advised many of the nation's streetcar projects.
Boothe, who began working with cities interested in building systems in the early 2000s, has represented the Community Streetcar Coalition, which was formed "to try to advance the ability for streetcar projects to be funded."
Criteria for evaluating transit-rail projects for federal funding was "not very friendly" toward streetcar projects during President George W. Bush's administration, Boothe notes.
However, Congress later changed the criteria so that more streetcar projects would be eligible for federal financial support. Subsequently, the Obama administration bolstered funding levels through various grant programs, including the Transportation Investment Generating Economic Recovery (TIGER) and Capital Investment Grant programs.
By 2014, there were 12 operating streetcar systems, seven new systems under construction and another 21 systems in the planning stages, according to a Congressional Research Service report.
Many projects under construction now are extensions to starter streetcar lines totaling less than a few miles. Communities have expanded their systems in recent years as more federal grants became available.
Besides funding, demographic changes and the demands of employers are driving streetcar construction trends, Boothe says.
"There's a growing understanding among cities about the decisions companies make about where they want to locate their headquarters: They want to attract a certain segment of the workforce, which is the millennials," he says, and adds that many millennials tend to pick where they want to live before they choose an employer.
Starter lines, then extensions
As a result, it's important for cities to create attractive neighborhoods — particularly downtown areas — to attract businesses and young professionals, he says.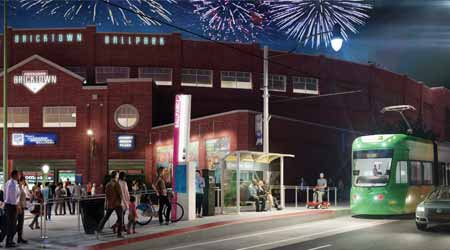 Embark
"Cities are trying to organize development, then create circulation that allows people to get through the city without having to drive. And the reliability of a streetcar provides that circulation," says Boothe.
Once a starter line is in place, municipalities look to extensions to link other neighborhoods to the initial route. That's what Oklahoma City leaders hope to do with the OKC Streetcar.
"We've got a vast audience that we're looking to attract," says Scroggins, noting that, at 620 square miles, Oklahoma City is the third- or fourth-largest U.S. city in terms of land mass.
The streetcar will link workers, residents and tourists with downtown area employers, businesses, attractions and residences, he says. City leaders and planners hope the streetcar will encourage more Oklahomans who live in the suburbs to visit the downtown and use public transit when they do.
Moreover, the city's MAPS 3 program includes sidewalk infrastructure investments to encourage people to walk when they visit. The city owns a group of downtown public garages located within a block of the streetcar route.
"We see the streetcar as a pedestrian accelerator," Scoggins says. "It will move people around quicker and more efficiently."
Discussions are underway about potential expansion, he adds.
Several U.S. communities with streetcar starter systems are in various stages of planning, developing and building extensions. Among them is Dallas, where city officials have been discussing with business leaders and Dallas Area Rapid Transit (DART) the future Central Dallas Link.
The project would connect two separate streetcar systems in the city: the Dallas Streetcar, which is owned by the city and operated and maintained by DART; and the McKinney Avenue Trolley, a heritage streetcar that travels along the avenue into Uptown Dallas, which is north of and adjacent to the downtown. The walkable area is known for its green space, high-end shopping, bars and restaurants.
At present, the Dallas Streetcar circulates along a 2.45-mile route that starts at Dallas Union Station. The streetcar travels southwest, crosses the Trinity River on the Houston Street Viaduct, stops at Methodist Dallas Medical Center and continues to the Bishop Arts district, an eclectic mix of shops and restaurants.
City, DART and business district officials are considering up to five preferred alternative routes for the proposed Central Link, which also would connect to DART's light-rail system, says Steve Salin, DART's vice president of capital planning. The alignment will cost $90 million to $100 million to build, depending on the route chosen. Funding would come from DART, the city and potentially a federal grant.
Both streetcar lines have helped Dallas attract economic development; the Central Link would help to attract even more business interest along the routes, according to Salin.
"The streetcar goes toward helping with first- and last-mile portion of a commute, certainly within the central business district," he says. "It adds a nice complement to our light-rail system, based on alignments just a few blocks away. People can come into the city on the light-rail system, transfer to the streetcar and vice versa."
Following are summaries of the three starter streetcar projects that are under construction or about to begin.
Milwaukee
Dubbed "The Hop," the city's starter streetcar system is scheduled to debut in November. The initial 2-mile route, the M Line, will start at the Amtrak-served Milwaukee Intermodal Station and operate in and around downtown Milwaukee. Construction along the main line was completed in June. The city contracted Kiewit Infrastructure to build the infrastructure and a maintenance facility, and Brookville Equipment to manufacture five streetcar vehicles, four of which had been delivered as of last month. Pre-revenue operations are slated to begin this month.
Milwaukee's urban circulator system was "designed to provide the greatest number of connections to housing, jobs, attractions, shopping, dining, existing transit, parking and more within the downtown corridor," said Sandra Rusch Walton, spokeswoman for the Milwaukee Department of Public Works, in an email.
An L Line spur to the city's festival park area along the Lake Michigan shoreline is slated to open in 2019 or 2020. Combined, the M and L lines are viewed as the backbone for future extensions that would link other neighborhoods to the downtown. For example, city officials have begun to explore a potential extension that would provide streetcar service to a new arena recently built for the Milwaukee Bucks NBA team, as well as the surrounding neighborhood, Walton said.
The Hop's first phase will offer 22 station "pairs" located within walking distance to several parking structures as part of the city's "park once" concept. The project cost an estimated $128.1 million and is being funded with a combination of federal ($69.1 million) and local monies.
Orange County
The Orange County Streetcar project is slated to begin construction this fall. Construction was supposed to begin this summer, but was pushed to the fall after it was revealed the project's cost rose by about $100 million. The cost is now estimated at $407.76 million, which required the Orange County Transportation Authority (OCTA) in July to approve additional funds that will be needed from Measure M2, a local sales tax that supports public transportation projects. The project will be paid for through a combination of local, state and federal funds.
The OC Streetcar will link the Santa Ana Regional Transportation Center — which serves regional rail, OCTA bus and intercity and international bus services — to a new multimodal hub at Harbor Boulevard/Westminster Avenue in Garden Grove. Along its 4.15-mile route, the streetcar will connect with bus routes, downtown Santa Ana, government offices, restaurants and shops, an artists' village and schools.
In March, the OCTA approved a $51.5 million contract to acquire eight S70 model streetcars from Siemens Industries, which also will provide systems support and training. The contract includes the option to purchase up to 10 more units.
The OC Streetcar is scheduled to launch service in 2021.
Tempe, Arizona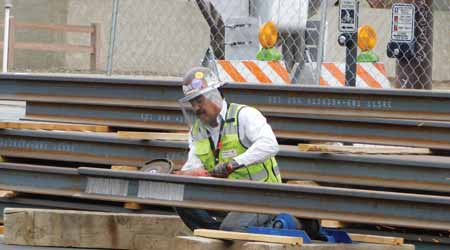 Valley Metro/Flickr
When it opens in 2021, the Tempe Streetcar will be an extension of Phoenix's Valley Metro light-rail system. The streetcar will travel 3 miles, make 14 stops and connect to Valley Metro's rail system in two locations. The system's design will include off-wire operation through downtown Tempe on Mill Avenue and at gateway intersections.
Last month, the Federal Transit Administration (FTA) gave the green light to Valley Metro's start of the initial construction phase. This fall, crews will begin work on the trackway, power systems and street improvements. The FTA's approval enables construction to start pending approval of a federal grant agreement, which the transit agency hopes to sign early next year.
Tempe's streetcar project is budgeted at $199.5 million, according to a third-quarter 2018 report on the project website. Funding will come from a mix of federal government monies, a Maricopa County transportation sales tax, a Tempe sales tax and a Maricopa Association of Governments fund for traffic congestion projects.
Email comments or questions to julie.sneider@tradepress.com.
---
Keywords
Browse articles on
streetcars
modern streetcar systems
starter streetcar
OKC Streetcar
Michael Scroggins
Embark
Brookville Equipment Corp.
Herzog/Stacy and Witbeck Inc.
MAPS 3
Jeffrey Boothe
Dallas Area Rapid Transit
Central Link
McKinney Avenue Trolley
Milwaukee Streetcar
The Hop
Orange County Streetcar
Orange County Transportation Authority
Tempe Streetcar
Valley Metro
Contact Progressive Railroading editorial staff.