Newsletter Sign Up
Stay updated on news, articles and information for the rail industry
Rail News Home
Passenger Rail
February 2018
Rail News: Passenger Rail
Metro Transit's light-rail titan in the Twin Cities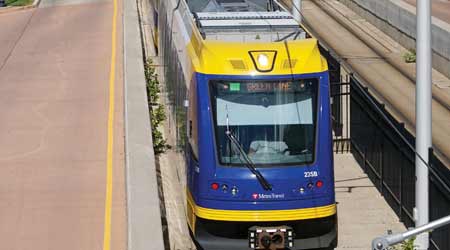 By Jeff Stagl, Managing Editor
Attaining a long-term goal several years ahead of time could be considered quite an accomplishment. How about reaching it 13 years earlier than projected?
That's what Metro Transit did last year when ridership on the Minnesota agency's Green Line continued to greatly exceed expectations. The 11-mile light-rail line between the downtowns of Minneapolis and St. Paul averaged nearly 41,000 rides per weekday — a mark Metro Transit initially didn't expect to reach until 2030.
Green Line ridership has exploded since the route opened in June 2014, setting records each successive year. Annual ride totals rose from 12.4 million in 2015 to 12.7 million in 2016 to 13.1 million in 2017, with last year's count rising 3.5 percent year over year. All told, the line has logged 44.7 million rides through 2017.
And there are no indications ridership soon will plateau or erode, says Metro Transit General Manager Brian Lamb. Another increase — and another annual record — is expected in 2018, and the rider count likely will continue to rise the next several years, he says.
"It's growing at good rates in different market segments. We're getting gains from special events and development that's occurring along the corridor," says Lamb. "And people are moving to [points on the line] who want to make transit a part of their lives."
Development along the Green Line corridor — which connects the Twin Cities' central business districts and runs through the University of Minnesota — has bloomed since construction on the route began in 2010. More than 200 projects worth more than $5.1 billion in investments have surfaced within a half-mile of the light-rail line, including office, commercial and housing developments.
Metro Transit continues to encourage development along the corridor. Several pockets are in a ready-to-develop state, says Lamb.
For example, Metro Transit is working with the city of St. Paul to develop vacant downtown property adjacent to Central Station that's owned by the city and Metropolitan Council, a regional policy-making and planning agency that supports the transit agency. Metro Transit expects to seek development proposals for the site this year.
Good sports
Sporting events are helping to drive Green Line ridership, too. About one-quarter of fans attending games at various facilities in the area use Metro Transit's services, according to agency statistics.
U.S. Bank Stadium opened along the Green Line in 2016 as the new venue for Minnesota Vikings' NFL games; Target Field, the home park of MLB's Minnesota Twins since 2010, is located near the route; and a minor league baseball park for the St. Paul Saints opened in 2015 on the line's far east end. Moreover, construction on a new major league soccer stadium is underway near Snelling Avenue Station, which is located at the line's midpoint. A combination of sporting and special events has helped attract riders. On Aug. 31, 2017, the Green Line registered its highest single-day ridership at 68,071 because of home games played by the Vikings, Twins, St. Paul Saints and University of Minnesota's Golden Gophers, and events attended at the Minnesota State Fair.
The university is key to ridership growth, as well. The three stations serving the main campus accounted for nearly one-quarter of total Green Line boardings in 2017.
Overall, more than one-third of the line's riders are college students. In June 2016, Metro Transit opened the A Line — its first rapid bus line — that connects to the Green Line's Snelling Avenue Station and offers faster and more frequent service to several regional destinations, including multiple colleges and the state fairgrounds.
Through travel behavior surveys, Metro Transit has found the Green Line attracts a broad spectrum of riders in addition to college students, including commuters, the elderly, and people running errands or meeting appointments. Recent surveys show riders are more diverse and have a more moderate income than the regional population — more than half of them earn less than $35,000 per year, Metro Transit officials say.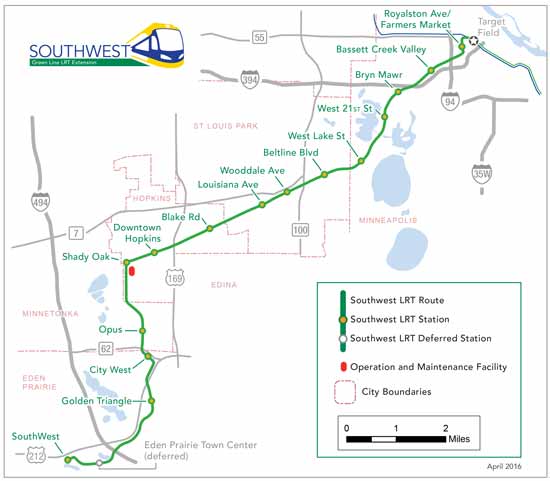 Source: Metro Transit
The agency also has found that about two-thirds of riders are between the ages of 18 and 34, nearly one-third don't have a driver's license and one-fifth speak a language other than English. About half of riders are Caucasian, 23 percent are African-American, and 12 percent are Asian or Asian-American.
"We continue to see a lot of diversity along the corridor, in ethnicity and in incomes," says Lamb.
Relying on high reliability
To help ensure services are meeting the needs of the line's varied riders, Metro Transit officials are working to enhance the route's reliability. Last year, the agency conducted its most significant rail maintenance project in downtown Minneapolis, an effort that involved installing two new crossover track sections and new signals to help make operations more flexible. Metro Transit also scored a reliability boost by refining its use of transit signal priority technology along the corridor.
But to better serve area riders on a much larger scale, the agency is pursuing a Green Line extension that might enter the construction phase sometime this year. Known as the Southwest Light-Rail Transit (LRT) project, the 14.5-mile extension will run from Target Field to a southwestern portion of the Minneapolis area when it begins operating in 2023.
The $1.8 billion, 15-station extension will serve several large employment centers in five communities, including St. Louis Park, Hopkins, Minnetonka and Eden Prairie. By 2040, the extension is projected to register about 34,000 weekday boardings.
Employment is expected to grow substantially in the area. By 2035, about 80,900 jobs are anticipated within one-half mile of the proposed stations on the extension, plus 145,300 jobs in downtown Minneapolis — an 18 percent increase from today's level.
Officials in the communities along the new route have been active in the planning stages of stations to ensure the facilities best serve their employers and residents.
"They have been enthusiastic partners and not just bystanders," says Lamb. "We can all see the business growth opportunities. Lower income people can fill niche job vacancies."
However, there have been a few snags in the Southwest LRT project that so far have slightly delayed the construction start. Among them: The Metropolitan Council late last year rejected four bids received for the project because they did not meet cost expectations and responsiveness requirements.
But now, new construction bids are being solicited and are due in early May. Since it typically takes about three to five months to review bids and award a contract, there's a good chance construction can start in 2018, Metro Transit officials say.
In addition to the Southwest LRT project, the agency is pursuing a $1.5 billion, 13-mile Blue Line extension that would run northwest and serve Minneapolis and four suburbs via 11 new stations. The two extensions would connect in downtown Minneapolis near Target Field.
The Blue Line extension is projected to register about 27,000 weekday boardings after it opens. Design work is nearly complete but no opening date had been determined as of press time.
Public safety a priority
As more people flock to the Green Line and other parts of Metro Transit's system, ensuring the safety and security of both riders and the public at large becomes increasingly challenging, says Lamb. The agency employs public safety campaigns to reinforce the importance that people remain alert and mindful when walking, biking or driving near rail lines.
Metro Transit's efforts to enhance safety were among the reasons the American Public Transportation Association named the agency its Transit System of the Year in 2016.
Metro Transit also recently built an additional platform at Nicollet Mall Station — its second-busiest light-rail stop — to provide riders a safer and more comfortable waiting area. It's now the agency's only light-rail station where riders can board or exit from both sides of a train, enhancing safety.
Metro Transit is trying to take a proactive approach to bolstering security, too, such as by increasing its police presence along the Green Line. Last year, police forces conducted about 2,500 trips per month along the route.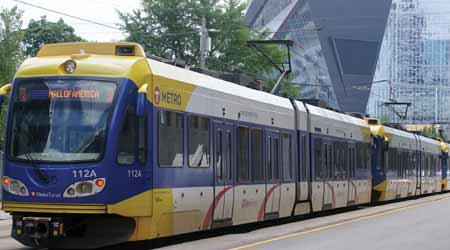 Metro Transit
With all the success so far tied to attracting riders to the Green Line, there will be opportunities to further promote the route after the extension is built, says Lamb. There also was a prime opportunity to tout the line much sooner, and not only to local residents: Minneapolis hosted the Super Bowl Feb. 4 at U.S. Bank Stadium.
The major event afforded Metro Transit a chance to prove its mettle as a transit provider, especially since 15,000 hotel rooms are located along the Green Line alone, says Lamb. Nothing like a national spotlight to demonstrate how vital a light-rail line can be.
"I think here in 2018 we will be able to showcase the Green Line," says Lamb.
---
Keywords
Browse articles on
Metro Transit
Metropolitan Council
Green Line
Southwest Light-Rail Transit Project
American Public Transportation Association
Contact Progressive Railroading editorial staff.