Newsletter Sign Up
Stay updated on news, articles and information for the rail industry
Rail News Home
Passenger Rail
October 2017
Part 1 : Progressive Railroading's Passenger Rail at a Glance 2017: Preface
Part 2 : Progressive Railroading's Passenger Rail at a Glance 2017: Amtrak, California, & Colorado
Part 3 : Progressive Railroading's Passenger Rail at a Glance 2017: District of Columbia, Florida, Georgia, Illinois, & Louisiana
Part 4 : Progressive Railroading's Passenger Rail at a Glance 2017: New Jersey, New York, & Ohio
Part 5 : Progressive Railroading's Passenger Rail at a Glance 2017: Pennsylvania, Texas, & Washington
Rail News: Passenger Rail
Progressive Railroading's Passenger Rail at a Glance 2017: Preface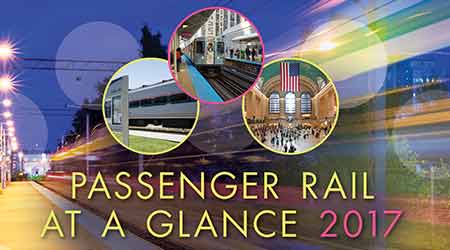 — By Julie Sneider, Senior Associate Editor
Upgrading aging systems, stations and fleets. Implementing positive train control (PTC) and other technologies. Expanding rail lines. And figuring out how to pay for it all. Those are among the top challenges transit-rail agency leaders say they're facing this year, according to surveys they submitted to Progressive Railroading for the 2017 edition of "Passenger Rail at a Glance."
In many cases, the agencies' high-priority issues are the same as in previous years. For example, PTC remains a hot topic, as railroads gear up to meet the federal government's Dec. 31, 2018, deadline to complete implementation of the crash-avoidance technology.
However, one change from last year's survey is the level of confidence expressed by agency officials about the future of federal — and in a few cases, state — funding of public transportation. In 2016, transit-rail agency leaders were a bit more confident in their ability to plan for the longer term after Congress passed the five-year, $305 billion Fixing America's Surface Transportation (FAST) Act in late 2015.
But in 2017, that confidence melted into apprehension after the Trump administration reaffirmed its fiscal-year 2018 budget proposal to phase out Capital Improvement Grants and eliminate the Transportation Investment Generating Economic Recovery grant program — despite Congress's rejection of those cuts in the FY17 appropriations bill.
State and local funding of public transportation projects has varied this year. Voters in some communities over the past 12 months have approved tax increases to pay for transit projects. But in other places, tight state budgets are keeping a lid on transit funding hikes. Take Ohio, for instance, where Greater Cleveland Regional Transit Authority executives are wondering how they'll make a dent in a $600 million state-of-good-repair backlog now that the agency faces losing $18 million a year in state sales tax revenue under a change in the state's budget.
The folks at Chicago commuter railroad Metra summed up their sentiments this way: "Unquestionably, the biggest challenge facing Metra right now is obtaining sufficient funding, particularly for our capital needs. We also continue to work on the challenge of installing and paying for positive train control."
Where's my railroad?
As in prior years, "Passenger Rail at a Glance" is created primarily from survey information submitted by transit-rail agencies. If your railroad is not included in this year's guide and you'd like it to be included in next year's edition, contact me at julie.sneider@tradepress.com.
next page
---
Keywords
Browse articles on
Passenger Rail At A Glance
transit agencies
passenger railroads
Metra
Contact Progressive Railroading editorial staff.