Newsletter Sign Up
Stay updated on news, articles and information for the rail industry
Rail News Home
Passenger Rail
September 2016
Rail News: Passenger Rail
NARP intern completes cross-country Amtrak trip to promote passenger rail, public transit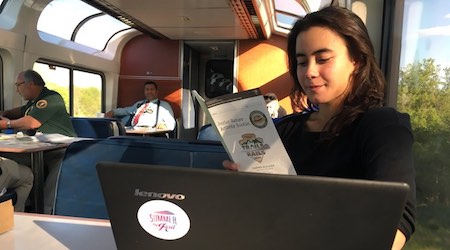 A semester on the rails
By Daniel Niepow, Associate Editor

Internships don't always have a particularly positive reputation in the popular imagination. Folks often picture harried college students making photocopies, picking up coffee for grouchy bosses and performing other mundane tasks.

Fortunately for Elena Studier, her recent internship with the National Association of Railroad Passengers (NARP) involved nothing of the sort. As part of her summer job with the association, the George Washington University student embarked on a nearly 40-day-long train journey across the United States. She kicked off the trip on May 15 from New York City and returned to Washington, D.C., on June 20.

She completed the entire 10,000-mile-plus trek using only Amtrak services and her bike, which she dubbed "Stevie." She then compiled photos and brief stories from the journey on her "Summer by Rail" blog and on various social media channels like Instagram and Facebook.
"I am realizing the more I talk to people about trains (particularly people my own age) the more I realize that many people are so unfamiliar with them that just describing a service isn't enough," Studier, 20, wrote in her blog.

Studier first pitched the idea to NARP Chief Executive Officer Jim Mathews after hearing about a friend who had done something similar. She originally envisioned creating a blog with snapshots of Amtrak passengers in the style of "Humans of New York," the popular website featuring photos of everyday New Yorkers.

Mathews liked the concept but wanted to take it in a slightly different direction.

"He kind of took my idea and ran with it," Studier says. "We moved away from the Humans of New York thing and turned it into something much bigger."

So, Studier and the NARP staff put together a trip aimed at promoting Amtrak's wide-reaching services, as well as showing the relationship communities have with public transportation. She relied on transit to get around in the places she visited, including Chicago, Seattle and Los Angeles. In total, Studier stopped at 20 cities on the trip.

Along the way, she met with elected officials, visited state parks, sampled local cuisine and explored historic monuments — all in the name of promoting passenger rail in the United States.

"The objective was to show that you could leave one end of the country by rail and hit dozens and dozens of really cool places without driving," says Mathews. "We wanted to show not only that it was possible, but that it was enjoyable — and that it was affordable for someone her age."

NARP paid for Studier's 45-day USA Rail Pass — a ticket that goes for nearly $900. Studier admits that's "not a small sum of money," but says it's a steal compared to other forms of travel over the same time period.

"It actually works out to significantly less than driving," she says. "In terms of cost, I think it's very feasible. If you have the time, I'd encourage anyone to do it. And I'd absolutely do it again."

The trip also allowed Studier to explore Amtrak's bike program. Riders technically can bring their bike on any route that allows baggage — so long as they disassemble it and place it in a box — but the national passenger railroad permits customers to bring their bikes "unboxed" on a few select routes. Sometime this fall, Amtrak will expand that program to several more routes.

For the majority of her trip, Studier was allowed to bring "Stevie" on board without any disassembly, save for a couple of journey segments.

Studier's trip fared so well that NARP is planning to send another intern on a similar journey next summer, says Mathews. The association is open to proposals for themed rail trips, such as journeys focused on food destinations, he adds.

A week after the trip, Studier was invited to speak at the U.S. Conference of Mayors' annual meeting in Indianapolis, where she gave a short presentation about her journey.

"She became the hit of the meeting. The chatter on the floor was, 'You've got to see the train girl and her video,'" Mathews says with a laugh. "But we think that's a success when mayors get to see the benefits of passenger rail and get to understand what it can do in their communities."

Now a junior at George Washington, Studier hasn't settled on a career path yet, but says she's eager to learn more about urban planning and passenger rail.

"This trip in a lot of ways inspired me to look into how passenger rail integrates into city networks," says Studier, adding that it was "amazing to see the ways cities developed" when they prioritized interconnectivity between rail and other forms of transportation.
Studier's compilation video of her cross-country rail journey.
---
Keywords
Browse articles on
National Association of Railroad Passengers
NARP
Elena Studier
Jim Mathews
passenger rail
passenger-rail advocacy
Summer By Rail
NARP summer intern
cross-country rail
Amtrak long-distance routes
Contact Progressive Railroading editorial staff.