Newsletter Sign Up
Stay updated on news, articles and information for the rail industry
RAIL EMPLOYMENT
Rail News Home
Passenger Rail
March 2014
Rail News: Passenger Rail
South Florida rail upgrades to provide more freight, transit travel options
— by Angela Cotey, senior associate editor
In the late 1800s, oil tycoon Henry Flagler traveled from his New York City home to Florida's East Coast. His impression, according to historians? The state — and Atlantic coastline, in particular — had great potential for development and a booming tourist industry, but lacked transportation and hotel options. Flagler soon began pursuing his hotel-building and rail-development interests and, in 1885, bought the Jacksonville, St. Augustine & Halifax Railroad.
The railroad purchase was the first in a series, followed later by rail extensions constructed farther south, that created what is now the Florida East Coast Railway (FEC). The rail line helped spur the development of cities such as West Palm Beach, Boca Raton, Fort Lauderdale and Miami.
In its current form, the 351-mile FEC operates from Jacksonville to Miami on the same right of way Flagler pieced together more than 125 years ago. And today, it's considered the key to future mobility in Florida's most populated Atlantic Coast cities. Roadways are heavily congested, and there's no room to expand. Eastern Florida communities are bracketed by Interstate 95 on the west and U.S. Route 1 on the east. I-95 stretches 12 lanes across in some locations, with dense development on either side of the highway. U.S. 1 runs near the coastline and Intracoastal Waterway.
"If you look at our population growth, there are no other north-south roadways that will provide the capacity we need between 95 and U.S. 1," says Amie Goddeau, mobility development manager for the Florida Department of Transportation (FDOT).
FEC's right of way could. The majority of the corridor is 100 feet wide and includes one to two tracks, with room to add up to two more. The available capacity is adequate to accommodate freight growth as well as passenger-rail service. Now, south Florida transportation agencies are setting out to use the FEC to its full potential. On the docket: a Tri-Rail Coastal Link that would provide commuter-rail service on a corridor parallel to the CSX Transportation line over which the South Florida Regional Transportation Authority (SFRTA) currently operates passenger service; a privately owned and operated intercity passenger-rail service that would run from Miami to Orlando; and a South Florida Freight & Passenger Rail Enhancement Project that would improve connectivity between FEC's coastal line and a rail corridor several miles to the west.
Combined, the proposed projects will provide more rail-travel options and flexibility, and maximize growth opportunities for both freight and passenger railroads. They also are spurring development near future rail stations and prompting cities to consider adding local transit services. In short, the rail improvements taking place in south Florida — more than $2 billion worth — have the potential to change the transportation landscape in the region.
"Our main mission is the safe and efficient movement of people and goods that support economic development," says Goddeau. "All of these projects support that mission and goal. This is the sweet spot for us in terms of looking at both freight and passenger movement opportunities on the corridor."
Capitalizing on those opportunities has become a decades-long quest for FDOT and SFRTA. In the mid-1980s, FDOT decided to launch a temporary commuter-rail system in south Florida to provide transportation options during an I-95 widening project. The FEC line would have been the natural route choice because it ran directly through city centers. However, FEC officials declined FDOT's passenger-rail proposal, saying they wanted to focus solely on freight service.
Instead, FDOT purchased CSX right of way several miles west of the FEC line. Tri-Rail commuter trains began operating in January 1989 on a 72-mile corridor from West Palm Beach to Miami International Airport. Many people came to rely on the service, and it became a permanent fixture in the region. Tri-Rail eventually double-tracked its system and increased service. In January 2014, SFRTA marked the 25th anniversary of Tri-Rail service, which is now used by more than 15,000 riders a day.
But SFRTA, FDOT and officials from Miami-Dade, Broward and Palm Beach counties never gave up on the idea of eventually operating passenger trains along FEC's right of way. For more than a decade, SFRTA has been developing plans for a Tri-Rail Coastal Link that calls for using FEC's corridor to run passenger trains between Miami and Jupiter. When integrated with the existing Tri-Rail service, the Coastal Link also would enable SFRTA to provide a one-seat ride between West Palm Beach, Boca Raton, Fort Lauderdale and Miami (see the map below).
All Aboard Florida's proposal
SFRTA's expansion plans didn't evolve beyond the initial phases until 2011, when FEC parent company Florida East Coast Industries Inc. (FECI) began looking into running privately operated passenger trains between Miami, Cocoa and Orlando, primarily along FEC right of way.
Known as All Aboard Florida, the intercity passenger trains would offer an express-type service targeted to Florida residents and tourists looking for alternative travel options to attractions throughout the state. In order to get the service up and running, FECI plans to add track and several stations along the FEC right of way, at a cost of about $1.5 billion, according to a report by the Eno Center for Transportation.
The proposal, which was formally introduced in March 2012, "paved the way" for SFRTA to more seriously explore its Coastal Link plans, says SFRTA Transportation Planning Manager Joe Quinty.
"All Aboard Florida has brought a certainty to this; you can't say [FECI] isn't interested in passenger service anymore when they're the ones doing it themselves," he says.
Why the change of heart? In 2007, FECI was purchased by private equity firm Fortress Investment Group. Fortress is open to any opportunity that will help maximize the potential of its assets, says FEC Senior Vice President, General Counsel and Corporate Secretary Robert Ledoux.
"While we do have capacity programs to expand business, I think we can acknowledge that our railroad will never fill up four tracks with freight," he says.
Models have shown that, with the addition of double track and other infrastructure improvements, the FEC corridor can handle growing freight traffic, as well as All Aboard Florida and Tri-Rail trains. Now, officials from SFRTA, FECI and FDOT are in the midst of negotiating track access fees. In the meantime, the parties are working to see their projects through.
They'll start with the South Florida Freight & Passenger Rail Enhancement Project, aimed at improving connections between the FEC rail line and South Florida Rail Corridor, over which CSX and Tri-Rail trains operate. The $47 million project calls for rehabilitating the existing Northwood Connection, located north of downtown West Palm Beach; building a new Northwood Connection south of the existing one; and constructing a new connection in Miami.
In November 2013, the U.S. Department of Transportation awarded a $14 million Transportation Investment Generating Economic Recovery (TIGER V) grant to FDOT to cover a portion of the project, which is being funded by the agency, SFRTA, FEC and CSX.
The Northwood Connection rehabilitation would provide a faster northwest-to-southeast connection between the FEC and South Florida Rail corridors, and facilitate improved connectivity to major intermodal centers within the region. When completed, FEC trains could run from PortMiami to Orlando on the CSX corridor, says Ledoux. A new Northwood connection south of the existing one would provide a direct southwest-to-northeast connection between the South Florida Rail and FEC corridors, and enable Tri-Rail trains to cut over to the FEC tracks and head north to Jupiter. Down in Miami, a new connection would enable FEC and Tri-Rail trains to transfer between the two corridors.
"These projects are key because they get the freight connections out there in front first, and that then gives us the ability to start looking at ways the coastal alignment can free up space for the commuter trains," says FDOT's Goddeau.
In addition to the new connections, FECI and SFRTA will upgrade existing and build new infrastructure to accommodate passenger-rail traffic on the FEC line. FECI soon will begin double-tracking the FEC right of way, according to SFRTA's Quinty.
Adding the second track "won't be that difficult," says Ledoux.
"We used to be double-tracked on most, if not all, of our railroad, and all of our bridges were double-tracked, as well," he says. "So physically, the infrastructure is there to put a second track back in."
FECI also is building stations in downtown Miami, Fort Lauderdale and West Palm Beach that All Aboard Florida and Tri-Rail trains will share. And, the firm is upgrading crossings and signals.
For its part, SFRTA plans to spend $600 million to $800 million on infrastructure investments, including triple-tracking some sections, building 17 to 20 additional stations, and constructing a new bridge in downtown Fort Lauderdale so the more frequent rail traffic doesn't affect the city's active marine industry, says SFRTA Director of Planning and Capital Development Bill Cross.
This year, the agency plans to advance Coastal Link into the project development phase through the Federal Transit Administration's New Starts program. Ideally, 50 percent of the project would be funded with a Full Funding Grant Agreement, 25 percent through a state matching grant and 25 percent locally, Cross says.
Once the Coastal Link is operational, SFRTA officials believe they will be able to operate it for less than half of its current costs.
"There are a lot of savings and efficiencies because we already have so much of the structure in place," says Cross.
All Aboard Florida trains are expected to begin operating in 2016 and the Coastal Link, by 2020. The passenger-rail services will provide new and more efficient travel options to south Florida's most popular destinations and, in turn, change how people think about transportation in the region, project planners believe.
Coastal Link benefits
For example, the Coastal Link will include a crossover in the middle of Broward County, near Pompano Beach, over which passenger trains can transfer from the South Florida Rail Corridor to the FEC line. That will give passengers a one-seat ride into downtown Miami. Now, riders have to transfer to the Metrorail system at Tri-Rail's Hialeah Market station in order to get downtown.
In addition, the Coastal Link will enable SFRTA to serve the arts, entertainment and business districts of many cities, whereas the existing line serves more of the suburban areas, says Quinty.
While the western line has park-and-rides at most stations, SFRTA officials are working to prompt transit-oriented development around the future coastal stations in order to create more dense, walkable communities.
In the meantime, population and job growth continues to spread to cities such as Boca Raton, which means Tri-Rail's commuter-rail system has a more dynamic ridership pattern.
Passengers travel to all points throughout the system, rather than following the typical suburb-to-city center ridership trend. The Coastal Link will provide SFRTA the flexibility to serve all the various markets.
"We will truly be offering a much more enhanced service, with more options," says Joe Giulietti, SFRTA's former executive director, who in late January took over as president of MTA Metro-North Railroad. "It's like Metro in D.C. — they have multiple lines, but they are adjusted so they go into the various employment, business and living centers."
The goal is to ensure the two Tri-Rail services will be integrated.
"We don't want to run on parallel lines and then have that sense that they're competing with each other, so we're looking for ways to tie the services in and give people as many options back and forth as possible," says Cross.
Connecting services will help. Talk of All Aboard Florida and Tri-Rail trains running up and down the coast has prompted some cities to begin exploring streetcars to provide transportation services for passengers once they get to a commuter-rail station.
For example, the Fort Lauderdale Downtown Development Authority is spearheading The Wave, a streetcar system that will serve as a downtown circulator, with potential extensions to the city's convention center, port and airport. The project received a TIGER IV grant in 2012. SFRTA also is in preliminary talks with the West Palm Beach Downtown Development Authority about creating a similar streetcar system in that city, says Quinty.
And in Miami, city officials are considering streetcar or light-rail service across the bay to connect downtown Miami and Miami Beach. The connecting services would have a positive impact on Tri-Rail and All Aboard Florida ridership, officials believe.
While the new SFRTA route will benefit commuters, All Aboard Florida's service is geared to tap Florida's tourism market. More than 50 million trips are taken annually by people traveling between Miami, Fort Lauderdale, West Palm Beach and Orlando, according to All Aboard Florida's website.
An intercity passenger-rail service between those cities would help boost in-state tourism, as well as provide a new travel option for out-of-state visitors traveling throughout the state. Tourists might consider staying in the state longer if they had more convenient travel options, All Aboard Florida officials believe.
"All Aboard Florida will change the tourism landscape and how Florida residents and visitors travel throughout the state's major destinations by providing an unmatched hospitality-driven experience," All Aboard Florida President and Chief Operating Officer Don Robinson told attendees at a January convention for the state's tourism industry, according to a press release.
Trains would feature onboard WiFi, dining and entertainment, and other service options, he added.
New crossovers to increase flexibility for CSX, FEC
Florida residents and tourists aren't the only ones who stand to benefit from the rail improvements. The crossovers being built will provide CSX and FEC trains a faster, more efficient way to travel between corridors, which will lead to increased capacity and flexibility.
By operating more of its trains on the CSX corridor, FEC could bypass the more dense areas of its corridor, such as Fort Lauderdale and West Palm Beach. The regional railroad also could use the western corridor to reach customers in Orlando, a city it doesn't currently serve, says FEC's Ledoux.
"CSX is building a new intermodal facility in Winter Haven, and we'd have the ability to bring goods up there and serve the Orlando market," he says.
Today, most of the products being shipped from Miami to Orlando move by truck, says Ledoux. FEC and CSX plan to partner to convince some of those shippers to begin using rail service.
"We would be competing against trucks, seeing if we could get some of that day-to-day truck traffic that goes back and forth between the two cities," he says. "We could put those goods on a train and run it up to Orlando in roughly the same timeframe, and we'd be doing it on one, big train full of goods rather than these individual trucks."
The easier access between lines also provides redundancy for FEC and CSX. If there is a bridge outage or another service disruption on one line, trains could cross over to the other corridor. And, as freight travels south from Jacksonville, CSX and FEC could determine on which corridor it would be faster to run the trains.
"It gives us options to maximize the flow of trains between West Palm and Miami, both for freight and passenger," says Ledoux.
Faster, more efficient rail movements with built-in flexibility and more options can only mean good things for shippers seeking to move goods out of PortMiami, commuters trying to avoid I-95 headaches, and tourists hoping to reach the state's main attractions.
By maximizing the potential of a rail corridor in the densest part of the state, the various transportation entities are creating a new era of Florida rail travel that would do Flagler proud.
"We think this will be a game- changer for the region," says Quinty. "It will change the way people think about transportation here."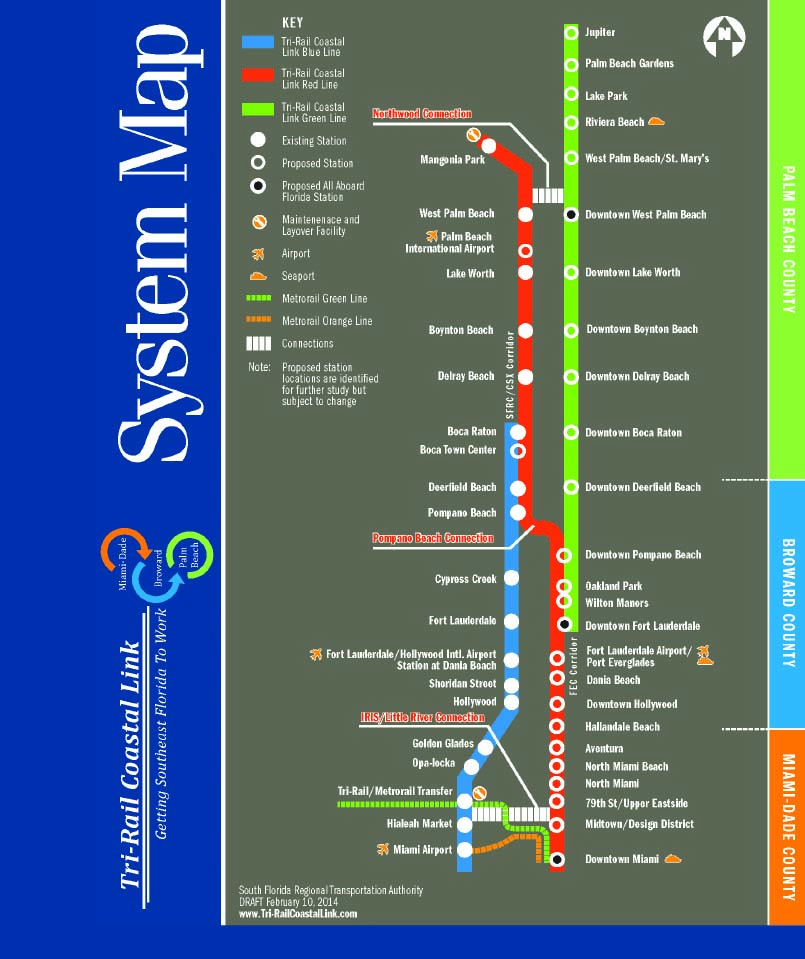 ---
Keywords
Browse articles on
South Florida RTA
Florida East Coast Railway
All Aboard Florida
Florida DOT
CSX
Contact Progressive Railroading editorial staff.