Newsletter Sign Up
Stay updated on news, articles and information for the rail industry
RAIL EMPLOYMENT
Rail News Home
Norfolk Southern Railway
3/19/2019
Rail News: Norfolk Southern Railway
NS, unions differ on merits of brake test simulator for hands-on training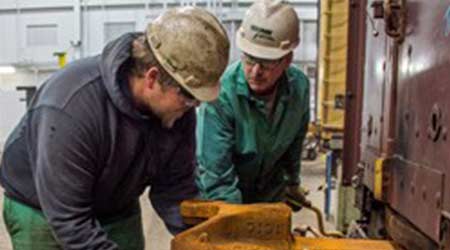 Norfolk Southern Railway has petitioned the Federal Railroad Administration for a waiver of compliance from certain provisions of federal rail safety regulations regarding refresher training for mechanical inspectors.
NS proposes to create a 3D simulation using web-based software to comply with the hands-on portion of required periodic refresher training. The railroad would use a simulator for refresher training on Class I air brake tests instead of hands-on training. The brake test simulator also would be used to enhance training for supervisors and employees in other crafts, including freight-car repair workers and conductors.
Periodic refresher training currently is federally required at intervals not to exceed three years and must include classroom and hands-on training, and testing.
The Brotherhood of Railway Carmen (BRC), Transport Workers Union and other rail labor unions oppose NS' petition for the waiver because they believe the requested change would not ensure the same level of safety as provided by current federal regulations.
Simulated testing should be used only as a supplement to, and not a replacement for, the hands-on training that's currently required, BRC officials said in a press release.
"While a 3D simulation described by NS is beneficial, it cannot replace the hands-on training that railroad employees currently receive in the field," said BRC General President Richard Johnson. "For instance, training in the field provides variating challenges such as weather or incidents where an inspector's olfactory senses are useful in conducting inspections; these are factors that a computer cannot simulate."
However, as stated in the petition, NS officials believe the systematic blended training curriculum would exceed the current training objectives and lead to increased proficiency and, ultimately, a decrease in air-brake defects.
"[We] believe strongly in the merit of the petition as a means of improving safety, and we look forward to working with all interested parties as the waiver process moves forward," NS officials said in an emailed statement.
Contact Progressive Railroading editorial staff.
More News from 3/19/2019