Newsletter Sign Up
Stay updated on news, articles and information for the rail industry
Rail News Home
Norfolk Southern Railway
June 2016
Rail News: Norfolk Southern Railway
With deadline anxiety and other worries behind them, railroads press forward with PTC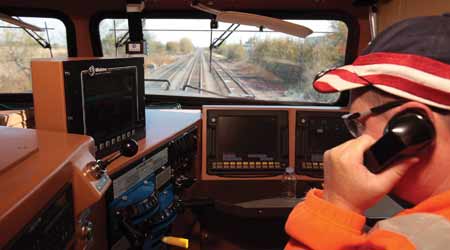 By Jeff Stagl, Managing Editor
Less than a year ago, the more than three dozen freight and commuter railroads required to install positive train control (PTC) systems continued to confront several major implementation obstacles. Key components still had yet to be developed or delivered. The testing and validation of some vital system portions hadn't started. And radio spectrum acquisition or coordination issues lingered.
Of course, there also was the tallest hurdle: the impending federal deadline of Dec. 31, 2015, which most of the railroads claimed was unattainable.
But after a massive rail industry lobbying effort that spanned many years, Congress acted in late October 2015 to extend the deadline. Railroads gained three more years to finish the job, until 2018's end. They also could take five more years to do it, through 2020, if they accomplish the following by Dec. 31, 2018: install all hardware, implement PTC on more than half of their systems, complete employee training and obtain all radio spectrum.
Other implementation anxieties have eased of late, as well. System and subsystem developers caught up with component production and deliveries, testing/validation work began in earnest and some radio issues have been resolved.
So now, railroads are focusing on advancing implementation sans major problems — interoperability and a few other issues notwithstanding.
"There are no showstoppers," says Tom Schnautz, Norfolk Southern Railway's assistant vice president of mechanical, research and advanced technology. "This is now more like a large integration project."
As to when such an integration can be completed, the railroads differ. The 38 of them that continue to install PTC — which include the Class Is, Amtrak, two dozen commuter roads and several short lines — recently provided five end dates to the Federal Railroad Administration (FRA).
Among them: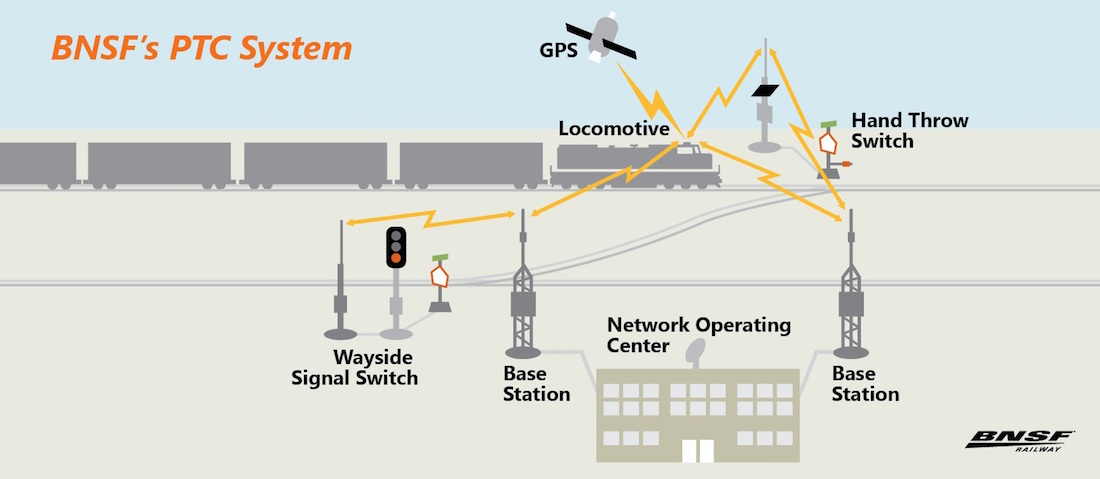 An illustration shows how wireless communications are transmitted and shared among devices in BNSF's I-ETMS system.
This Graphic and Photo Above: BNSF Railway Co.
• Virginia Railway Express, Denver's Regional Transportation District, the Southern California Regional Rail Authority and Southeastern Pennsylvania Transportation Authority (SEPTA) are targeting 2016's end;
• MARC Train Service, the Denton County Transportation Authority and Peninsula Corridor Joint Powers Board are aiming for a 2017 finish; and
• BNSF Railway Co., Canadian Pacific, Kansas City Southern, Union Pacific Railroad, Amtrak, MTA Long Island Rail Road (LIRR), MTA Metro-North Railroad (MNR), New Jersey Transit, Utah Transit Authority and Sound Transit are on the list of 20 roads projecting 2018's end.
Trinity Railway Express forecasts a 2019 completion, while CN, CSX, NS, the Massachusetts Bay Transportation Authority, Central Florida Rail Corridor and Metra plan to be done by 2020's end.
Billions of dollars to dole out
Collectively, freight railroads will spend about $10.6 billion on implementation, according to a recent Association of American Railroads' (AAR) estimate, while commuter roads anticipate a $3.5 billion price tag, per the American Public Transportation Association.
As of early May, freight roads had installed hardware and software on 19 percent of about 60,000 targeted route miles, according to the AAR. They also had completed work on 43 percent of 18,500 locomotives earmarked for on-board equipment; installed 78 percent of about 29,500 necessary wayside units and 65 percent of 3,600 required base-station radios; and trained 53 percent of more than 130,000 employees pegged for PTC training.
"The overall implementation timeline remains on schedule as the freight-rail industry continues to work on PTC testing and installation," said AAR spokesman Ed Greenberg in an email.
For Class Is, implementation work revolves around Wabtec Corp.'s Interoperable Electronic Train Management System (I-ETMS®), their PTC system of choice.
As of 2015's end, NS had spent about $1 billion to advance its I-ETMS system, and the railroad expects to add another $246 million to that running total in 2016.
As part of its PTC project, NS upgraded signals in and around Atlanta.
Photo: Norfolk Southern Railway
Through 2015, installations of necessary wayside equipment had reached 57 percent completion, involving 1,900 of more than 3,400 locations, and 4,500 of 8,000 route miles, says NS' Schnautz. Also, the installation of 3,700 wayside and base antennas was about half completed, and the Class I had partially installed components on 68 percent of 2,900 locomotives.
'We expect to fully install some of those locomotives this year since we have all the necessary hardware now," says Schnautz, adding that the 2016 target is 800 units. "By [year's] end, we will have 1,175 locomotives that are fully PTC ready."
NS' other year-end targets include training 2,700 employees, completing 800 miles of wayside installations and activating PTC testing on 1,000 miles of track, including along 200 miles in a South Carolina pilot territory running from Charleston to Columbia, and on to Charlotte, N.C.
"The other 800 miles [of test activations] depends on pilot testing and FRA approval," says Schnautz. "We expect to begin testing by year's end."
Put to the test at CSX
CSX also is planning some testing this year. The Class I estimates it will cost about $2.2 billion to implement I-ETMS on 12,800 track miles. Later this year, the railroad expects to begin tests in cab signal territory — where no trials have yet been conducted — followed by tests in two additional territory types, says CSX's Director of PTC Ken Lewis.
The Class I continues to advance implementation, which CSX has committed to complete by 2020's end, although it's aiming to finish sooner, he says. As of April 30, 2016, the railroad had installed more than 2,600 of about 4,600 required wayside interface units, upgraded signals on 5,400 of 7,500 track miles and installed 332 communication towers, with another 434 slated for installations in 2016 and 2017.
CSX also has trained more than 18,000 of 19,600 employees. That total includes train and engine workers, who initially receive rules training, then final qualification training — in part via locomotive simulators — shortly before their subdivision goes live with PTC, says Lewis.
In terms of on-board work, CSX through April's end had partially installed hardware on 1,900 of 3,200 locomotives earmarked for equipment and made 600 units fully PTC capable.
Going forward, Lewis will report to an executive who as of June 1 became charged with overseeing PTC implementation. CSX last month appointed Mike Smith — most recently vice president of network operations — VP of PTC and strategic implementation.
A major implementation challenge Smith figures to help Lewis tackle in the near term: coordinating efforts with a number of other railroads to perform interoperability tests.
"We have to make sure everybody is ready to do it," says Lewis.
Tests likely will be conducted first with Amtrak and the other Class Is, since they're closer to implementation, then eventually with short lines that need to adopt PTC, Lewis adds.
KCS is progressing toward nationwide interoperability, as well, even though significant technology hurdles remain, said spokeswoman Doniele Carlson in an email.
"We believe that interoperability remains the biggest challenge to completing implementation," she said.
Heading into 2016, KCS had spent more than $100 million to install or partially install slightly more than half of its 17 PTC subdivisions with hardware and software. The railroad also had partially installed components on more than three-fourths of its 614 locomotives earmarked for on-board equipment.
KCS plans to install PTC on more than 2,100 track miles. Earlier this year, the railroad began an FRA-observed field integration test in its New Orleans Subdivision from Latanier to New Orleans, La.
BNSF has been performing tests for quite a while longer. Over the past year, the Class I has logged more than 70,000 PTC runs across 14 revenue service subdivisions. As of May 24, 2016, 17 of 86 mandated subdivisions had reached the PTC revenue-service stage.
BNSF expects I-ETMS installation to cost $2 billion, and through 2015 the Class I already had spent about $1.3 billion, said spokesman Michael Trevino in an email. Through April 30, 2016, BNSF had installed 85 percent of necessary wayside antennas. And as of mid-May, the railroad had equipped 90 percent of the 16,942 track miles mandated for PTC and commissioned 4,257 of the 5,000 locomotives pegged for on-board equipment, said Trevino.
A call for cooperation
Meanwhile, commuter railroads continue to advance PTC installations and tests, and address interoperability.
Metra is implementing an I-ETMS system to enhance interoperability since its trains use Chicago-area lines owned by BNSF, CN and UP. The commuter railroad is contributing funds toward PTC installation on those lines.
Metra could be PTC-operable on BNSF's line sometime next year, followed by UP's line in late 2017, depending on the Class Is' implementation progress, says Bruce Marcheschi, Metra's chief engineering officer. Revenue service demonstrations then could commence on the lines shortly afterward.
Metra currently is chipping away at implementation, which is estimated to cost $350 million to $400 million, with another $15 million to $20 million per year in operating costs, says Marcheschi.
The railroad has allocated $187 million in capital funding toward PTC, and is counting on additional state and federal funds to cover the remainder of implementation costs. The Fixing America's Surface Transportation Act authorizes $199 million in fiscal-year 2017 to help railroads install PTC.
Metra also has applied for a $3 million grant through the FRA's Railroad Safety Technology Program to help fund a $3.7 million disaster recovery system for PTC. The system would activate automatically if the primary back-office server fails due to a power failure, routine maintenance, natural disaster or other unforeseen event. The FRA in April announced it would provide $25 million in competitive grants to railroads, suppliers, and state and local governments for PTC-related projects.
As of early last month, Metra's system integrator Parsons Transportation Group Inc. had installed wayside equipment on a partial basis at about half of 219 necessary locations along the five lines controlled by the railroad. In addition, 60 percent of on-board installations — which involve 154 locomotives, 187 cab cars and 26 Highliner cars — were finished on a similar partial basis. In July, Metra plans to begin training more than 1,700 employees.
A major 2016 goal is to complete wayside installations on the Rock Island District Line, says Marcheschi. That would enable the railroad to begin revenue service testing by early 2017.
"The Rock Island will be our proving ground," he says, adding that subsequent tests won't need to be as extensive on the rest of Metra's lines.
Ultimately, the railroad is aiming to perform revenue service demos on its lines by first-quarter 2018 and complete implementation by 2020's end at the latest, although Metra previously has committed to finishing by third-quarter 2019 or perhaps sooner, says Marcheschi.
Similar PTC systems
The Northern Indiana Commuter Transportation District (NICTD), which operates on Metra lines, is projecting completion by 2018's end. The district also is implementing I-ETMS and has contracted Parsons Transportation Group as its system integrator.
A challenging part of the project, which is in the design phase, is addressing the various types of electric multiple units (EMUs) the district employs, says NICTD Chief Engineering Officer Victor Babin. The EMUs include 48 single-level dual cab cars, 14 bi-level single cab cars and 10 single-level single cab cars.
"Every car in our fleet potentially could be a locomotive," says Babin.
NICTD installed a new signal system from 2006 to 2012, so it already has "a PTC-ready" wayside, he says. Most wayside components will be "plug, test and play," he says.
NICTD is aiming to begin testing its system on Metra's line in September 2018 after Metra completes revenue service demos.
For New York's LIRR and MNR, which are pursuing implementation jointly through mother agency the Metropolitan Transportation Authority (MTA), some operational pilot testing is slated to start by June 30. The railroads have employed a Bombardier Transportation/Siemens Rail Automation joint venture as their system integrator and project to spend $968 million on PTC.
LIRR and MNR continue to install wayside and onboard components to support pilot segments, and are in the process of identifying test tracks to help advance pre-revenue testing, MTA officials said during an authority board meeting held Feb. 22. They also continue to progress office subsystem development and work with tenant railroads on interoperability.
LIRR and MNR expect to meet their end-of-2018 deadline, which was revised after Congress acted late last year. Their progress will be watched closely, said MTA Chairman and Chief Executive Officer Thomas Prendergast during the meeting.
"Even though it's a three-year extension, time will go by quickly and there's a lot to be done," he said.
SEPTA: First in line
SEPTA already has accomplished a lot implementation-wise and expects to reach completion very soon — as in this summer. On April 18, the authority began revenue service operation of its Advanced Civil Speed Enforcement System (ACSES) — which was developed by Alstom and is being installed by integrator Ansaldo STS — on 10 miles of the Warminster Line. SEPTA became the first commuter-rail agency to implement ACSES as a PTC system, says General Manager Jeff Knueppel.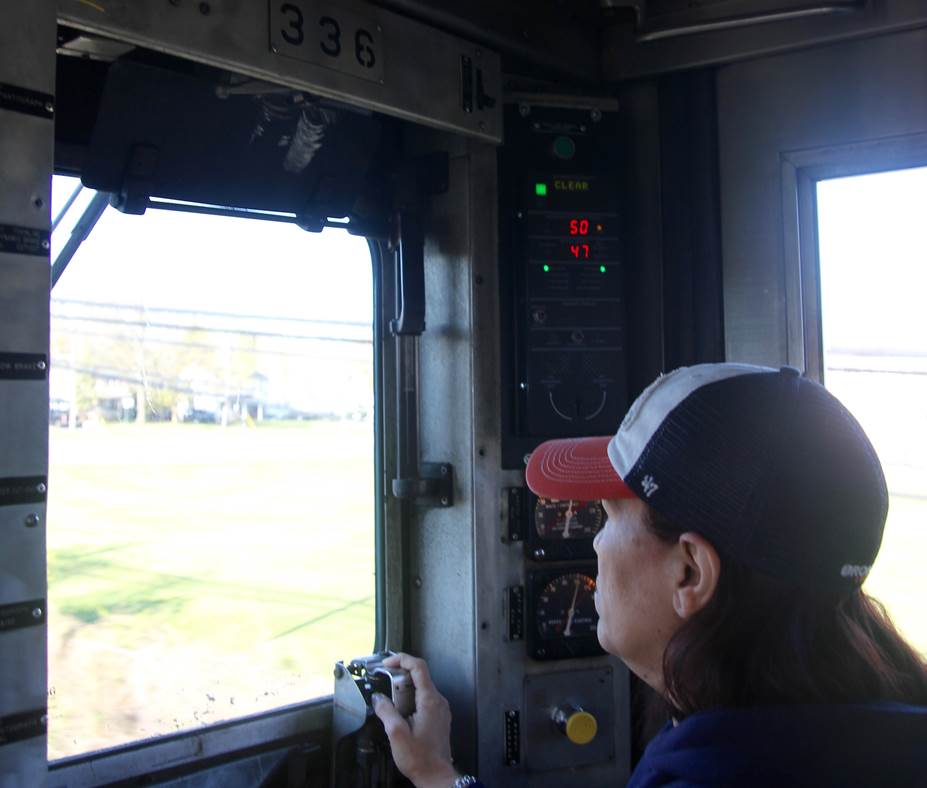 A SEPTA engineer operates a train with a PTC system Aspect Display Unit visible in the upper background.
Photo: SEPTA
As of early last month, the system already had been used twice "to protect real-life situations," he says. A crossing device was hit by a truck, and the system reacted to protect the situation, and there was a problem with a rail that prompted ACSES to issue a speed restriction, says Knueppel.
"It has not had a significant impact on the line's service," he says. "We even had one 99 percent performance day."
SEPTA also rolled out ACSES on the Fox Chase Line May 23, and as of late May expected to launch it soon on the Lansdale/Doylestown regional line between Doylestown Station and Glenside or Jenkintown station.
"We're implementing it on our single-track lines first," says Knueppel.
He believes that sometime next month, the authority will have ACSES turned on in all of SEPTA's territory, an area covering 235 miles of track. Implementation cost is pegged at about $328 million.
SEPTA still is working with Amtrak on PTC. Since the authority also operates on 240 miles of Amtrak-owned track that will be equipped with ACSES, they're both installing the same system.
By choosing an established system — ACSES has been installed on portions of the Northeast Corridor for a number of years — SEPTA has avoided some implementation challenges posed by a newly developed one, says Knueppel.
"We're very satisfied about seeing the system in operation," he says.
Sound Transit will need more time to get to that stage. The agency expects to complete implementation by 2018's end, or perhaps a bit sooner, in part because it needs to coordinate a revenue service demo with BNSF, says Eric Beckman, Sound Transit's deputy executive director of business and construction services. The agency's trains operate on about 80 miles of BNSF-owned track.
Demo depends on BNSF
Sound Transit is installing I-ETMS on its own 11-mile corridor at an all-in cost of about $50 million via system integrator Wabtec. Wayside and most cab car work is done, and testing should be completed by summer's end, says Beckman. Although Sound Transit expected to submit a revenue service demonstration plan to the FRA last month, it could be a while before a demo actually begins, he says.
"We are dependent on BNSF because our corridor connects with their Seattle sub. Their soft [PTC] schedule now in the sub is mid-2017," says Beckman. "We're looking to see if we can decouple from BNSF and proceed, or if we have to wait."
After a demo is completed, Sound Transit would submit its final safety plan to the FRA, he says.
Although railroads' implementation progress has been significant of late, PTC needs to be in place more quickly around the nation, said FRA Administrator Sarah Feinberg in a press release. The administration issued the release on May 12 to mark the one-year anniversary of Amtrak's derailment near Philadelphia that caused eight fatalities and more than 200 injuries.
"PTC technology is now active on the Northeast Corridor — serving as one additional buffer of protection along the busiest corridor for passenger-rail service in the country. However, the traveling public and train crews deserve that PTC be implemented elsewhere across the country as soon as possible," said Feinberg.
The technology will at least be in place by the dates promised if railroads continue to foster cooperation among themselves, NICTD's Babin believes.
"The deadline is more attainable if the entire industry is in lockstep," he says.
---
Keywords
Browse articles on
positive train control
Association of American Railroads
Norfolk Southern Railway
CSX
BNSF
Kansas City Southern
Metra
Northern Indiana Commuter Transportation District
Long Island Rail Road
Metro-North Railroad
SEPTA
Sound Transit
Contact Progressive Railroading editorial staff.