Newsletter Sign Up
Stay updated on news, articles and information for the rail industry
Rail News Home
Norfolk Southern Railway
June 2009
Rail News: Norfolk Southern Railway
With 5,000 locomotives in storage, Class Is won't be placing power orders any time soon
By Pat Foran, Editor
The dramatic drop-off in freight traffic has driven Class Is to store locomotives in droves. As of May 20, Union Pacific Railroad had stowed away 2,100 locomotives, or 25 percent of its 8,400-unit fleet. A bullet point on a PowerPoint slide in BNSF Railway Co.'s Q1 presentation ("Near-term Initiatives") read thusly: "Over 900 locomotives stored or returned."
Meanwhile, CSX Transportation had parked 600 or 15.8 percent of its 3,800-unit fleet. Norfolk Southern Railway had stored 400 locomotives or 11 percent of its fleet. Canadian Pacific had stowed 350 road and yard locomotives, or 23 percent of its fleet. Kansas City Southern had stored 360 units; CN, 281 units.
That's nearly 5,000 mothballed units. Needless to say, Class Is won't be ordering any locomotives this year. But most will continue to take delivery of units ordered in 2008 and 2007. Even so, deliveries won't come close to the 900 or so that Class Is have received annually the past five years. Perhaps 500 or 600 will be delivered in 2009, power prognosticators told us during the "Fleet Stats" information-gathering process. Expect even fewer — 300 to 400 — in 2010.
Beyond that? It's anybody's guess.
"We're in unprecedented and unchartered territory," says Jim Husband, president of RailSolutions Inc., which provides consulting services to financial institutions, railroads and private fleet operators.
'When the Economy Turns...'
Looking to the last downturn and subsequent bounce-back for mapping clues might not be of much help. From 2001 through 2003, Class Is stored as many as 4,000 to 5,000 locomotives, too, Husband says. And it didn't take very long for traffic volumes to pick up, shippers to rail about poor rail service and Class Is to start ordering power again.
But rail-traffic volumes during that recession didn't drop off anywhere near as dramatically as they have this go-round.
"I can't remember a time where carloadings and revenue ton-miles declined by double-digit amounts, as they have the past couple of years," says Husband, whose rail career began in 1974. "That has not happened — ever."
That said, Husband doesn't believe Class Is will steer clear of ordering for long.
"A lot of these locomotives that are being stored are getting to the end of their economic useful lives — they were built in the mid- to late '70s," Husband says. "When the economy turns around, most of those units probably will be headed for the scrap heap. And as Class Is try to find ways to operate more efficiently, state-of-the-art locomotives will continue to be very much a part of the solution."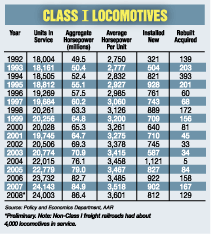 ---
Keywords
Browse articles on
locomotive
locomotive orders
recession
Contact Progressive Railroading editorial staff.