Newsletter Sign Up
Stay updated on news, articles and information for the rail industry
Rail News Home
Norfolk Southern Railway
September 2015
Rail News: Norfolk Southern Railway
Railroads revitalize aging bridges — and open up new business opportunities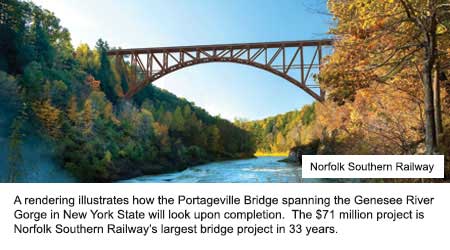 Construction will begin this fall on the largest bridge project Norfolk Southern Railway has undertaken in more than three decades.
The Portageville Bridge, which crosses the Genesee River Gorge — often referred to as "the Grand Canyon of the East" — in Letchworth State Park near Portageville, N.Y., is a vital link on the railroad's Southern Tier Route. With portions of the existing iron structure built in 1875, the bridge reached the end of its effective service life in the late 1990s and became what NS officials referred to as a "weak link" in the railroad's system. In fact, the 2009 New York State Rail Plan identified the bridge as one of the state's 10 most significant rail bottlenecks.
Continuous electronic monitoring of the bridge also revealed that it was no longer capable of carrying today's 286,000-pound rail cars and required speed restrictions. What's more, NS officials expect more rail traffic along the Southern Tier Route, making replacement nothing less than a necessity.
Scheduled for completion between 2016 and 2018, the $71 million project involves construction of a spandrel-braced arch bridge spanning the gorge and located south of the existing bridge. That structure will be removed, save for a small portion of one tower that will remain as a historical marker.
"The new Portageville Bridge will serve well not only as a long-lasting freight-rail structure, but as a proud centerpiece for Norfolk Southern and a fitting backdrop to the scenic Genesee River Gorge," says Jim Carter, the Class I's chief engineer of bridges and structures.
The New York State Department of Transportation secured $12.5 million in state and federal funding for construction, as well as contributed $3 million toward design costs; NS will cover the rest. The last time the railroad took on a bridge project of this magnitude was the Lake Pontchartrain Bridge, a 5.8-mile single track in Louisiana completed in 1992 that is thought to be the longest railroad bridge in the United States.
Across North America, rail bridges and trestles continue to age, and there's a growing need to rebuild or replace many of them. NS is but one of many railroads chipping away at the backlog of bridge work. What follows is a sampling of bridge projects Class Is and regionals are working on this year.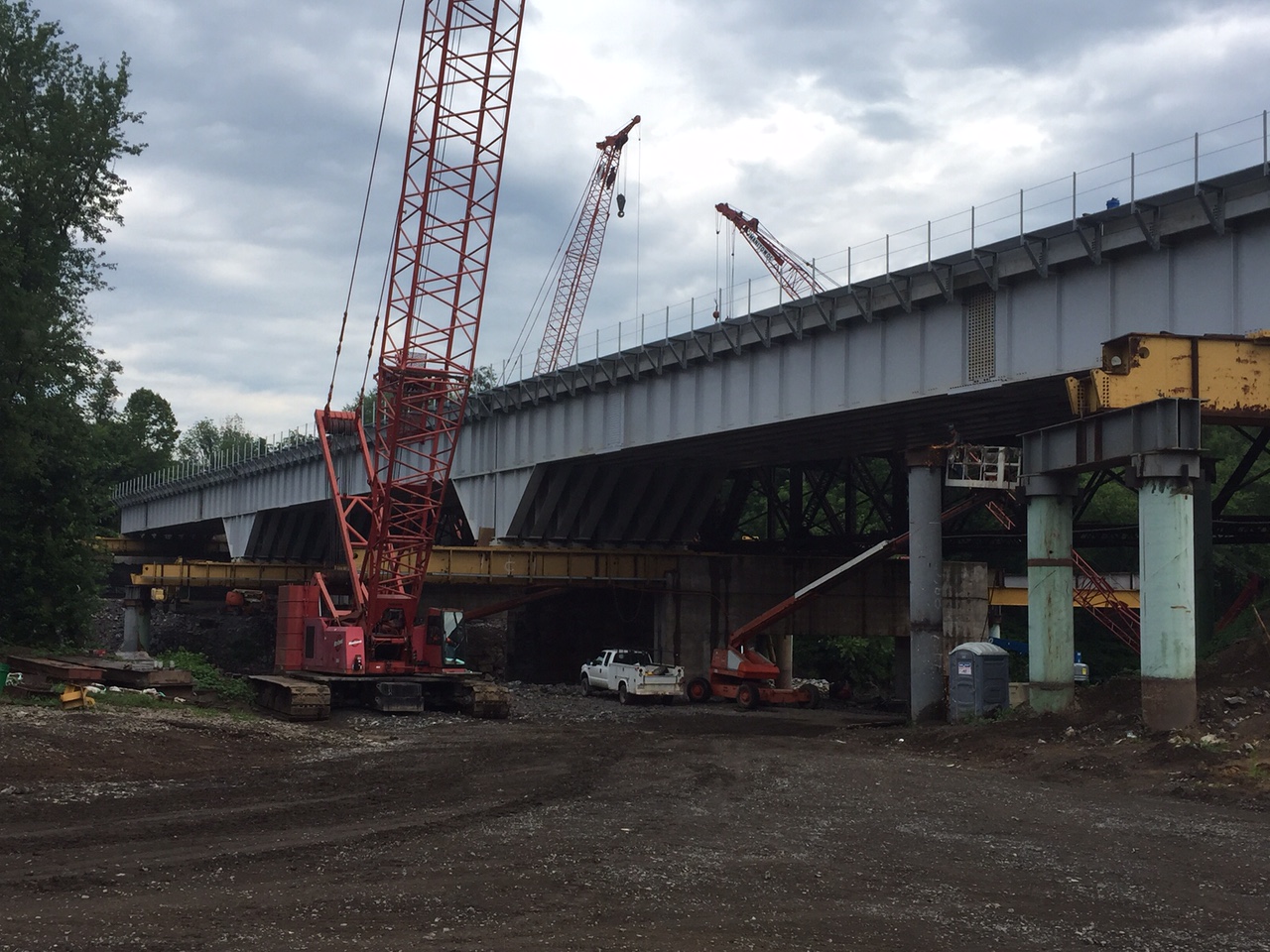 CSX Transportation is wrapping up two years of work replacing the 104-year-old pin-truss bridge crossing the Potomac River between eastern West Virginia and western Maryland with four double-track steel spans on a stone masonry structure.

Photo: CSX Transportation
At CN, projects include the 3,239-foot-long Quebec Bridge — a National Historic Site of Canada structure that opened in 1919 and spans the lower St. Lawrence River between Sainte-Foy and Levis. The cost of the work to be undertaken in 2015 is estimated at $7 million (Canadian), bringing the Class I's total investment in the bridge since 2013 to $17 million. CN plans to invest up to $95 million over 10 years to ensure the safety and long-term viability of the bridge.
The work is part of the major program CN and the Ministere des Transports du Quebec agreed upon in 2013, following a thorough inspection of the bridge, which also is used by motor vehicles and pedestrians.
"CN has been investing heavily in the Quebec Bridge to extend its life, even though it has been used less and less for rail traffic," President and Chief Executive Officer Claude Mongeau said earlier this year. "The major rehabilitation program confirms CN's ongoing commitment to preserve a strategic piece of infrastructure for Quebec City."
CSX Transportation is wrapping up some strategic bridge work of its own — namely, a two-year replacement of an early-1900s bridge connecting western Maryland and eastern West Virginia in an area known as North Branch.
The Class I is replacing the open-deck pin-truss bridge with four double-track steel spans on a stone masonry substructure. A common construction style in the late-19th and early-20th centuries when rail cars were lighter and freight velocity was lower, pin-truss bridges tolerate less capacity and require more maintenance a century later.
The new bridge, which likely will cost between $20 million and $25 million, will improve corridor reliability and fluidity by adding extra capacity in this area, says Ed Sparks, CSX assistant chief engineer of structures. This year, the railroad will spend more than $2.5 billion to support core infrastructure and strategic investments that will lead to long-term profitable growth and productivity initiatives, CSX officials say.
The Class I is working on dozens of other bridges this year, says Sparks, adding that bridge repairs and replacements are second only to track on CSX's list of top maintenance-of-way priorities.
Another Class I recently completed a bridge project that has international implications. Last month, Kansas City Southern opened a new rail bridge between Mexico and the United States. The bridge, which runs from Brownsville, Texas, to Matamoros, Tamaulipas, Mexico, is the first cross-border bridge to be built in more than 110 years.
Designed to alleviate urban congestion by rerouting rail traffic out of the most populated areas in both cities, the bridge is expected to expand regional transportation capacity.
"We are also using this bridge in conjunction with the Union Pacific and customs agencies to help streamline railroad border crossing processes," said Chief Transportation Officer and Senior Vice President of Engineering Jeff Songer during KCS' July 17 earnings conference. "We will look to apply these new processes at our Laredo international bridge for future efficiencies there."
The fatigue factor
Meanwhile, short lines and regionals also are working off significant project backlogs.
"There's a lot of infrastructure out there that is 50 to 100 years old, or more," says Brian Lindamood, the Alaska Railroad Corp.'s director of capital projects. "It was not designed to last forever."
For years, it seemed like the Indiana Rail Road Co.'s (INRD) White River Bridge just might have to, despite the efforts of officials from multiple entities to replace the pin-connected truss bridge, built in 1899.
Construction began on Indiana Rail Road Co.'s White River Bridge in March 2014.

Photo: Indiana Rail Road Co.
Located two miles north of Elnora, Ind., the structure had been identified for replacement as far back as the late 1960s, when the Chicago-to-Louisville line was part of the old Milwaukee Road. The line changed ownership a couple times, and the INRD made the bridge a top priority when it acquired the track from Canadian Pacific in 2006.
"The fatigue was the biggest concern for us," says Peter Ray, INRD's vice president of engineering, adding that the railroad in recent years implemented weight restrictions and a speed limit of 10 mph. "That bridge could have lasted forever if we ran 263,000-pound cars over it. But in today's economy, it's worthless."
The new steel-girder and pre-stressed concrete bridge stretches 1,263 feet and represents a $14 million investment that will support commerce and economic development from Daviess County to the Ohio River. It will handle trains at 40 mph and maximum rail-car loads of 286,000 pounds.
Construction began in March 2014 and was funded in part by a federal Transportation Investment Generating Economic Recovery (TIGER) grant, with substantial capital investments from INRD, several shippers and the Indiana Southern Railroad, which also uses the bridge to link the north and south segments of its Indianapolis-to-Evansville line. Additionally, the track provides transportation of military hardware to and from Naval Support Activity Crane, the world's third largest U.S. Naval installation.
The White River Bridge was in use throughout construction, except for six days in May when the old trusses were lifted out and the new decks installed. On Aug. 21, INRD celebrated the bridge's grand opening.
"We were fortunate that the river behaved for us when were working on the piers," Ray says, noting that the White River is prone to flooding. "That helped us finish ahead of schedule."
Planning ahead
For many railroads, the bridge project schedule extends well into the future. The Alaska Railroad is in the process of planning three or four bridge-replacement projects over the next decade, beginning with a well-worn World War II-era structure in the southern part of the state.
Among the nearly 20 post-World War II pony-truss bridges along Alaska Railroad routes, a handful of them are located in heavy-traffic corridors at the south end of the railroad's line and in dire need of repair.
Pony trusses on the most vital bridges will be replaced with three-ply steel girders over the next 10 or so years, as internal MOW funding permits.
The first bridge targeted for replacement is a short but well-traveled single-span structure located 15 miles southwest of Wasilla, about halfway between Eklutna and Matanuska.
Construction is slated to wrap up by Thanksgiving 2016, and crews will contend with snow and potentially sub-zero temperatures this winter.
"It's in the middle of nowhere. We have a lot of that up here," Lindamood says. "The idea is that we'll cut our teeth on this one and then work on triple- and five-span bridges."
The projects will eliminate the need for the railroad to reroute heavier loads. The revitalized bridges also will be safer.
"We don't want to go out there one day and find out the bridge is not there anymore," Lindamood says. "Until we can replace them, we're taking a lot of care to make them safe."
Michael Popke is a freelance writer based in Madison, Wis. Email comments or questions to prograil@tradepress.com.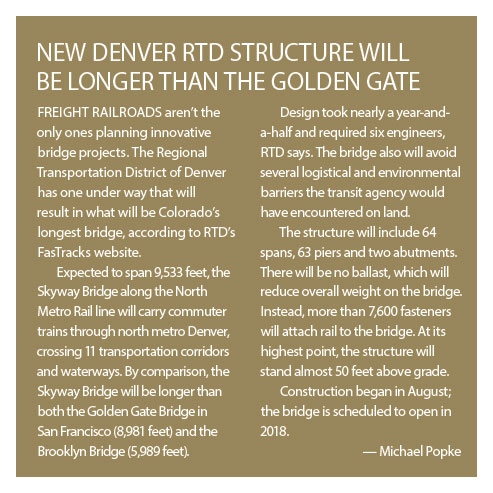 ---
Keywords
Browse articles on
Rail bridges
Norfolk Southern Railway
CSX Transportation
CN
Canadian National Railway
Kansas City Southern
Jim Carter
New York State Department of Transportation
Portageville Bridge
Quebec Bridge
Claude Mongeau
Jeff Songer
Alaska Railroad Corp.
Indiana Rail Road Co.
White River Bridge
Brian Lindamood
Regional Transportation District of Denver
Skyway Bridge
rail infrastructure
Contact Progressive Railroading editorial staff.