Newsletter Sign Up
Stay updated on news, articles and information for the rail industry
Rail News Home
Norfolk Southern Railway
July 2016
Rail News: Norfolk Southern Railway
Fleet Stats 2016: Class I railroads stored more locomotives, cars in Q2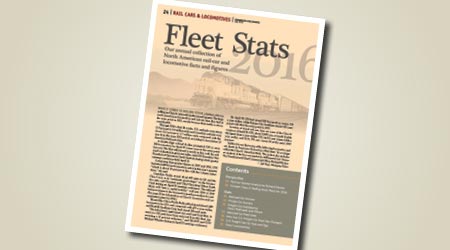 By Jeff Stagl, Managing Editor
When it comes to rolling stock, a lot less of it was rolling on Class Is' networks in the second quarter. The large roads stored more locomotives and rail cars than they had at the same point in 2015, mostly because their traffic is down considerably.
Through 2016's first 24 weeks, U.S. carloads were down 13.3 percent to 5.8 million units and Canadian carloads were down 11.2 percent to 1.7 million units compared with figures from the same 2015 period, according to Association of American Railroads data.
A double-digit carload decline prompted CSX to store 300 locomotives by April 30 versus none at the same point last year. The fleet adjustment is nearly in line with the railroad's reduction in gross ton miles, said CSX Executive Vice President of Operations Cindy Sanborn during a first-quarter earnings conference held April 13.
Comparing first-quarter figures in 2015 and 2016, CSX had about 400 fewer locomotives active in this year's quarter, "which is about 10 percent in line with the volume reductions," she said.
Canadian Pacific stored about 600 units in Q1 and the Class I now is in "extremely good shape" on the locomotive side, said President and Chief Operating Officer Keith Creel during an April 20 earnings conference. The railroad likely will "take a capital holiday" well into 2018 or 2019 before it returns to the locomotive-purchase market, he said.
Meanwhile, Union Pacific Railroad had stored about 1,400 locomotives by Q1's end compared with 475 a year earlier, and Norfolk Southern Corp. had stored 200 road units.
"We [also] have right-sized our yard and local fleet. A total of a 150 units have been removed from this fleet, representing a 12 percent reduction," said NS EVP and COO Michael Wheeler during an April 21 earnings conference.
By April 30, CN had stored 520 locomotives versus 136 a year earlier, while Kansas City Southern stored 158 compared with 84 at the same point in 2015.
In terms of stored rail cars, here are some of the Class Is' counts as of April 30: CSX, about 13,000 cars, or nearly double the figure from a year earlier; CN, 14,151 cars versus 6,904 a year earlier; and KCS, 378 cars versus 68 at the same 2015 juncture.
Suffice it to say that some of the following locomotive and car charts in Progressive Railroading's Fleet Stats '16 coverage reflect the Class Is' shrunken fleets. The section also includes an analysis of the box-car market by AllTranstek LLC Senior Vice President and Chief Commercial Officer Richard Kloster.
Contents
Freight Cars Installed by Class I Railroads and Others
How the U.S. Freight Car Fleet Has Changed
U.S. Freight Cars by Type and Age
---
Keywords
Browse articles on
CSX
Canadian Pacific
Union Pacific Railroad
Norfolk Southern Corp.
Kansas City Southern
Contact Progressive Railroading editorial staff.