Newsletter Sign Up
Stay updated on news, articles and information for the rail industry
Rail News Home
Norfolk Southern Railway
April 2017
Rail News: Norfolk Southern Railway
Conrail ups the automation ante at New Jersey rail yard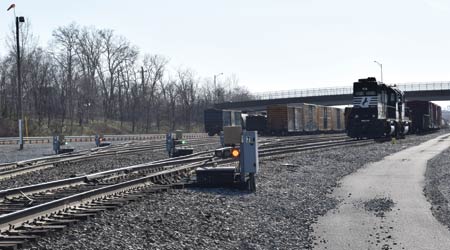 By Jeff Stagl, Managing Editor
Take a tour of Conrail's Pavonia Yard and to the naked eye, there isn't much that appears different compared with other switching yards. But there are certain aspects — some not-that-noticeable yet noteworthy ones — that separate the Camden, N.J., facility from the rest.
Pavonia is the only flat switching yard in North America that employs true one-person remote-control operations, without any assistance from utility field personnel, Conrail leaders claim. Moreover, the 1.5-mile-long facility is the only yard that employs wireless GPS devices to monitor all static and mobile assets in real time, they say.
Just five years ago, there wasn't anything unique about Pavonia, which at the time operated as a hump yard. Built in 1883 by the Pennsylvania Railroad's Camden & Amboy Railroad, Pavonia since has undergone a transformation into a highly automated flat switching facility that employs a host of technologies, with the aim of enhancing efficiency and boosting safety.
The metamorphosis included a thorough physical redesign of the traditional electro-pneumatic gravity hump and re-engineering of the yard's processes. Now, with the project nearly complete, Pavonia operates with significantly higher productivity, lower safety risks and fewer assets, and meets service requirements with less variability, says longtime Conrail leader Ron Batory.
"We realized we would not see more volume growth at the yard with single-car switching," says Batory, who retired March 31 as the railroad's president and chief executive officer. "So, we began to look at one-man crew operations and what we needed to do to get rid of the hump."
Prior to launching the $5.3 million makeover project in 2012, Conrail officials also started to explore the possibilities of leveraging the railroad's information technology (IT) systems. A service-provider subsidiary of CSX and Norfolk Southern Corp., Conrail since the late 1990s has developed and employed IT systems that operate independently from the Class Is' IT systems.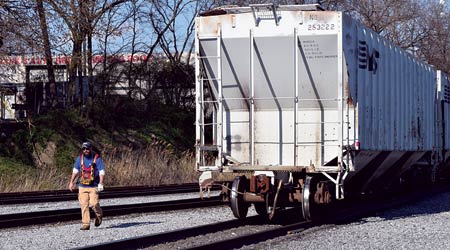 In-house data warehouses create fact-based information streams on human and physical assets — a data repository approach that opened the door for Conrail to measure the time and motion of all static and mobile assets at Pavonia Yard from both an operating and maintenance perspective, says Batory. Real-time monitoring at the yard is a unique management tool that supports more sound business decisions, he says.
"Without fact-based data, it's just an opinion," says Batory.
One-person crew proving ground
Conrail — which operates eight other yards in south New Jersey, as well as nine in north New Jersey and four in the Detroit area — also wanted to use Pavonia as a proving ground for one-person operations. One worker with a remote-control device, governed by a documented set of protocols and requirements stipulated in a standardized operating manual, solely switches cars at the yard.
One-person crews ensure that operations across Pavonia's three major areas — the support, receiving and classification yards — are mirror images, says Tim Tierney, Conrail's former vice president and chief engineer who succeeded Batory as president and CEO. That makes it easier to float workers between areas without losing efficiency or compromising safety, he says.
The transition to the crews hasn't led to furloughs, either.
"The people who were impacted by this were redeployed. We weren't looking to get rid of people," says Tierney.
Although individual tasks have been carried out methodically to avoid any hiccups during the project, "we went down some paths that didn't pan out," says Tierney, referring in part to several initial technological glitches.
"This is a work in progress. There are still some things we need to get done," he says.
Among the few remaining tasks: expanding and refining photo analytics for real-time intrusion protection and implementing overall system enhancements as opportunities warrant.
As Conrail works to cap off the years-in-the-making project, it's also trying to perfect Pavonia's operations as well as find more ways to leverage its technologies. A vital project goal was to not replicate technologies used in the past at yards. That meant seeking solutions that weren't readily available in the rail marketplace or used in the rail industry before, says Batory.
"The existing technologies weren't GPS-based," he says.
Devising a solution
Enter BSM Technologies subsidiary Lat-Lon LLC, which collaborated with Conrail to develop a wireless, GPS-based yard monitoring system for Pavonia Yard. The system is designed to gather and display GPS data from all yard assets using these multiple data sources: locomotive monitoring units, wireless sensors, solar tracking units and GPS-equipped radios supplied by Icom America Inc.
Employees, locomotives, yard vehicles, switches, derails and blue flags are monitored in real time via a more reliable mesh network instead of a hub-and-spoke network. A total of 226 fixed assets are monitored 24/7, including 112 switches, 103 blue flags and 11 derails.
The assets are equipped with wireless sensors that provide a real-time indication of their position and status, generating valuable data about how the yard is used, says Adam Baginski, Conrail's manager of engineering services.
All Conrail-assigned locomotives feature Lat-Lon GPS monitoring units, and all yard employees are issued Icom GPS-enabled radios. The railroad established geo-fences around the yard to help monitor train crew productivity and safety.
Historic GPS radio data is archived for analysis, says Baginski.
Data management also is a big component of the Pavonia project, says Conrail Assistant Manager of Risk Steve Hart. Collected data helps the railroad analyze how crew size, time spent on tasks and car volumes impact yard operations.
"This is a Big Data project," says Hart.
When managed and displayed properly, data also can provide valuable insights into yard traffic patterns, switch utilization, car inspections, crew equipment interfaces and workers' efficiencies, he says.
Conrail's data management system issues reports that display asset health and utilization, and crew efficiency. For example, a sensor reporting summary for a past seven-day period shows the number of reporting blue flag, derail and switch sensors, and the overall percentage of times the devices reported as required. All data that's collected at Pavonia Yard is aggregated and analyzed, says Hart. Prior to the project, any data on yard assets and employee behavior was based on anecdotal observations, he says.
"With continuous data collection, we can accurately analyze yard and asset utilization," says Hart.
Of a physical nature
In terms of physical technologies employed at Pavonia, all switches at the yard's east end were converted to electric, remote-control switch machines. In addition, the railroad installed two kiosks featuring Vossloh Signaling Inc. control devices and monitors that display camera-system views, which one-person crews use to line routes and switch cars. The technologies enable the single employee to perform those tasks with the efficiency of a two-person crew, says Conrail Assistant Engineer-Signals Steve Vant.
There are 32 cameras positioned throughout the yard. Currently, Conrail is developing a foul detection system that would use video analytics, says Vant.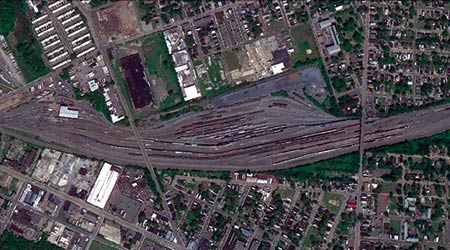 In addition to implementing physical technologies at the yard, the railroad has made significant physical changes to it. First, the support yard lead tracks were rebuilt to accommodate flat switching operations, which included re-grading track and improving the alignment and curvatures, says Bill Kaeser, Conrail's assistant chief engineer-project planning and administration.
More than 4,000 feet of track was removed and more than 1,300 feet of track was constructed. The work also included adding turnouts and building an access road.
Next, Conrail removed the existing hump, including the control tower and retarders, and built a new flat switching lead track. Patrick Engineering Inc. served as a consultant to help convert the hump yard to a flat switching facility, while TUV Rail Sciences Inc. simulated flat-yard operations.
The hump conversion work involved the removal of more than 1,300 feet of track, the construction of more than 1,600 feet of track and installation of several turnouts. Overall, 2,274 cubic yards of soil and material was removed, and in some cases track was lowered by two feet, says Kaeser.
"The project involved significant re-grading of the original hump lead to control in-train forces during switching," he says.
Conrail then re-profiled the classification yard's switching lead track. Overall, about 21 percent of turnouts and 16 percent of linear track footage was removed throughout the yard.
Now, the classification yard features 31 tracks — three of which are leased to Pennsy Supply Inc., which operates nearby — that average about 1,250 in length. The receiving yard features nine tracks that average about 3,200 feet in length, and the support yard features eight tracks that average 2,300 feet in length.
All the changes to Pavonia Yard have paid off so far in risk reduction and operational performance benefits. The introduction of electronic switch machines and one-person crews have helped greatly reduce human-factor derailments, while the GPS asset monitoring has helped significantly drive down human-factor train accidents, says Conrail Chief Risk Officer Neil Ferrone. Human-factor train accidents have plummeted 77 percent over the past five years, from 31 in 2012 to six in 2016.
Keeping track of those on track
In addition, the GPS-enabled radios used by workers enable the yardmaster to better determine employees' location in the yard, which cuts response time to "man down" situations involving personnel walking throughout the facility, says Ferrone. Moreover, one-person operations reduce the potential for errors caused by miscommunication between workers, he says.
Conrail also has lowered its environmental liability at the yard since contaminated soils were replaced with clean fill and the retarders — which potentially could leak hydraulic or other fluids — were removed. Overall, the railroad has garnered $1.4 million in environmental savings, says Ferrone.
In terms of operational performance benefits, yard dwell time and velocity have improved since the project began. Over the past five years, dwell time decreased 8 percent from 20.3 hours in 2012 to 18.7 hours in 2016.
In addition, capital expenses have greatly declined because of the yard's physical, technological and process changes. Compared with their levels prior to the project, crew costs have fallen 60 percent, average train/engine employee expenses and total labor costs each have plummeted 70 percent, derailment costs have plunged 91 percent and hazardous material program depreciation/expenses have tumbled 100 percent. The total cost reduction so far: a whopping 80.2 percent.
Although it remained relatively unchanged from 1883 to the late 1960s, Pavonia has since undergone several transformations and become a test ground for a number of technologies that emerged over the past 50 years.
For example, the Pennsylvania Railroad in 1967 installed a "Speed Frate" hump control system that had just been developed at the time by General Railway Signal Co. The Speed Frate system and variations of it remained operational for the next several decades.
Conrail later upgraded the hump control system to a computerized solution in 2001 and implemented remote-control locomotives in 2004 that enabled the railroad to trim crew sizes to the two-person variety.
Transformational trifecta
Now, the changes to a flat yard, one-person operations and GPS-enabled data management are the latest iterations of Pavonia's makeover. Technology has been the cornerstone of the transformational building blocks, and the driver of service and safety improvements registered at the yard over the years, Conrail leaders say.
The ongoing charge will be to continue harvesting the fruits of the technologies currently in place and get better at putting them to use.
For example, the data management system provides dashboard snapshots of operations. But what's happening in the yard on a particular day, say a Wednesday?
"It's like Facebook, you want to see more," says Tierney.
Conrail plans to use the system to answer more questions about certain operations, he says. It's likely to be a fact-finding mission that lasts for quite a while.
"We want to keep this going," says Tierney. "We want to challenge the data."
Pavonia Yard project contractors and suppliers
• Vossloh North America
• Unitrac Railroad Materials Inc.
• JMG Construction
• Railroad Construction Co. of South Jersey Inc.
• America One Security
• PS Technology (RM Star)
• Patrick Engineering Inc.
• R. J. Corman Railroad Group LLC
• Icom America Inc.
• Oliver Communications Group Inc.
• Mark Paving Co.
• Trackside Services Inc.
• Lat-Lon LLC
• Progress Rail
• Stella-Jones
• Pennsy Supply Inc.
• Railhead Corp.
• American Millwright & Rigging
• Koppers Inc.
• Seneca Railroad & Mining Inc.
• Western-Cullen-Hayes Inc.
• Cleveland Track Materials
• Betz JR Inc.
• TUV Rail Sciences Inc.
• Polycorp. Ltd.
• Guzzo Landscaping LLC
Source: Conrail
---
Keywords
Browse articles on
Conrail
Pavonia Yard
short line
CSX
Norfolk Southern Railway
Lat-Lon
Icom America
Patrick Engineering
TUV Rail Sciences Inc.
Contact Progressive Railroading editorial staff.