Newsletter Sign Up
Stay updated on news, articles and information for the rail industry
Rail News Home
MOW
March 2019
Rail News: MOW
Rail product and equipment update: Vegetation management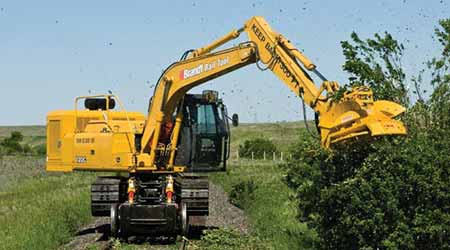 Brandt Road Rail
The Brandt Rail Tool is designed for a variety of rail construction and maintenance applications, ranging from weed and brush control to undercutting to material handling to moving dirt.
The heavy-duty unit is based on a high-capacity Hi-Rail John Deere 225 excavator with a 200-horsepower auxiliary engine to provide power to its large 52-inch brush cutter head. It features a 26-foot reach, heavy-duty 28-inch rail gear, a rail-car braking system and AAR couplers on each end of the machine.
The all-in-one unit can travel at 30 mph on rail in either direction and pull ballast or maintenance rail cars — eliminating the need for a locomotive and reducing the track-time requirements, company officials said in an email.
The Brandt Rail Tool has been stability-tested for up to six inches of super-elevation, allowing it to cut brush efficiently when in travel mode, company officials said. The adaptable tool also accommodates a variety of attachments.
Corteva Agriscience
Corteva AgriscienceTM, the Agriculture Division of DowDuPont, offers an array of vegetation management products. The company's herbicide portfolio includes:
• Milestone®, which offers invasive weed control across a variety of use sites;
• Vastlan®, which is formulated to provide a foundation for grass-safe brush control programs and can be used in a range of other applications;
• Garlon® 4 Ultra for basal cut-stump, basal bark and dormant-stem treatments; and
• Cleantraxx®, which is formulated for "total vegetation control" with preemergence and early postemergence residual control of broadleaf weeds and annual grasses, according to company literature.
DymaxRail
The Dymax HPX Series Tree Shears, with 180-degree rotation, are available in six models, ranging in size from eight- to 20-inch capacity.
For general brush control, the Dymax VortexMax can handle material up to six inches in diameter, DymaxRail President Scott Balderson said in an email. The brushcutter features a 750-pound flywheel, with a 60- or 70-inch cutting swath.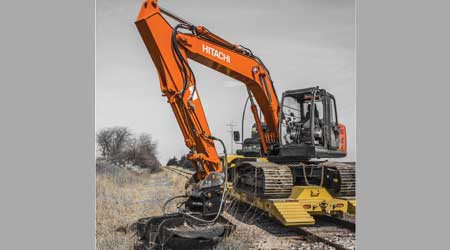 Dymaxrail
When even more removal is required, the company suggests combining an excavator, a Dymax HPX shear and the VortexMax with the DymaxRail MPX Rail Rider. No special modifications are required on the tracked excavator — in minutes, the machine is on the rail, operating on track, Balderson said.
K.W. Reese Inc.
K.W. Reese Inc. performs all aspects of railroad vegetation management, including tree trimming, removals, brush cutting and herbicide application. The company specializes in challenging tree removals, emergency call-outs and site preparation for new construction or upgrades. Crews are available 24/7 to assist railroads in storm restoration or during scheduled work windows.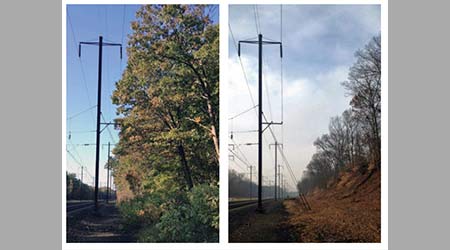 k.w. reese inc.
In cases where location or conditions prohibit the use of equipment, the company's "highly trained and experienced crews can remove even the largest trees quickly and safely," said President Jeffrey Reese in an email. As a full-service railroad contractor, K.W. Reese also can provide multiple services during the same work window, including ditching, tie change-out and undercutting.
Knox Kershaw Inc.
Knox Kershaw Inc. offers Diamond Mowers Inc. mower and limb cutter attachments for its KSF 940 Snow Fighter, and tie crane models to control light brush, limbs and grass in areas most easily accessible by track.
The mower head can be attached directly to the tie crane boom and is capable of handling 1,200 pounds at a radius of 24 feet from track centerline. The company recommends using the brush-cutter option with the tie crane for routine mowing and light limb cutting, said Knox Kershaw's Vice President of Operations George Pugh in an email.
When used with the KSF 940, brush-cutter arms can be attached on both sides of the machine and operated simultaneously by two operators in the cab. The boom has up to a 28-foot reach from the centerline, and the actuator comes with 90-degree forward and 75 degrees rearward movement. It has a high load-bearing capacity and comes with a breakaway feature to prevent stress on the boom.
The booms are constructed of high-strength steel for trouble-free service. Boom and mower movements are controlled via main hydraulic control circuits utilizing Saur
Danfoss PVG 32 valve banks and multi-function proportional joysticks. A variety of mower heads are available, including a 90-inch saw, 50-inch flail and a 60-inch rotary style. All heads can cut up to eight-inch-diameter material. When idle, the mowers rest securely on a rack/cradle mounted at the front of the machine.
Loftness Specialized Equipment
Loftness recently introduced new models of its Battle Ax™ horizontal drum mulcher designed for skid steers. Featuring a new rotor, tooth design and a two-stage cutting chamber, the heavy-duty Battle Ax is designed for "highly efficient vegetation management," Product Development Supervisor Bill Schafer said in an email.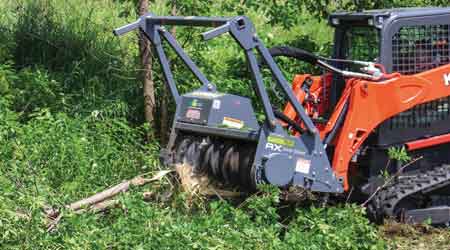 loftness specialized equipment
Available with 61- and 71-inch cutting widths for skid steers with 50 to 120 hydraulic horsepower, the Battle Ax has a 17-inch-diameter rotor that features built-in depth gauges, which function similarly to raker teeth on chain saws to prevent the attachment from engaging too much material at one time. The rotor is optimized for use with all cutting tooth styles, Schafer said.
Customers can choose from Quadco planer blades, hard-surface Quadco blades and carbide teeth. The cutting teeth are mounted to the rotor with a single hex bolt for easy removal on the jobsite.
Other standard features include universal skid-steer mounting, premium strength steel housing, adjustable skid shoes from 0.5 inches to -1.5 inches for below-grade mulching, a machined anti-wrap bearing protector, an adjustable push bar with welded claw hooks, an integrated pressure gauge, and a staggered tooth pattern to ensure single-tooth contact with the work surface at all times.
The Battle Ax is available with two hydraulic motor options: a fixed-displacement gear motor and a variable-displacement piston motor.
Mitchell Rail Gear
Mitchell Rail Gear offers hydraulic drive systems for all makes and models of hydraulic excavators up to 80,000 pounds. A brush cutter or mower attached to the boom of a hydraulic excavator is one of the most efficient ways to control vegetation. A mini excavator is very efficient when used along track for light-duty brush cutting.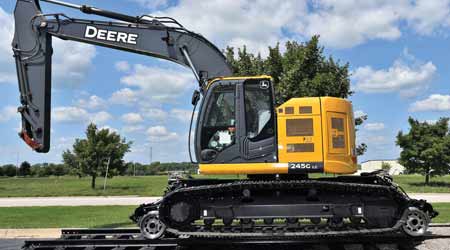 mitchell rail gear
If the vegetation removal requirement is further away from the track, a larger hydraulic excavator might be needed. Brush cutters and mowers come in various sizes to fit almost any size hydraulic excavator. The Mitchell Hydraulic Drive system provides the flexibility of being able to be off rail at any place a job requires, operating on the ground because work is not restricted to only being on the track, company officials said in an email.
If the vegetation is out of control, a wide excavator rotating bucket and back drag can remove a large area of over- growth quickly, company officials said. The Hydraulic Excavator equipped with the Mitchell Drive system provides the ability to work in small work-windows when there is no train activity and provides the ability to get on/off track in a matter of minutes, company officials said.
Progress Rail
Progress Rail manufactures Kershaw® MOW and vegetation management equipment, which is designed to allow railroads to access track or right-of-ways quickly and easily. Suitable for a variety of applications, Kershaw machines can perform tree and brush clearing for Class Is and short lines, departments of transportation, utilities and municipalities, contractors and other users.
Developed for electrical utility and railroad applications, the Kershaw SkyTrim 75 HRT High-Rail Truck is an over-the-road, rubber-tired prime mover vehicle, outfitted with a rear-mounted, air-conditioned tilt cab with ergonomic joystick controls and an attached telescoping boom.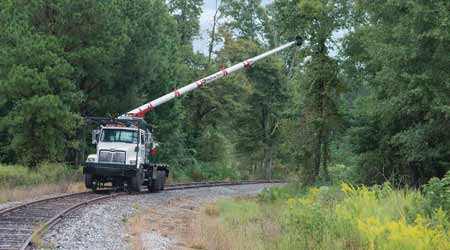 progress rail
The boom includes a saw-type cutter head designed to extend up to 75 feet to safely and efficiently trim trees. Equipped with hydraulically deployed wheels and a standard 100-gallon fuel tank, the machine can propel down a track in minutes to clear limbs and overgrown brush, company officials said in an email.
Vancer
Vancer offers the Huddig 1260D Hi-Rail, a wheeled backhoe loader system with a specialized articulating center pivot system that enables the machine to operate multiple attachments — such as brush cutters for vegetation management projects.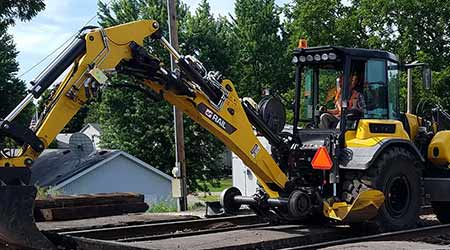 vancer
The Huddig 1260D Hi-Rail also has a 57-horsepower output that allows the machine to operate multiple attachments for various MOW projects, including: tie replacement, ballast regulation, material handling, vegetation management, snow management and utility work. It also features an auxiliary tool valve and hose reel to run 5/10 GPM hydraulic handheld tools, and the option to add a manlift and/or a remote control.
Vancer also offers several models of hi-rail equipment to accommodate the varying needs of railroads and rail contractors, including the CTB41 Hi-Rail Excavator (shown), which is powered by a Cat C9 engine and has a net power of more than 300 horsepower.
Walter Weart is a Denver-based freelance writer. Email comments and questions to prograil@tradepress.com.
---
Keywords
Browse articles on
vegetation management
Brandt Road Rail
Corteva Agriscience
DymaxRail
K.W. Reese
Knox Kershaw
Loftness
Mitchell Rail Gear
Progress Rail
Vancer
Contact Progressive Railroading editorial staff.