Newsletter Sign Up
Stay updated on news, articles and information for the rail industry
RAIL EMPLOYMENT
Rail News Home
MOW
March 2020
Rail News: MOW
Rail equipment update: Vegetation management 2020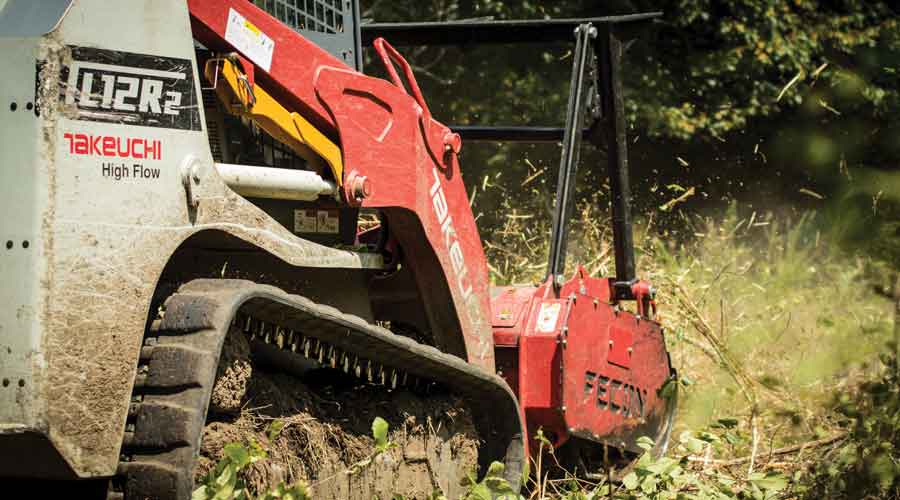 Compiled by Julie Sneider, Senior Associate Editor
Railroads are federally required to control vegetation on or next to railroad property and grade crossings. Weeds and overgrown trees are more than an eyesore, they're a safety hazard.
Under track safety standards, the Federal Railroad Administration requires railroads to keep trees, plants and shrubs in check to prevent them from:
• becoming a fire hazard to trains or rail cars;
• obstructing the visibility of railroad signs and signals along rights of way and at crossings;
• interfering with railroad crews trying to perform trackside duties or conduct inspections; and
• causing signal and communication lines to improperly function.
Several states also enforce regulations that address railroad vegetation management, with New Jersey being the most recent. In January, New Jersey Gov. Phil Murphy signed a new law requiring railroads and transit-rail agencies to remove obstructive vegetation near crossings. The New Jersey Legislature passed the law to increase safety for trains, motorists and pedestrians crossing railroad tracks.
The legislation calls for railroad operators to destroy or remove obstructive vegetation upon and within railroad right of way at each intersection with a public road or highway.
"This legislation will improve safety on our railroads and hold railroad operators responsible for removal of obstructive vegetation at our many railroad crossings," Murphy said in a press release.
Last month, Progressive Railroading reached out to a number of vegetation management equipment and service providers to find out what they're offering to help customers stay ahead of the weed- and brush-removal curve. Following are emailed responses from eight of them.
Asbell Cos.
Asbell Companies is a full-service contractor that works with Class Is and short lines. The company offers a range of tracked equipment, forestry mulching heads and hi-rail grapple trucks that can address many maintenance-of-way vegetation management needs. Asbell's services include culvert cleaning, side trimming, mowing, mulching and cutting, land clearing, debris removal, herbicide application, pole line removal, crossing line of site maintenance and emergency response.
Brandt Road Rail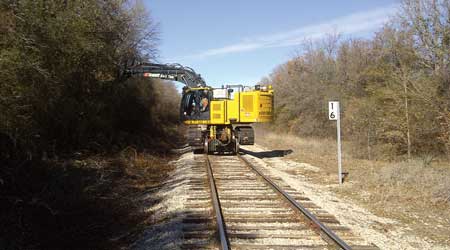 Brandt Road Rail
To help meet the need for maximum operational safety, Brandt Road Rail provides two maintenance solutions: the Brandt Rail Tool, a hi-rail John Deere 225 excavator; and the RTB130, a hi-rail John Deere 710 backhoe.
The Brandt Rail Tool features a 52-inch brushcutter attachment powered by a 200-horsepower, rear-mounted auxiliary engine and can cut large swaths of grass and shrubs along right of way and across large areas, such as subdivisions.
The RTB130 can be equipped with a 36-inch brushcutter attachment and has a 26-foot reach. It delivers excellent results for smaller-scale activities, such as preventing grass and small brush from impeding sightlines around public crossings and signals, Brandt Road Rail officials say.
In addition, the company offers a broad range of repair and maintenance attachments for the units. Brandt also can provide custom maintenance-of-way systems for a range of applications, including multipurpose rail-car movers, specialized on-track cranes and custom rail cars.
Corteva Agriscience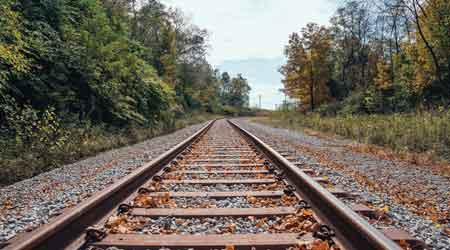 Corteva Agriscience
The U.S. Environmental Protection Agency (EPA) has unconditionally registered Corteva Agriscience's TerraVue™ herbicide for the upcoming season, company officials announced. The herbicide will be available soon to vegetation managers for the 2020 application season.
TerraVue features Rinskor™ active, a new active ingredient designed to control weed and brush with tolerance to grasses, forbs, shrubs and other desirable plants. That combination provides two-fold advantages to vegetation managers, company officials say.
"The excellent selectivity of TerraVue to desirable species such as grasses and forbs helps create a natural barrier against incompatible or invasive species, which can reduce future maintenance costs on areas like rights of way," said John Kalthoff, Corteva Agriscience's marketing category lead for land management, in an email. "It also helps improve biodiversity on managed lands, making them more attractive for a variety of wildlife species, including critical species of pollinators."
TerraVue is labeled to control more than 140 broadleaf weed species, as well as multiple woody plant species. Rinskor active combines with the proven active aminopyralid to deliver TerraVue attributes, including low use rate; low-odor formulation; applications on grazed areas; flexibility across use sites; season-long residual control; low volatility; safety to desirable grasses, forbs and shrubs; and two active ingredients classified as reduced risk under the EPA's Conventional Reduced Risk Pesticide Program.
Knox Kershaw Inc.
For controlling light brush, limbs and grass in areas most easily accessible by track, Knox Kershaw Inc. offers Diamond Mowers Inc. mower and limb-cutter attachments for the KSF 940 Snow Fighter and tie crane models.
Customers who have added the brushcutter to their Knox Kershaw machine have been pleased with the versatility it offers on the job site, quickly converting from a snow fighter, ballast regulator or crane to vegetation management tool based on a day's needs, said George Pugh, president and chief operating officer of Knox Kershaw. When used with a tie crane, the mower head is attached directly to the crane boom, which is capable of handling 1,200 pounds at a radius of 24 feet from a track center line.
Knox Kershaw officials recommend using the brushcutter option with the tie crane for routine mowing and light limb cutting. When used with the KSF 940, brushcutter arms can be attached on both sides of the machine and operated simultaneously by two operators in the cab. The boom can reach up to 28 feet from the center line, and the actuator features 90-degree movement forward and 75-degree movement rearward.
The booms are constructed of high-strength steel. Boom and mower movements are controlled via main hydraulic control circuits. A variety of mower heads are available, including a 90-inch saw, 50-inch flail and a 60-inch rotary style. All heads can cut material up to eight inches in diameter.
As the brushcutter attachments move along the track cutting down limbs, Knox Kershaw recommends following with a KTC 1200 or KTC 2000 Tie Crane to quickly and efficiently clear debris from track or sidings. Customers have used these two machines together to clean up debris from major storms, Pugh said.
Knox Kershaw is focused on product line expansion and continues to improve existing machine models to make them safer, more efficient and easier to operate, he said.
K.W. Reese Inc.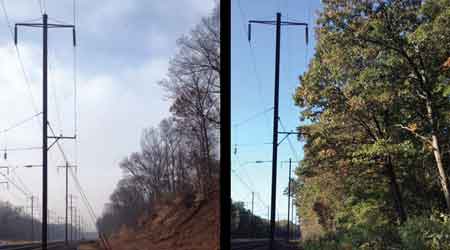 K.W. Reese Inc.
K.W. Reese Inc. offers a full range of railroad vegetation management services, including tree trimming, removals, brush cutting and herbicide applications. The company specializes in challenging tree removals, emergency call-outs and site preparation for new construction or upgrades. Crews are available 24/7 to assist railroads in storm restoration or during scheduled work windows, said K.W. Reese officials.
Recently, K.W. Reese increased its mechanized fleet, adding Jarraff telescopic trimmers and Fecon equipped Skid Steer mowers. When doing a project by hand is the only option, the company's experienced tree trimmers can remove any tree safely and efficiently, company officials said.
A full fleet of hi-rail equipment is available to finish the job, with wood chippers, dump trucks and log trucks available to remove and dispose of cut material.
Loftness Specialized Equipment Inc.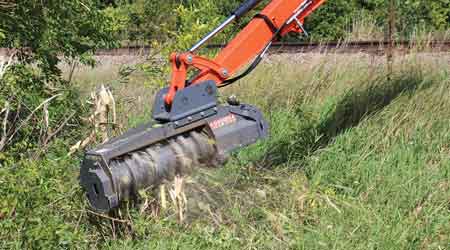 Loftness Specialized Equipment
Loftness Specialized Equipment Inc. is offering new models of its Battle Ax™ horizontal drum mulcher for skid steers, excavators and prime movers. Featuring a new rotor design and exclusive two-stage cutting chamber, the Battle Ax is designed for highly efficient vegetation management, Loftness officials said.
The Battle Ax rotor features built-in depth gauges, which function similarly to raker teeth on chainsaws to prevent the attachment from engaging too much material at one time. The design is more ideal for managing the amount of material being fed into the attachment than ring-style rotors, which many operators find to be limiting, according to the company.
The Battle Ax rotor is optimized for use with all cutting tooth styles. Customers can choose from Quadco planer blades, hard-surface Quadco blades and carbide teeth. The cutting teeth are mounted to the rotor with a single hex bolt for easy removal at a job site.
To maximize performance, the Battle Ax features a two-stage cutting chamber, which allows material to be cut twice by the rotor and helps produce some of the smallest particle sizes in the industry, Loftness officials said. The primary shear bar is adjustable for customizing particle size.
Other standard features include a staggered/spiral tooth pattern, adjustable skid shoes, anti-wrap bearing protection, an adjustable push bar and high-performance hydraulic motor options.
Progress Rail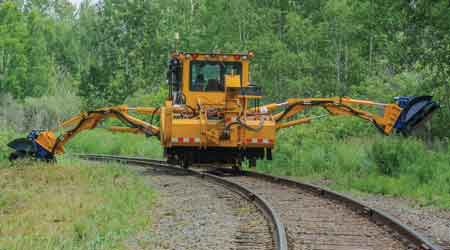 Progess Rail
Progress Rail serves the vegetation management industry with Kershaw® equipment designed to tackle tough maintenance jobs, and access job sites quickly and easily, company officials said. Suitable for a variety of applications, Progress Rail machines can perform tree and brush removal for railroads, utilities or right-of-way clearing.
For adaptability and to help control vegetation beyond routine ballast maintenance, Progress Rail has released a heavy-duty brushcutter attachment for its Kershaw Model 60 Ballast Regulator. This attachment offers increased flexibility for year-round equipment utilization. The Model 60 is equipped with a 52-inch rotary cutter disc for mulching, which can reach up to 25 feet from the track's center line, tackling the largest of right-of-way vegetation.
For use in winter months, Progress Rail recommends converting the Kershaw Ballast Regulator into a snow removal machine with separate blower or plow attachments.
Progress Rail also has launched a customer-focused website dedicated to Kershaw machines. Customers can use it to search for machine-specific parts, build parts lists and view individual parts for accurate parts ordering. All related operational and maintenance manuals, parts manuals and service bulletins are available for immediate downloads.
RCE Equipment Solutions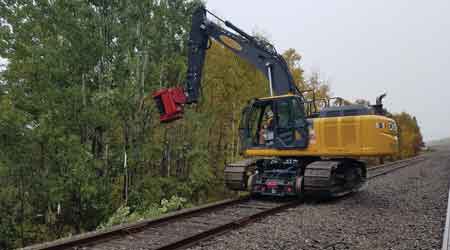 RCE Equipment Solutions
With the use of RCE Equipment Solutions' hi-rail excavators equipped with a brushcutter head, brush management can be achieved in both on- and off-track modes, RCE officials say.
Unlike traditional dedicated on-track brushcutters, the company's hi-rail excavator can be used for a range of rail maintenance duties, such as installing or removing ties, undercutting ballast, laying new rail and completing standard excavation tasks. Over the past two years, RCE has expanded its Railavator lineup, including two new models — the 245G and 250G.
The company now provides the following seven John Deere models: 50G, 85G, 135G, 210G, 245G, 250G and 350G. RCE officials have noted an increase in the number of hi-rail excavators being employed with brushcutter heads.
RCE also offers an all-makes rail gear package, so the company now can equip Cat, Deere and Komatsu 20 metric-ton excavators with hi-rail equipment.
Many brush management programs tend to be put off in favor of performing other track maintenance, then addressed when brush management issues become critical, RCE officials say. The issue of simultaneously cutting brush on both sides of a track is a problem since it's not possible on multiple track systems, and machines used in the past were known to throw debris, they said.
Email comments or questions to julie.sneider@tradepress.com.
---
Keywords
Browse articles on
vegetation management services
New Jersey
Federal Railroad Administration
Asbell Companies
Brandt Road Rail
Corteva Agriscience
Knox Kershaw Inc
K.W. Reese Inc.
Loftness Specialized Equipment Inc.
Progress Rail
Contact Progressive Railroading editorial staff.