Newsletter Sign Up
Stay updated on news, articles and information for the rail industry
Rail News Home
MOW
June 2017
Rail News: MOW
Product roundup: Ballast management 2017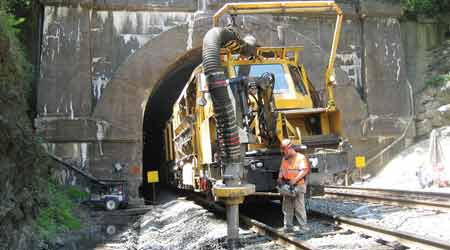 Compiled By Julie Sneider, Senior Associate Editor
As Progressive Railroading reported in its 2017 MOW Spending Report in April, maintenance-of-way spending is expected to remain essentially flat this year for Class Is, regionals and short lines.
While total spending on MOW projects may be down at several railroads, plenty still are dedicating funds to ballast maintenance along their rail lines in 2017.
For example, among Class Is that have scheduled ballast installations, BNSF Railway Co. plans to install 5.1 million net tons of ballast; CN, 1.4 million tons; Norfolk Southern Railway, 2.3 million tons; CSX, 2.6 million tons; and Ferrocarril Mexicano/Ferrocarril del Sureste S.A. de C.V., 1.02 million tons.
Among regionals and short lines, OmniTRAX Inc. plans to install 50,000 tons; Conrail, 11,600 tons; and Indiana Harbor Belt Railroad Co., 14,000 tons.
At least one rail-line owner — the Massachusetts Department of Transportation (MassDOT) — made a significant change this year to its ballast management program for 300 miles of state-owned rail lines.
In April, the department announced it acquired from FreightCar America Inc. 20 steel hopper cars with electronic gates used to dispense ballast. The purchase ended the department's previous practice of leasing cars for ballast installation.
The new cars are notable for their movable gates operated by remote control units, a feature that makes the process of pouring ballast safer and more efficient, said MassDOT Rail and Transit Division Administrator Astrid Glynn.
"There is a significant safety advantage in that the [MOW] workers can stand 10 feet away from the car and release the ballast," Glynn said.
The remote-control feature also enables the workers to distribute the ballast more precisely than they could with the previous models, she said.
Additionally, there's a cost savings for MassDOT. By acquiring the cars for $3.2 million, the department anticipates saving $2.25 million over the cars' 50-year lifespan.
Railroads use ballast to form the trackbed, which bears the trainload. Ballast helps ensure proper drainage under the rail track and helps prevent vegetation from growing over the rails.
To ensure all that crushed rock is distributed and maintained properly, MOW managers across North America can find myriad options to meet their railroads' specific ballast management needs.
To learn more, Progressive Railroading recently asked several suppliers and equipment providers to describe what they're offering customers in the way of ballast delivery, installation, maintenance and service. Ten responded, and provided their responses via email.
Ballast Tools Inc. and Ballast Tools Equipment
Ballast Tools Inc. (BTI) offers railroad tungsten carbide wear-part solutions, while Ballast Tools Equipment (BTE) offers a fleet of specialty equipment for track maintenance and construction, company officials said.
BTI builds wear-resistant tungsten carbide parts for railroad maintenance-of-way equipment, such as ballast regulators and tampers. BTI also offers a rebuild program for X-plows for Plasser-style ballast regulators.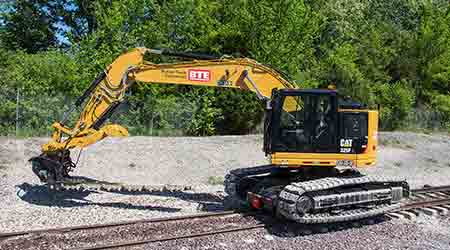 Ballast Tools Equipment
Designed to extend the life and performance of the entire plow assembly, the program rebuilds and provides additional wear-proofing for integral parts of the X-plow, such as the center-post, bolt on carbide tunnel Z-bars and carbide wing hinge protectors.
Keeping those machines productive and on-track during an entire work season is one of the most important issues facing railroads today, company officials explained.
"Production is the name of the game," said BTI Engineer Kody Nelson. "These things come in all banged up, twisted, bent, and we rebuild them better than new."
BTI manufactures wear and ground contact parts for all types of ballast regulators, and other track and ballast handling equipment, he said.
Meanwhile, BTE has developed hi-rail machines to handle spot ballast maintenance in a variety of conditions and situations.
"Our hi-rail line of backhoes and excavators, including our new BTE-325 Hi-Rail Excavator, can handle a full array of ballast and track service attachments, including undercutters, tampers, cribbing buckets, tie handlers and tie dragons, while operating on- or off-track," said Sales Engineer Matt Weyand.
The machines are designed for small and medium maintenance situations that normally would require several pieces of equipment. With BTE's different attachments and the ability to work on- or off-track, one machine can be used to complete the job, Weyand said.
"BTE has machines for every project and budget," he said. "We build for railroad use, and we service what we build."
Georgetown Rail Equipment Co. (GREX)
The latest addition to Georgetown Rail Equipment Co.'s material handling fleet, the DumpTrain for Curves™ has been used extensively since its introduction. For example, multiple units were redirected to affected areas during the recent washouts in the Midwest where they worked to get tracks back in service quickly.
One of GREX's newest development projects is an update to the Solaris® and GateSync® ballast automation solution. The second-generation Solaris features a new communication protocol, which allows for longer train lengths and two-way communication throughout the consist. New technology enhancements allow for easier train set up, which further helps customers make the most of track windows, GREX officials said.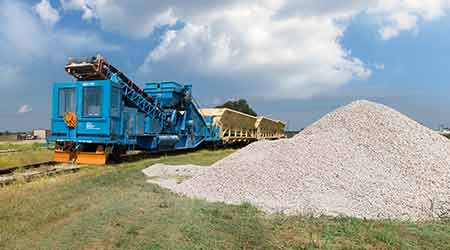 Georgetown Rail Equipment Co.
The new system also allows for a variety of sensors that can monitor train performance. By relying on the experience gained with Solaris and GateSync, GREX is building the next-generation ballast car unloading solution that customers can own.
As GREX's inspection services continue to expand and railroads continue their push to maximize track time, it was imperative that the company combine all its inspection platforms into one single-pass vehicle, GREX officials said. As a result, the new Aurora inspection vehicles will offer simultaneous collection of wood tie, concrete tie and ballast profile data — all in a single platform.
Additional details will be available as GREX prepares for the Railway Interchange 2017 conference to be held in Indianapolis in September, when the company will officially unveil its new inspection technology.
Herzog Railroad Services Inc.
Last year marked the first year of the Automated Conveyor Train (ACT). With customer needs in mind, Herzog Railroad Services Inc. (HRSI) strived to create a Plate C compliant MOW piece of equipment that exceeded industry expectations, company officials said.
Thirty aluminum ballast cars (32-car total consist) capable of carrying 97 tons each can deliver a range of materials, from sand up to "B" stone (5-inches minus crusher run) within the same consist.
"Flexibility is key, and the ACT delivers in its ability to unload in a 13-degree curve with a super elevation up to 5 inches," said HRSI officials.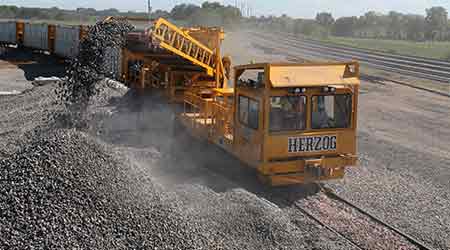 herzog Railroad Services Inc.
The ACT is capable of unloading material in an "s" curve, discharging that material 50 feet from track center with a 180-degree degree swing, and using its plow to scrape off excess material. The unit has been used in a variety of situations, including stockpiling, crossings, siding extensions, track construction, bridge work and washouts.
Safety was a top priority when the ACT was developed, HRSI officials said. As a result, the unit's controls cabin and a fully automated patented program enable a skilled operator to dump a train safely from within a controlled environment.
HRSI is working to produce more ACTs in 2017, company officials said.
Loram Maintenance of Way Inc.
Loram Maintenance of Way Inc. continues to expand its fleet of Railvacs. Customers use the Railvac for specialty ballast evacuation in areas of tight clearances, such as ballast deck bridges, switch winterization, tunnels and on transit properties, Loram officials said.
The Railvac is designed to work in tough Class I conditions, but flexible enough to accommodate transit and commuter railroads, they said. It is capable of applying 5,000 pounds of force, coupled with a rotating nozzle to break up tough material. The machine also features remote joystick controls and nozzle flexibility to make quick work of hard-to-reach track structures.
Loram's hazardous material cleanup service for large-scale projects also can be adapted to ballast management needs, according to the company. For example, Railvacs technology can be leveraged to clean up foreign materials that have spilled or blown off rail cars onto the ballast.
Miner Enterprises Inc.
Miner Enterprises Inc. offers "safe, durable and maintenance-free ballast systems that can be applied to new or existing cars," according to the company.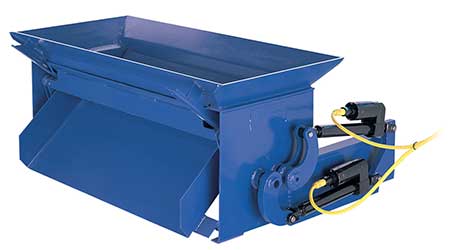 Miner Enterprises Inc.
For example, the AggreGate can effectively drop ballast inside, outside or both sides of the rail simultaneously. The AggreGate's features include large guillotine door openings that are designed to stop ballast flow, as well as easy-to-operate toggle-type linkage systems and tapered doors for ballast shutoff at switches, crossovers and bridges. In addition, the remote-control AggreGate enables the user to deposit ballast while remaining at a safe distance, Miner officials said.
AggreGate ballast discharge outlets are available in manual, air-operated, electric and remote control models. Engineered as a fabricated and completely assembled unit, the AggreGate can be applied to new or existing hopper cars.
Over the past year, Miner has improved the internal electronics of all AggreGate systems including the Stand-Alone System. The electric Stand-Alone AggreGate enables independent operation of the car from anywhere on the ballast train, which eliminates the need for grouping manual and automatic cars, company officials said.
State-of-the-art electronics have improved the system's reliability, longevity and performance, they added.
Miner recently supplied the Stand-Alone Electric AggreGate for some car-conversion programs.
Montana Hydraulics LLC
Montana Hydraulics LLC designed its Center Mounted Bi-Directional Ballast Plow for increased safety and efficiency when distributing ballast, according to the company.
The center mount and self-articulating blades allow ballast to be plowed in either direction. The blade angle shifts automatically when the direction of the rail car changes.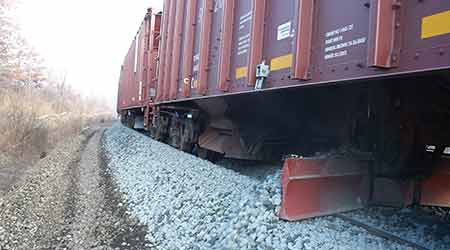 Montana Hydraulics LLC
The compact unit can be installed easily, requires minimal maintenance and its blades fold and lock during transport.
The plow and its fully integrated controls use existing hydraulic power, but without interfering with the other hydraulic needs of the rail car. The unit incorporates manual releases for the safety lock from either side to maintain operator safety.
Montana Hydraulics has been building plows as part of new-car builds since 2011, but the Center Mounted Bi-Directional Ballast Plow also is available for retrofits. Currently, the company has more than 200 plows operating on ballast cars.
The ballast plow is among many services offered through Montana Hydraulics' MOW Field Services Division, company officials said.
Progress Rail
Progress Rail's expertise in MOW technology and equipment dates back more than 70 years. The company introduced the industry's first ballast regulator under the Kershaw name in 1945, company officials said.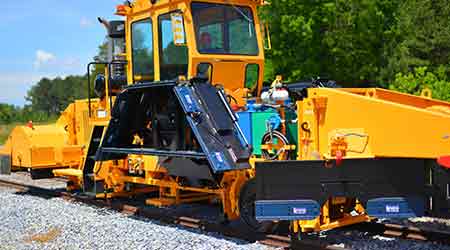 Progress Rail
Since then, Progress Rail has developed products for the MOW sector, now with three upgraded Kershaw Ballast Regulator models available, including the Kershaw 4600, Kershaw 46-2 and Kershaw 46-6 units.
All these models have been designed with enhanced technologies for "optimum performance," said Progress Rail officials.
The models include "rugged" new carbide parts on the wings and plows to extend wear and general use, all while reducing total operating costs.
The Kershaw 4600 Ballast Regulator has a one-pass transfer plow, 36-inch wide reversible wings and a broom attachment for ballast shaping, shoulder profiling, ballast sweeping and a variety of other track maintenance operations.
The Kershaw 4600 comes equipped with a Cat® C7 engine, which is rated at 250 horsepower for reliable performance, Progress Rail officials said.
NMC Railway Systems
NMC Railway Systems recently added the NMC CTB41B Hi-Rail Excavator to its product line. Built to increase productivity, this unit will help railroads and rail contractors complete high-production undercutting projects, said Sales Manager Mark Anderson.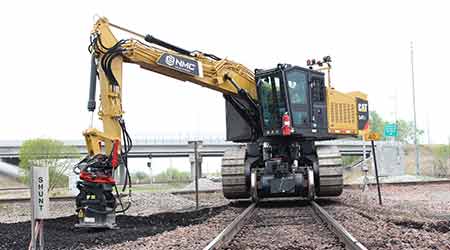 NMC Railway Systems
The CTB41B Hi-Rail Excavator operates on 300 horsepower, and features a custom 12-foot undercutter bar with 360 degree rotation. As a result, NMC has obtained a "30 percent increase in production — meaning more feet undercut per hour and less track downtime," said Anderson.
The unit also features a hydraulically powered hi-rail gear undercarriage with train air brakes, multiple tool carrier functionality and dual pivoting rail-car couplers.
"It's engineered and built to deliver versatility and strength, which allows operators to undercut, trench, tie insert, tamp, brush cut and move rail cars," Anderson said.
Railroads and rail contractors are looking for equipment with more horsepower that can increase efficiency for rail maintenance projects, he said.
By adding new product offerings such as the CTB41B Hi-Rail Excavator, NMC Railway Systems "will continue to keep rail operations on-target for key maintenance projects as we move into peak rail maintenance season," Anderson added.
Plasser American Corp.
Only with sufficient ballast available can track can be correctly maintained adequately tamped. To help with that task, Plasser American Corp. has developed the BDS100 and BDS 200 Ballast Distribution System to restore the proper ballast profile, company officials said.
The shoulder plows' long reach are capable of retrieving ballast that is out of the reach of conventional ballast regulators, Plasser officials said. The pickup ballast broom loads excess ballast that can be unloaded where needed.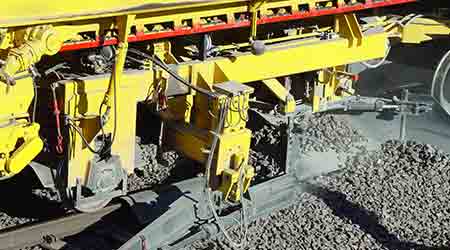 Plasser American Corp.
Plasser's Ballast Distribution System consists of two independent units that can work together as one machine or as two separate machines. The BDS100 is equipped with a hopper for ballast storage, four conveyors for ballast distribution, and Plasser's shoulder and X-type plows for ballast profiling.
The BDS200 is equipped with two ballast brooms: the pickup and the finishing. The pickup broom sweeps the excess ballast from the track onto a conveyor that loads the ballast into the BDS‑100 or into a Plasser MFS-type conveyor and hopper car. The finishing broom provides the final track dressing.
The system's ballast-handling capacity can be increased by coupling Plasser MFS-type conveyor and hopper cars between the two units. All work is performed in a "one pass" operation, Plasser officials said.
The BDS 100/200 Ballast Distribution System can accompany the high-speed 09-3X tampers for final track dressing or work as an independent machine to distribute ballast. When working as an independent machine it may be used to pick up excess ballast from the track shoulders for distribution as needed at any location including switches.
Protran Technology (a Harsco Rail division)
In response to customer demand for higher tamping efficiency and productivity at a low cost, Protran Technology recently introduced the Callisto ProTamp track geometry measurement system for Harsco Mark Series and 6700 tampers, company officials said.
Callisto ProTamp is an aftermarket add-on developed for Harsco's Jupiter platform. ProTamp was designed to improve tamper operational efficiency and productivity, as well as tamping quality output.
Historically, track geometry measurements are collected using a buggy system extended in front of the tamper. That method is time-consuming to deploy and has limited recording speed, Protran officials said. The Callisto ProTamp system eliminates the need to deploy a buggy system and enables a tamper to collect track geometry data from 0 mph to 30 mph.
Measurement data is collected and stored while the tamper is traveling, and is recalled when the tamper is switched to work mode.
Callisto ProTamp matches the historical data to the exact current position of the tamper. The Harsco System V software then automatically calculates the recommended correction values to determine the best fit curve.
If needed, the operator can adjust the values by dragging and dropping the best fit curve to his or her preferred location. That feature saves time and reduces potential errors associated with manually typing in correction values, according to Protran. Once the operator accepts the best fit curve, the tamper will start placing the track accordingly.
Email comments or questions to julie.sneider@tradepress.com.
---
Keywords
Browse articles on
Ballast management
MassDOT
FreightCar America Inc.
Ballast Tools Inc.
Ballast Tools Equipment
GREX
Railway Interchange 2017
Herzog
Loram
Miner
Montana Hydraulics
Progress Rail
NMC Railway
Plasser American
Protran
Contact Progressive Railroading editorial staff.