Newsletter Sign Up
Stay updated on news, articles and information for the rail industry
RAIL EMPLOYMENT
Rail News Home
MOW
November 2019
Rail News: MOW
MOW technology update: Rail fasteners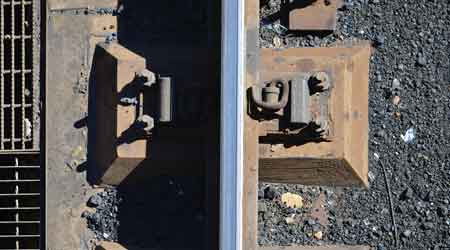 Compiled By Vesna Brajkovic, Associate Editor
Construction Polymers Technologies Inc.
Over the past three years, Construction Polymers Technologies Inc. (CPT) has placed an emphasis on developing its line of rubber-bonded direct-fixation fasteners (DFFs), company officials said in an email.
As the U.S. licensee for Delkor Rail Pty Ltd's rubber-bonded DFFs, CPT and Delkor developed a line of drop-in replacement fasteners utilizing Delkor's Alt 1 design. The fasteners can be used to replace many legacy DFFs used by U.S. transit agencies.
"The Delkor Alt 1 design is very effective at noise and vibration attenuation, and withstanding very high lateral loads," company officials said. "Also, the design places less strain on the fastener anchorage positions. Loose anchor bolts are rarely seen with the Alt 1 design."
The company also offers high resiliency EGG DFFs, standard and low-profile EGGs for special trackwork, and a dual-stiffness low-profile EGG that reduces the rail seat height by about an inch.
"The low-profile feature is ideal for use where structure height is an issue, while the dual-stiffness feature allows for the passage of heavier axle load mixed traffic on the same DFF," officials said.
L.B. Foster Co.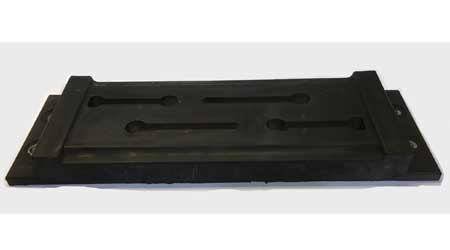 L.B. Foster Co.
L.B. Foster Co. has developed and commercialized vulcanized rubber-bonded direct-fixation fastener technology for the North American transit industry for more than 35 years.
The company has designed and qualified more than 50 direct-fixation fastener products and has "successfully delivered more than 4 million fastener units to more than 30 transit agencies," company officials said in an email.
In 2019, L.B. Foster received approval from Sound Transit in Seattle for the company's "state-of-the-art, high-resilient" fastener, and completed the approval process for two new four-anchor direct fixation fasteners for MTA's New York City Transit Authority.
The company also is nearing completion of the approval process to provide a four-anchor direct fixation fastener design to the Chicago Transit Authority. The fasteners "will offer greater resilience, decreased noise and vibration, improved electrical isolation and a reduced number of assembly components to improve construction efforts," L.B. Foster Transit Products Assistant General Manager Sarah McBrayer said.
The company now is designing a suite of high-resilient direct fixation fasteners for use in special trackwork areas, she added.
Lewis Bolt and Nut Co.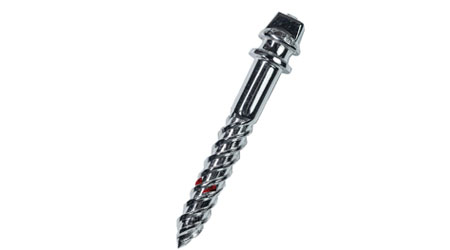 Lewis Bolt and Nut Co.
Lewis Bolt and Nut Co. designed and developed a second generation of its Evergrip™ screw spike. The patent-pending Evergrip G2™ features tie-grabbing lower fins designed to prevent back out and a longer, stronger full body shank to increase fatigue resistance, company officials said in an email.
The screw spike can be driven with either manual or automated spike machines, and is available in a double or single head design.
Evergrip G2 is "up to two-and-a-half times faster than traditional lagging machines" and provides a "clean transition directly to threads," officials said.
Miller Ingenuity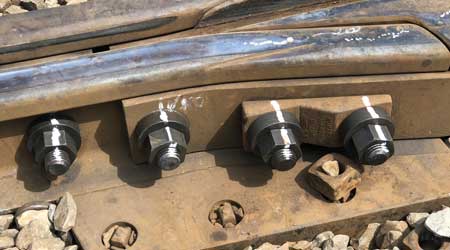 Miller Ingenuity
Customers frequently complain that they are spending most of their time tightening up track bolts that come loose from track vehicle vibrations, Miller Ingenuity officials said in an email. The company's ReLok™ fastener system — a vibration-proof, self-locking nut — can increase a customer's hardware lifecycle and reduce maintenance labor costs, they said. Its design features the annulus of the nut being forced into the collar during vibration movement, helping to capture, retain and deliver the energy back to the joint to deflect shock and vibration.
The ReLok system has been tested at a "well-known diamond crossing location" in Bremen, Georgia, officials said.
"The enormous lateral forces of trains on this crossing creates a very severe condition by itself and the addition of the constant cyclical motion of automobiles running across this intersection have caused all other fasteners to fail quickly," they added. "ReLok has held strong for two years at a location that was previously under constant monitoring and upkeep."
The two-part ReLok system was also recently enhanced to feature a unitized version that minimizes parts for inventory and makes installation easier for maintenance crews, officials said.
Pandrol North America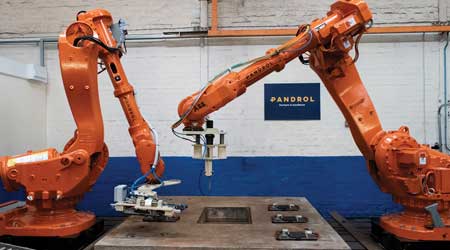 Pandrol North America
High-speed train operation requires accurate alignment of the track. Where significant levels of settlement after construction exists, or where seismic activity is likely, there will be "particularly demanding requirements" on the range and accuracy of vertical and lateral rail adjustments, Pandrol North America officials said in an email.
"When the track is non-ballasted, typically these adjustments must be provided for in the fastening system," they added. "Given the short periods available for maintenance, the accuracy, ease and speed with which these adjustments can be made are crucial factors."
The company's Fastclip Baseplate can make a range of adjustments in both vertical and lateral directions with high accuracy and speed. The system also can be "tightened down and held firmly in the required position," officials said.
Pandrol has digitized fastening applications by using robotics to pick baseplates and place them in the exact positions and orientations required.
"Robotic installation proves effective thanks to the fact that the system can be largely pre-assembled before it is installed on the slab in the factory," officials said.
Progress Rail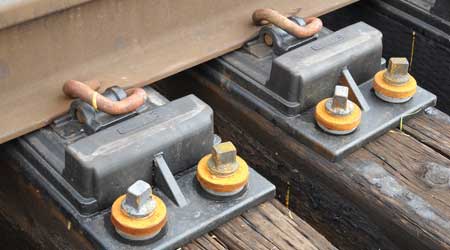 Progress Rail
Progress Rail offers a complete line of fastening solutions, including the Loadmaster Direct Fixation (DF) track fastener.
Specifically designed to provide commuter- and freight-rail systems with a greater range of options for shared use and higher axle load environments, the Loadmaster DF has been tested for up to 40-ton axle loads, Progress Rail officials said in an email.
"[The fastener's] containment design provides advantages over the traditional 'sandwich' concept. It allows for versatility with dual vertical stiffness capability," officials said. "Additionally, Loadmaster offers superior acoustical effectiveness and reduced tie and ballast maintenance on bridge approaches by matching track modulus between ballasted and ballastless track."
The fastener absorbs impact forces normally transmitted to supporting structures, extending useful life of bridges, they said.
Progress Rail also recently developed a Loadmaster Timber Tie (LMTT) bonded fastener to minimize the effects of load-to-bridge impacts and expand its product line with a low-maintenance, long-term solution for wood ties.
The LMTT has a 25-year lifespan according to testing conducted at Transportation Technology Center Inc. in Pueblo, Colorado.
"The performance of the Loadmaster DF and the LMTT fastening systems have demonstrated they can successfully reduce impact forces and maintenance, while providing long service life," Progress Rail officials said.
Rails Co.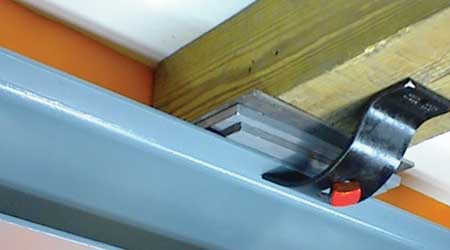 Rails Co.
Rails Co. offers several specially designed bridge tie anchors, including the BC-6555 and the HCP.
Rails' BC-6555 Bridge Tie Anchor features an offsetting mounting hole that provides a way to fasten open deck bridge ties to supporting steel members where anchor bolts cannot coincide with the edge of the structure due to interference on top.
The anchor's design prevents lateral movement due to a spring tension, which provides a constant friction force between the bottom of the tie and the girder. The spring action also compensates for shrinkage, seating and stresses caused by flexing of the tie under wheel loads, company officials said in an email.
The Rails HCP Bridge Tie Anchor is designed to prevent skewed tie, split guard rails and other structural defects, and replace hook bolts that loosen due to tie deflection and shrinkage.
The HCP features a spring steel construction that provides a spring action to absorb variations if pressure caused by flexing of the tie occurs under wheel loads, officials said.
In addition, the length and contour of the anchors, and the slotted shape of the bolt hole, allow for variations in cover plate thickness with no loss of holding power. The HCP is available in three models for applications with cover plate thicknesses between 1.5 and 4.5 inches.
voestalpine Railway Systems Nortrak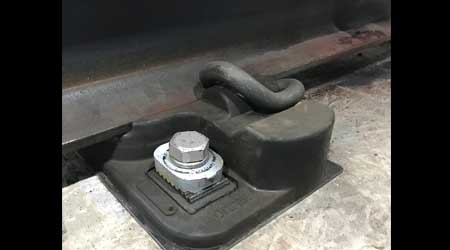 voestalpine Railway Systems Nortrak
The rail fixation team at voestalpine Railway Systems Nortrak has developed a portfolio of standard and special trackwork concrete crossties and resilient rail fastening products.
One segment of focus for the company has been direct fixation fasteners for transit-rail operations — witness its recent acquisition of LORD Corp.'s catalogue of standard and special trackwork bonded direct fixation fastener designs, said John Stout, VP of rail fixation systems, in an email.
"During the past 35 years, LORD has supplied over 2.6 million fasteners in the United States and around the world with a long history of innovation and superior quality," he said. "Our partnership with LORD allows us to build on the outstanding reputation of LORD fasteners and develop the next generation of direct fixation fasteners to meet customer specific requirements for track stiffness and service performance. This includes our Fantom series of fasteners for standard track and Resilient Fastener series of bonded fasteners for special trackwork."
The company also built a new fastener test lab in Cheyenne, Wyoming, and will be supplying standard and high-resilient fasteners for upcoming projects in Los Angeles and Seattle.
"We have the advantage of our own foundry in Decatur, Illinois, enabling us to directly control the quality of the ductile castings that act as the skeleton of a bonded direct fixation fastener," Stout said. "This vertical integration allows us to reduce lead time, reduce cost and shorten the product development cycle."
Email comment and questions to vesna.brajkovic@tradepress.com.
---
Keywords
Browse articles on
Rail fasteners
MOW
Construction Polymers Technologies
CPT
direct fixation fasteners
DFFs
Delkor Rail
L.B. Foster
Lewis Bolt and Nut
EverGrip G2
screw spike
Miller Ingenuity
ReLok
Pandrol North America
Fastclip Baseplate
Progress Rail
Rails Co.
BC-6555
HCP
bridge tie anchors
voestalpine Railway Systems Nortrak
crossties
Contact Progressive Railroading editorial staff.