Newsletter Sign Up
Stay updated on news, articles and information for the rail industry
Rail News Home
MOW
March 2019
Rail News: MOW
Hi-rail equipment update 2019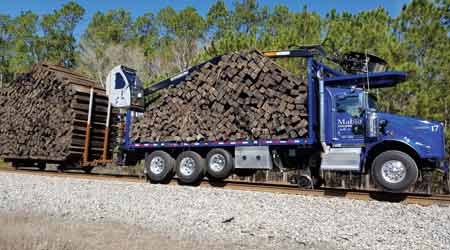 Cahaba Truck & Equipment
Cahaba Truck & Equipment specializes in hi-rail maintenance-of-way trucks — specifically, material handlers, rotary dumps, tie movers and yard maintenance vehicles that can be customized to meet customer's needs. The company offers an array of solutions for a wide customer base, from contractors to Class Is.
Custom Truck & Equipment
Custom Truck & Equipment offers the 609V2 section truck. Like its predecessor, the 609, the 609V2 is equipped with "all the features needed by a railroad section crew," company officials said in an email. IMT's heavy-duty articulating crane can be controlled remotely and is used by a crew to remove/stow material in its upright material racks. A detachable tool holder rests off the rear bumper, providing a crew with a holster for their hydraulic tools. The two-tool circuit hookups may be toggled on and off remotely from the crane remote, eliminating trips back and forth to the truck.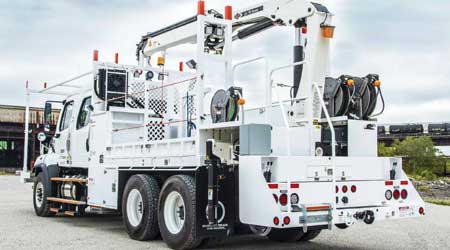 custom truck & Equipment
The 609V2's new design features a rear-fixed handrail straddled step ladder that extends to the bed of the truck, providing ease of access and safety to a crew.

The V2 also features Continental G-60 rail gear, which features a locking slot instead of pins/lock-ups. The geometry of the slot allows the gear's gravity to lock it in place, whether in highway or rail position. The pinless design simplifies the process of locking and unlocking gear, saving the operator precious time during stowing or deployment; and "significantly reduces" the lifetime maintenance cost associated with pin repair/replacement, Custom Truck officials said.

The G-60 also features a positive downforce system. Rubber springs exert a significant downward force on the axle when the truck's outer dually climbs onto an obstacle. This feature reduces the risk of derailment by helping to maintain a constant hi-rail to rail contact at grade crossings, guarded frogs, etc., company officials said.
Georgetown Rail Equipment Co. (GREX)
Georgetown Rail Equipment Co. (GREX) of a fleet of 15 Aurora® trucks, each of which is hi-rail equipped. The newest version, Aurora Xiv™, merges all of the company's track inspection technologies onto a single platform.
Within the Aurora Xiv truck, an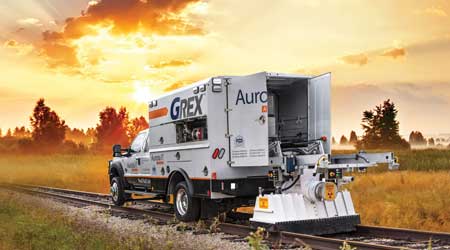 GREX
Aurora system uses 3-D machine vision technology to complete surface assessments of wood ties as well as measure rail seat deterioration on concrete ties. Aurora Xi technology simultaneously uses backscatter x-ray technology to measure the density of wood ties.

BallastSaver utilizes LIDAR to analyze the client's existing ballast profile and identify ballast deficiencies, as well as the clearance envelope.

Aurora and Aurora Xi data have been instrumental for railroads in making decisions on tie replacement projects, finding tie- and track-related safety issues, and validating component inventory without exhaustive track walks, company officials said in an email. A more complete condition assessment helps railroads avoid developing clusters of ineffective ties, find ties that are degrading much faster than their intended service life, and save ties that are structurally sound but appear degraded on the surface only.

GREX also plans to use the X-ray technologies to perform scanning inspections at a tie plant, from green wood quality to treatment effectiveness. The aim: to provide customers with insight into tie health in the supply chain as well as in the field.
Harsco Rail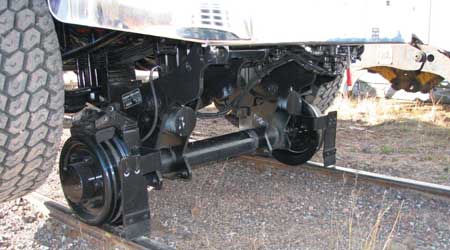 harsco rail
Harsco Rail's HD4141 HY-RAIL® guide wheel equipment is used to adapt heavy-duty, chassis cab trucks that meet the company's recommended vehicle specifications for highway and railway applications.

The HD4141 has a rugged, compact design suited for heavy-duty trucks. The HY-RAIL guide wheel equipment features a manual hydraulic control valve for raising and lowering, mechanical safety lock pins, and hydraulic safety locks with PO checks.

The front unit uses trucks suspension for smooth on-rail travel and over-center deployment for safe operation. The rear unit has side shift action for faster positioning of the truck onto the rails and slotted links for improved safety over grade crossings, company officials said in an email. The demountable bolt on guide wheels are designed for faster replacement, reduced maintenance cost and safer handling.
Mitchell Rail Gear
The Mitchell 1515 Rail Gear, shown at right on a 2019 Chevy Suburban, features RoadRail brand wheels. The Chevy Suburban has been independently tested to pass FMVSS126 Stability Control Standards, company officials said in an email. The aluminum RoadRail wheels eliminate more than 300 pounds of weight over standard steel wheels with spacers.

"When you combine the RoadRail aluminum wheels with the high-strength, lightweight 1515 Rail Gear, it's a combination that allows a standard Chevy 1500 Suburban to be equipped with rail gear for track travel," company officials said.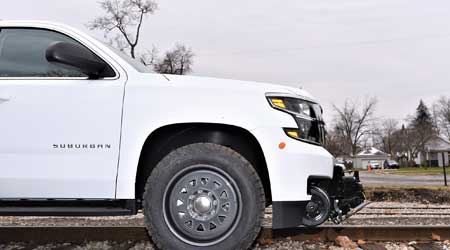 mitchell rail gear
The 1515 Rail Gear folds up around the spare tire, leaving the cargo area open. The 1515 Rail Gear high approach and departure angles allow the truck to more easily go off rail along the right-a-way without bottoming out. This weight savings with RoadRail wheels and Mitchell 1515 Rail Gear is carried through to standard pick-up trucks like the Chevy 1500/2500/3500 and Ford F-250/F-350 trucks to allow more payload.

The Mitchell 1515 Rail Gear's mounting system allows the rail gear assemblies to be more easily adjusted up/down and left right for easy loading and alignment. The rail gear assemblies are identical, so they can be easily transferred to newer trucks with a mounting bracket change. The standard rail gear is provided with forged steel rail wheels, manual locks and outside controls, but can be upgraded to lightweight forged composite rail wheels designed to reduce rail head noise by 95 percent over plain steel rail wheels; inside controls; and cab controlled electric safety locks.
Omaha Track Equipment
Last fall, Omaha Track Equipment (OTE) released newly designed Custom Heavy-Duty Hi-Rail Carts. Designed to handle rail and ties, the carts are lighter in weight with higher capacity than the company's previous carts. The carts are hauled to and from work sites using a material handling truck with a 20-foot (minimum) length bed. Carts are placed on the track with an on-board crane.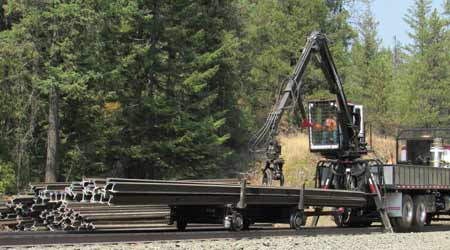 omaha track equipment
OTE offers two designs; one for rail hauling, the other for hauling ties. Designed to carry up to 100,000 pounds, the carts increase productivity and efficiency by having the capability of hauling more product to and from the work site. "OTE is proud to be the only manufacturer offering standardized rail and tie carts in the industry," said OTE Chief Engineer Mike Muhsman in an email, adding that the new cart design was the result of "years of experience in the reclamation business."

Both carts are equipped with insulated flanged guide wheels and each wheel has integral air actuated brakes. The rail cart has a 12-foot-long detachable pintle tongue extension, allowing the handling of full "sticks" (39 feet, six inches) of rail. The tie cart has a four-foot-long detachable pintle tongue extension. The bunks on the rail carts are six feet wide by two feet high. The tie carts incorporate eight-foot-high fold down stands on each end of the unit. The cart's curb weight is 4,000 pounds; the tie cart's is 5,000 pounds.
Vancer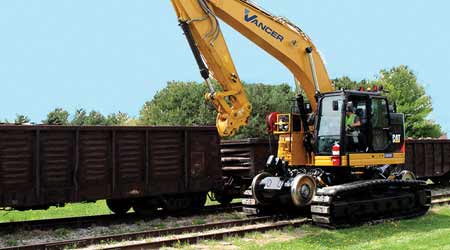 vancer
Vancer offers the CHX35 Hi-Rail Excavator, which is equipped with a Tier 4 final Cat 7.7 ACERT engine and is optimized for power, efficiency and durability. The engine set-up is designed to offer lower fuel consumption while meeting EPA standards, company officials said in an email.

The hydraulically powered hi-rail function allows for easier adjustment when switching from off-track to hi-rail and track travel. With six inches of rear overhang, the compact CHX35F2 is suited perfect for any jobsite and on-rail clearance, the company said, adding that increased hydraulic pressure and flow facilitate better lift.

Other features of the CHX35 Hi-Rail Excavator include easy-to-operate in-cab controls for auxiliary and hi-rail equipment; pneumatic components for train air brakes; a hydraulic hose reel for hydraulic tool operation; and custom-engineered safety features designed to provide operators safe, easy access and serviceability to machine components.
Email comments or questions to pat.foran@tradepress.com.
---
Keywords
Browse articles on
hi-rail
Cahaba Truck
Custom Truck & Equipment
Georgetown Rail
GREX
Mitchell Rail Gear
Omaha Track Equipment
Vancer
Contact Progressive Railroading editorial staff.