Newsletter Sign Up
Stay updated on news, articles and information for the rail industry
Rail News Home
MOW
August 2019
Rail News: MOW
Equipment update: Material handling and distribution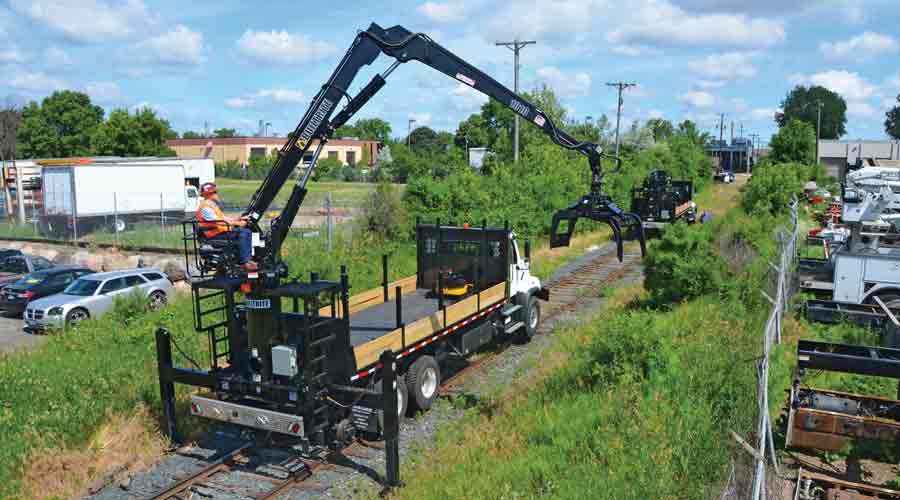 Compiled by Pat Foran, Editor
As ever, maintenance-of-way managers want equipment — including machines that handle and distribute such materials as rail, ties and ballast — that'll help them minimize the time crews spend on the track. They also want material handling equipment to be efficient, maintenance free and safe(r) to operate.
And as ever, MOW managers have an array of tools at their disposal.
What's new on the material handling and distribution equipment scene? What kinds of upgrades are suppliers making to their products? For answers, we reached out to a cross-section of equipment providers. Emailed responses from eight suppliers follow.
Builtrite Manufacturing
The Builtrite Model 88-TM is a mounted material handler that features high-lift capacity, pilot operation with a 360-degree turntable, on-demand load sensing hydraulic systems and an A-frame stabilizer. Safety features include heavy-duty ladders with gripping tread and hand rails, and a heavy-duty wrap around operator guard rail.
With input from several major railroads, the Builtrite 1010-TM incorporates a number of safety features, company officials said. The truck mounted loader is available either with A-frame styled stabilizers or out and down stabilizers. The out and down stabilizers are designed to give operators more flexibility to find firm footing on varying surfaces. Each independent stabilizer can extend beyond the ties, preventing possible tie damage, company officials said. Additional features include a triple gear pump for a much smoother boom; rotation and attachment control when operators use multiple functions simultaneously; various boom lengths and a three-foot squirt boom option; dual-heavy duty ladders with grip strut treading; a radio remote control option; and a heavy-duty front guard safety railing around the operator.
The compact 88-TM and 1010-TM also allow for easy maneuvering and stability in tight spaces, company officials added.
L.B. Foster Co.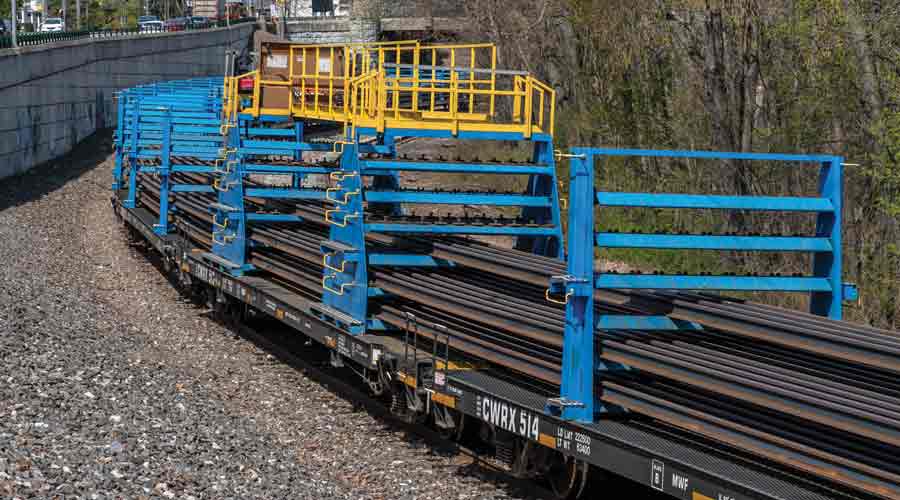 L.B. Foster Co.
L.B. Foster Co. continues to invest in and upgrade its four rail trains that transport and deliver continuous welded rail to North American railroads and transit agencies, company officials said.
"There have been several trends over the past several years within the railroad industry that have had a big impact on our methods of material handling and distribution," L.B. Foster officials said. "As precision scheduled railroading becomes widely implemented across the industry, and track time becomes scarcer, it is advantageous to our customer base that we can unload trains as quickly as possible."
In addition, railroads and transit agencies are outsourcing more functions, including the offloading of rail. It's prompted L.B. Foster to "enhance" the range of services it offers, as officials put it, noting the company now provides project management, unloading supervision and full unloading crews. For example, L.B. Foster provides an unloading operator supervisor with every train to help ensure safe and efficient operation of the unloading unit.
"Our familiarity with the unloading equipment helps to eliminate downtime," company officials said. "We also offer full unload crews and equipment when requested, also leading to reduced unloading times. These improvements allow us to unload trains in as quickly as one day."
Finally, railroads and transit agencies continue to transition from using stick rail — or individual pieces of rail that require joints — to welded or ribbon rail, in track replacement and expansion. This results in a safer, smoother railroad that requires less maintenance, company officials said.
Georgetown Rail Equipment Co.
During the past year, Georgetown Rail Equipment Co. (GREX) material handling equipment has been used at several flooding events throughout the Midwest. For example, GREX DumpTrains and Slot Trains were used throughout the states that were hit especially hard, company officials said. "The ability of these units, along with the Self Powered Slot, has made them an ideal solution for delivering the variety of material sizes needed in these severe weather situations," they added.
GREX's newest machine, The DumpTrain for Curves, has been in service for almost two years and has been "tremendously popular," company officials said, noting that additional units will be added to the fleet to meet the demand. The company also is evaluating additional enhancements. These trains, along with the standard DumpTrain, have been used in a variety of applications and conditions.
Meanwhile, GREX recently began offering its newest version of the GateSync/Solaris product. The update features the same unloading capabilities using wired toggles, wireless remotes or a completely automated unloading that uses a pre-dump survey to unload the train. The upgrades allow for faster train setup times and longer train consists, company officials said, adding that the "first installs" will begin later this year.
Herzog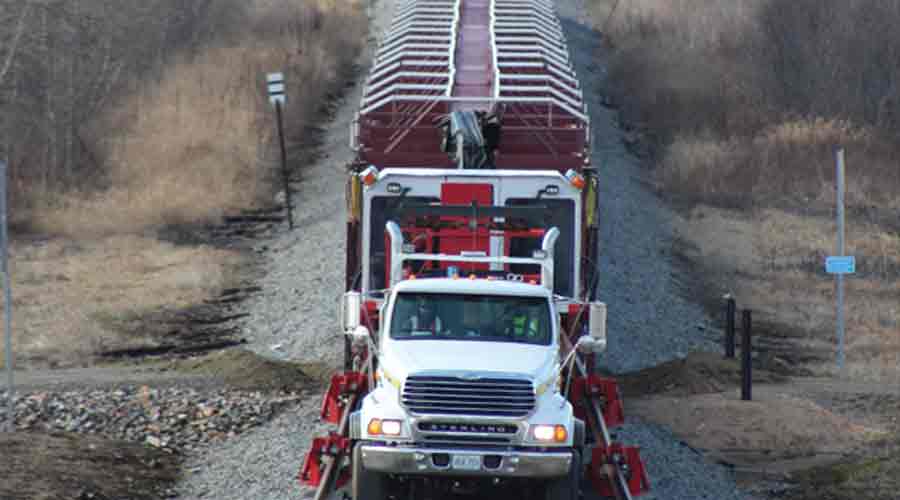 Herzog
With precision scheduled railroading gaining a foothold in the industry, "clients in today's market are seeking dependable equipment with increasing automation that reduces their time spent on maintenance," Herzog officials said, adding that the company's trained operators and equipment solutions "meet the needs of these shrinking work windows and make it safer to perform the most demanding or routine MOW tasks."
Working together in one consist, the Rail Unloading Machine (RUM) and Automated Tie Down CarSM (ATC) offer the safest and most efficient way to unload rail in the industry, company officials said, adding that the RUM is the only road-to-rail vehicle capable of safe, hands-free precision rail placement. It can unload a 50-pocket rail train on one or both sides of the track in under four hours with the assistance of two operators.
Once the project is complete, there's no need to occupy track time moving equipment to another job site: "Using the RUM, we move over the highway to the next location, giving your track back to revenue service," company officials said.
The ATC further complements the RUM's hands-free operation because no time is wasted waiting on crews to manually clamp/unclamp rail. The ATC can be customized to secure CWR to most existing rail train configurations with more power, faster operation and remote access, company officials said.
Omaha Track Inc.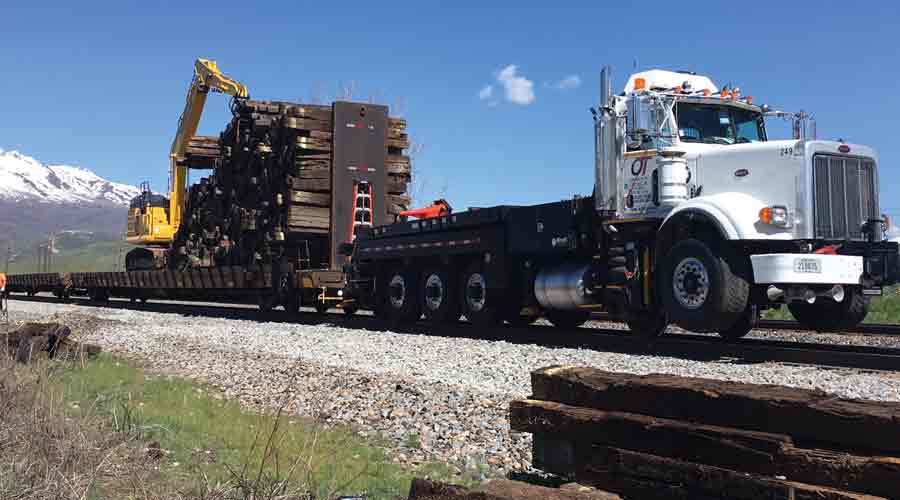 Omaha Track Inc.
Omaha Track Inc. offers rail and tie carts that are available in multiple sizes to suit customers' specific needs. The company also provides custom truck builds for the safe and effective handling of ties and stick rail, said Steve Orrell, vice president of business development for Omaha Track Inc. and Omaha Track Equipment. Omaha Track also recently launched a new service to help railroads move materials to their jobsites. The OT Power
Program is a packaged power plan for maintenance-of-way and special project needs.
"We package a road-to-rail car moving unit, a Brandt Power Unit or similar, for short-term use," Orrell said. "By the week or by the month, an OT Power Unit can be mobilized to pull cars for [customers'] special needs."
Pettibone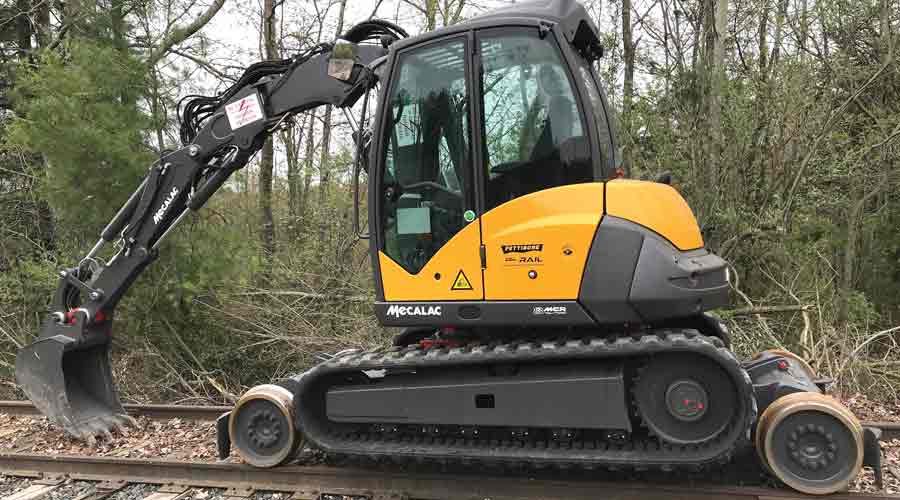 Pettibone
In May, Pettibone announced a partnership with Mecalac to provide sales and service support in North America for the Mecalac 8MCR Rail-Road, a compact crawler excavator built with factory-installed hi-rails for maintenance-of-way work.
In addition to digging, the 8MCR Rail-Road excavator is designed to provide "outstanding lifting and handling functions for its size class with appropriate attachments," company officials said. For example, the machine can lift 6,600 pounds at 8.2 feet from the center of the rails or 2,200 pounds at 14.8 feet in a 360-degree radius.
The Mecalac machine also can be used as a skid steer with the capability of 360-degree rotation, which enables material to be moved "anywhere it's needed while the unit stays firmly on the track," company officials said. The machine can be equipped with several attachments typically used with larger machines, such as a railway clamshell or ballast tamping head. Powered by a 75-horsepower Deutz Tier 4 diesel engine, the 8MCR Rail-Road moves up to 14.3 mph on rail and 6.2 mph with tires on the ground. With no counterweight in the rear field of vision, the excavator provides operators with "natural 360-degree visibility," company officials said.
Plasser American Corp.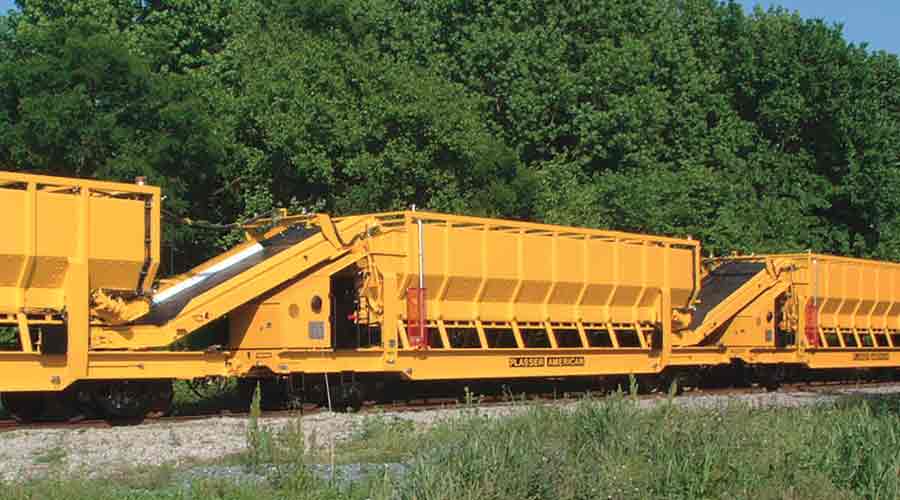 Plasser American Corp.
Plasser American Corp. produces conveyor and hopper cars as "an ideal material handling system designed to transport ballast, spoils or other material in train formation" to and from various work sites, company officials said. The MFS car can transport, store, load, and unload material as a single unit or with other like units. MFS cars are available in various sizes to meet customers' needs, and storage capacity can be increased by coupling multiple units.
MFS cars can be coupled to ballast undercutter/shoulder cleaners; the waste material is loaded directly from the ballast-cleaning machine. When multiple units are coupled together, half of them (when loaded) may be towed away to be unloaded while the ballast cleaning machine continues working. When loaded with new ballast, additional MFS cars can feed the material directly into a ballast-cleaning machine for unloading directly into the track.
The MFS cars also can be used in conjunction with a Plasser BDS100/200 Ballast Distribution System, ULS3000 Ballast Unloading Station and BLS2000 Ballast Loading System.
The floor of the MFS consists of a wide, hydraulically variable speed driven conveyor belt. The unit's front carries a rotatable, hydraulically driven conveyor for transferring material to another MFS car, ballast-distributing machine or other railroad hopper cars; or for unloading the MFS Car into highway trucks or onto the railway right-of-way. Each MFS car is individual powered with its own engine, hydraulic supply and electrical system, company officials said.
Vancer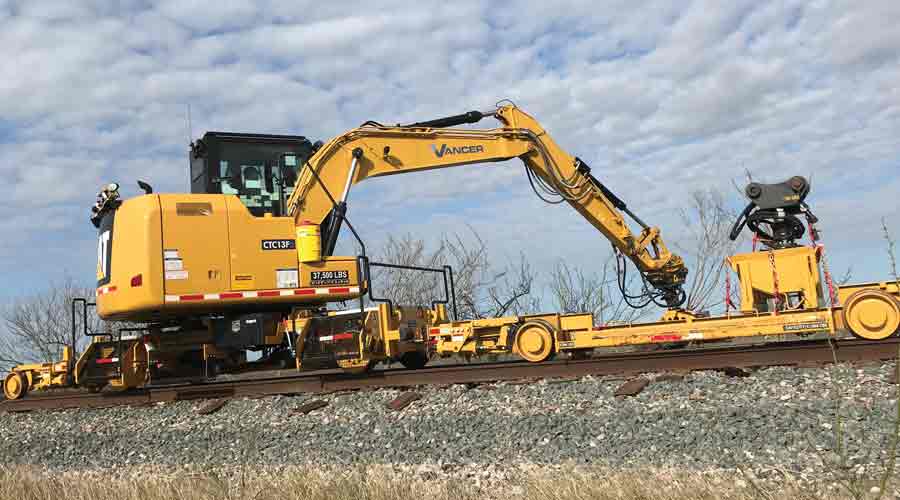 Vancer
For tie handling, Vancer offers the updated Vancer CTC13 Tie Crane. Designed for railroad tie placing and material handling projects, the machine represents "a modern approach to railroad tie handling," company officials said.
The tie crane's compact design allows for increased lift capacity with "exceptional" swing speed, and with its precise tool control, the machine is able to deliver "enhanced tie handling agility," company officials said. As a Tier 4 final unit, the machine has a fuel burn average of less than two gallons per hour.
"We've seen the need for compact material handling equipment that still has the capabilities to move up and down the track lines," Vancer official said. "Operators of the CTC13 Tie Crane can handle concrete and wood ties, and its on-track drive solution allows for greater visibility and enhanced tie placement and accuracy."
The tie crane can pull two carts with a maximum capacity of up to 200 ties each.
Email comments or questions to pat.foran@tradepress.com.
---
Keywords
Browse articles on
material handling equipment
Builtrite Manufacturing
L.B. Foster
Georgetown Rail Equipment
Herzog
Omaha Track
Pettibone
Plasser American
Vancer
Contact Progressive Railroading editorial staff.