Newsletter Sign Up
Stay updated on news, articles and information for the rail industry
RAIL EMPLOYMENT
Rail News Home
MOW
September 2019
Rail News: MOW
Concrete, composite and steel tie update 2019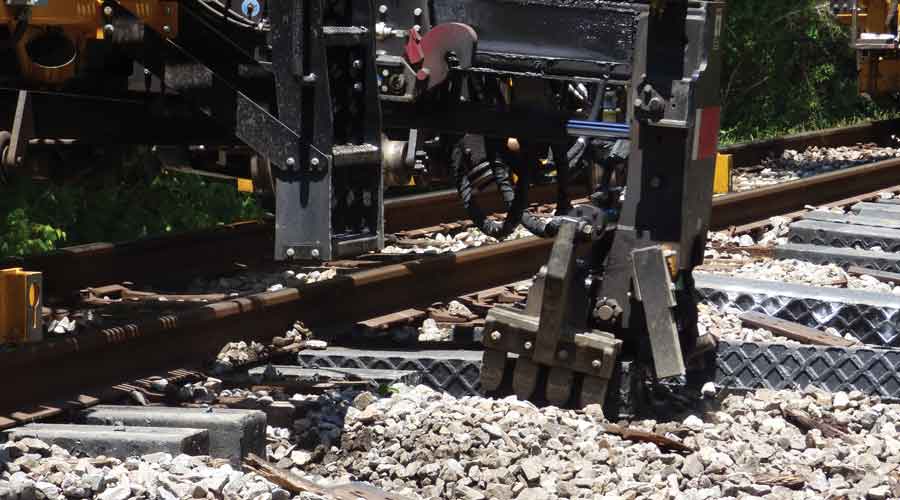 Compiled By Pat Foran, Editor
CXT Inc./L.B. Foster Co.
L.B. Foster Co. continues to pursue new market opportunities for its CXT® concrete ties, and to implement programs to enhance product quality and performance. The company also continues to develop new product offerings.
Meanwhile, transit agency demand on the West Coast remains solid, company officials said in an email.
"With the Sound Transit Eastlink project connecting Seattle to Bellevue and in preparation for the 2028 Summer Olympics in Los Angeles, the company is seeing an increase in demand for transit rail infrastructure using concrete ties," they said.
Strong demand nationwide also continues for gantry crane runway ties, they added.
CXT/L.B. Foster's recent acquisition of Carr Concrete in Waverly, West Virginia, has enabled the company to expand its production footprint in the eastern United States and add other concrete product offerings for the rail industry. For instance, LVT block is currently in production for Amtrak.
"Our engineering and R&D efforts take a very customer-centric approach to focus on and solve problems with specific solutions," said CXT Inc./L.B. Foster Engineering Manager Vince Petersen. "Our engineering team has ongoing programs to research improvements in concrete mix design to optimize product properties, advance sustainability and offering materials and designs."
The company also continues to partner with the University of Illinois at Urbana-Champaign (UIUC) on Federal Transit Administration-funded research projects. It recently produced instrumented test ties for UIUC that were installed at St. Louis Metro.
"The focus is to increase the understanding of concrete tie track loading behavior to potentially optimize tie strength to the specific application," Petersen said. "And internally we completed our migration from ISO 9001:2008 to the more rigorous and newest standard ISO 9001:2015 to drive quality enhancements and improvements."
LT Resources Inc.
American TieTek's engineered composite crossties, switch ties, bridge ties and custom products are available exclusively through LT Resources Inc.
The TieTek® tie is the only AREMA standard engineered polymer composite tie to perform without failure between 2000 and 2015 at Transportation Technology Center Inc.'s FAST high-tonnage loop track, accumulating over 2 billion gross tons, company officials said in an email. Installed four years ago for testing at FAST, the TieTek ties continue to perform well, they added.
The TieTek tie has been installed in revenue service in a variety of applications, including high decay areas of the southeastern United States, and other severe environments such as tunnels, bridges, bridge approaches and grade crossings, company officials said.
Manufactured using premium recycled materials to provide superior performance and extended service life in severe environments, TieTek ties are resistant to insects, fungi, moisture, harsh environmental conditions and rail-seat abrasion.
TieTek ties minimize the need for replacement, downtime and disposal, provide a long, useful life and have a positive impact on the environment: They are 100 percent recyclable at the end of their useful life, an estimated 50 years, company officials said.
NARSTCO
Officials at steel-tie manufacturer NARSTCO, a RailWorks company, said in an email that they've seen "a marked increase in projects that are replacing wood ties and turnouts in favor of steel." Customers — including Class Is, short lines and industrial rail companies — are drawn to the environmental benefits, quick turnaround time, lifecycle cost savings and lower maintenance that steel ties offer, said Matt Violin, NARSTCO's senior director of sales and marketing.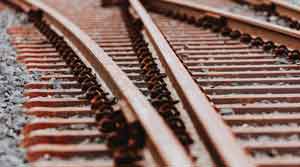 NARSTCO
"Wood tie infrastructure ages very quickly, requiring customers to spend a lot of time and money to replace. Steel ties have the potential to last for decades," he said. "Even only partially replacing a track's ties with steel can yield significant benefits."
Since 2011, NARSTCO has been working with Conrail on a turnout replacement program that includes the requirement to design and manufacture custom steel turnout packages. The company supplied 10 turnouts in 2018 as a part of Conrail's replacement program.
"The ability to easily panel and install a steel turnout in a short period of time, combined with the enhanced track performance, is what many customers are seeing when they switch to steel," said Violin.
voestalpine Nortrak
voestalpine Railway Systems Nortrak has established an integrated Rail Fixation group aimed at developing, testing and manufacturing a portfolio of crosstie and fastening systems to complement the company's special trackwork offerings.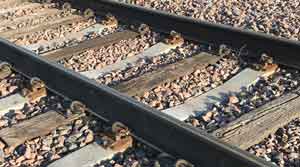 voestalpine Nortrak
For more than a decade, Nortrak has manufactured concrete turnout and standard specialty ties for Class Is and transit customers in its Cheyenne, Wyoming, plant. During that time, the company has produced more than 10,000 custom designs for customers, including Union Pacific Railroad, BNSF Railway Co., Bay Area Rapid Transit, Los Angeles County Metropolitan Transportation Authority, Sound Transit, Amtrak and MTA Long Island Rail Road, Nortrak officials said in an email.
"We focus on producing only the highest quality concrete and are committed to designing and producing products that solve challenging customer problems," said Steve Mattson, technical manager, Nortrak Rail Fixation Systems.
That commitment to innovation was the basis for the development of the Keyway Concrete Tie, which is designed to be interspersed with wood ties with a footprint and resulting track stiffness profile that matches wood tie track, company officials said.
"The Keyway Tie has been successfully tested at TTCI and allows for incremental conversion of wood tie track to concrete tie track using conventional maintenance of way equipment with immediate hardening of the track gauge with the first installations," said John Stout, Vice President of Rail Fixation Systems.
Vossloh Tie Technologies
Vossloh Tie Technologies (VTT), a division of Vossloh North America, has opened a rail products manufacturing facility in Monte Lake, British Columbia, to produce prestressed concrete ties for Canadian rail markets. The British Columbia facility also expands Vossloh's concrete tie production capacity for Canadian industrial and transit-rail customers nationwide, company officials said in an email.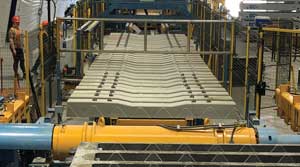 Vossloh Tie Technologies
Earlier this year, VTT completed the transition for the acquisition of Austrak Pty Ltd., a leader in tie design and production technology in Australia. Vossloh acquired Austrak, which manufactures track and turnout ties, and concrete elements for crossings, at 2018's end. In addition to the headquarters in Brisbane in the state of Queensland, there currently are three active production locations:
Rockhampton, also in Queensland; Wagga Wagga in New South Wales; and the port city of Geelong in Victoria. Later this year, Port Hedland in Western Australia will reopen due to ongoing mining projects, company officials said.
"The idea that railroads have been able to come to us, and we can manage all inventory when paired with our sister company Vossloh Fastening Systems, has been a value-add that many customers worldwide continue to take advantage of," said Brett Urquhart, VTT's senior vice president.
Email comments and questions to pat.foran@tradepress.com.
---
Keywords
Browse articles on
CXT
L.B. Foster
LT Resources
NARSTCO
RailWorks
voestalpine Nortrak
Vossloh Tie Technologies
Contact Progressive Railroading editorial staff.