Newsletter Sign Up
Stay updated on news, articles and information for the rail industry
Rail News Home
MOW
May 2019
Rail News: MOW
Product update: Special trackwork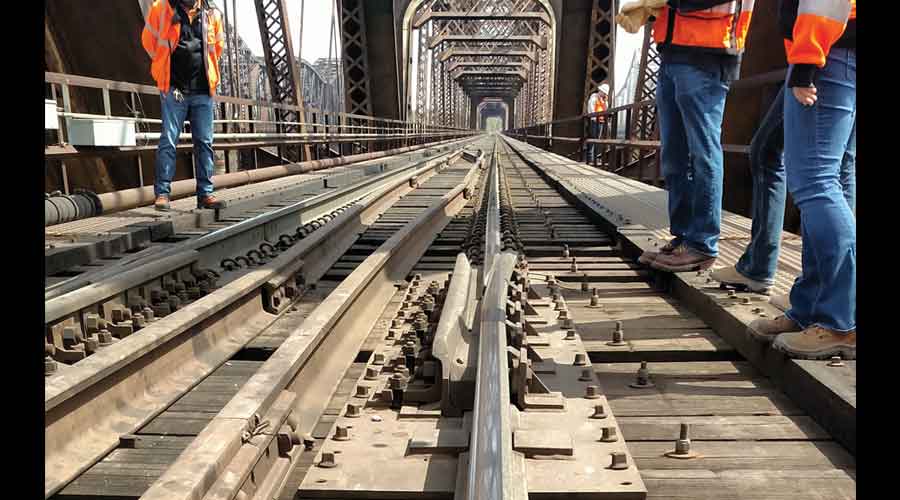 Compiled By Pat Foran, Editor
Rail bridge and expansion joint products. Insulated rail joints. Polyurethane rail grout, used under the base plates of direct-fixation special trackwork. Redesigned hollow steel bearers. Lift switches and lift frogs. Point rollers and direct-fixation fasteners. Special components for specific needs.
Last month, we reached out to a sampling of suppliers of special trackwork, asking them to share information on some of their newest products and systems — or, if they preferred, to send us updates on their tried-and-true wares. Emailed responses from six companies follow.
Atlantic Track
Atlantic Track officials said they've "added additional capacity" for the supply of sliding and expansion joints for railroad bridges, and ballasted, structural and direct-fixation track.
The company's expanded range of bridge products includes expansion joints for continuous-welded rail installations, bridge joints for movable bridges and easer rail arrangements for both vertical lift and swing-type bridges, officials said.
"In addition, we have expanded our range of products to include railroad scale assemblies," company officials said.
Since 1924, Atlantic Track's bridge and expansion joints have been in service on industry and Class I bridges throughout the United States. The company offers a complete line of bridge and sliding joints, as well as a patented easer rail arrangement that carries the train wheel over the gap between the rails on the land and bridge.
Providing field service, engineering design, installation support and joint refurbishing services, Atlantic Track offers an array of solutions for applications on movable bridges, scales and grade crossings. The company manufactures special trackwork at its plants in Memphis, Tennessee; Richmond, Illinois; St. Clair, Pennsylvania; and Clyo, Georgia.
L.B. Foster Co.
L.B. Foster designs a complete line of high-performance insulated rail joints for use in special trackwork and mainline track throughout North America. The company manufactures them in two facilities: one in Pueblo, Colorado, to serve railroads and transit agencies in western North America, and the other in Niles, Ohio, to supply customers in the eastern side of the continent.
"L.B. Foster works extensively with heavy-haul railroads as well as transit agencies to design long-lasting, highly reliable insulated rail joints to meet our customer's challenging requirements," said Sid Shue, director of rail. "We have also supplied transition insulated joints, manufactured as either a standard insulated joint or a high-performance insulated joint, depending on specific customer needs." For example, the company markets the ENDURA-JOINT® insulated rail joint super-premium model with an insulated rail joint plate, high modulus joint bars and ceramic end post. Class Is "continue to increase their adoption of these higher value-added products," Shue said.
Furnished in either a bonded, poly kit or plug form, or preassembled to customer supplied prefabricated or machined rails, the company's special trackwork and mainline insulated rail joints are available as premium or super-premium models for extended service life. To complement the installation, L.B. Foster also produces a range of special insulated rail joint plates, either in solid polyurethane and polyurethane/forged steel designs, canted or uncanted.
"We recently introduced our EKOS™ switchblade roller system which delivers lubrication free switch blade movement while simultaneously reducing switch operating forces," Shue said. "This product was originally developed for European applications but is now gaining acceptance in North America."
London Trackwork Inc.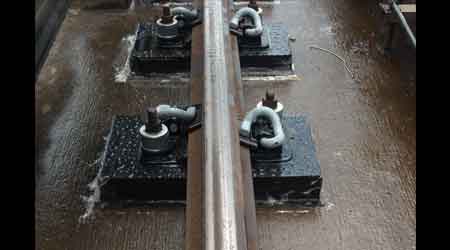 London Trackwork Inc.
In April, London Trackwork Inc. was awarded a contract to supply Icosit polyurethane rail grout to be used under the base plates of the direct-fixation special trackwork for the Toronto Transit Commission's (TTC) Eglinton Crosstown project.
More than 25,000 kilograms of the rail grout will be used under the base plates to help reduce noise/vibration while offering stray current insulation, company officials said, adding that the pads eliminate the requirement of shims under the base plates.
Icosit bonds "extremely well to concrete, allowing an excellent seal between concrete and base plates," company officials said. It deters water from penetrating under the base plates that can lead to damage to concrete substrates.
Icosit rail grout absorbs vibration, reducing noise and vibration; offers insulating properties for stray currents; can have a lifecycle in excess of 20 years, with little to no maintenance costs; can be installed quickly, and removed or replaced easily; and address water, ice and debris issues between rubber boot and rail that affects aesthetics.
Technical in-field training and support also is available, company officials said.
The Eglinton Crosstown line will run underground for more than 10 kilometers, from Keele Street to Laird Avenue, then at surface to Kennedy Station. With 25 stations and stops running west-east across Toronto, the Crosstown will link to 54 TTC bus routes, three TTC subway stations and three GO Transit stations to better connect commuters to the city of Toronto.
Progress Rail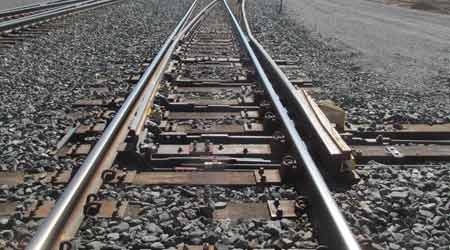 Progress Rail
Progress Rail, a Caterpillar Company, has an array of special trackwork offerings. The company delivers a full infrastructure product line to Class Is, transits, regional and short-line railroads, and also serves contractors and the industrial market.
The company now offers redesigned hollow steel bearers to "easily modify switch orientation from a turnout to the mainline, or vice versa," Progress Rail officials said.
Many of the company's customers see the benefits of using a boltless, adjustable brace — such as the Clamptite rail brace — to continually hold the stock rail in the rail seat from installation through the tamping cycles, Progress Rail officials said, noting that its Clamptite brace is a "standard" at five of the seven Class I.
Additionally, rail thermal forces and high tonnage directional traffic can affect track alignment and component life where grade crossing diamonds are required. Progress Rail developed an improved sliding rail or expansion joint, which eliminates rail movement in the crossing, and helps prevent alignment deviations and component failures.
Progress Rail also has "led the development of full flange bearing crossing design for the past 10 years," and continues to evaluate component life, while working to reduce joints and impacts in special trackwork, official said.
When the company's Vertical Lift Switch and Lift Frog are used in combination, the turnout becomes "invisible to traffic running on the mainline, creating continuous service, with virtually no maintenance required," company officials said. Designed primarily for switches with limited divergent movement, the vertical lift switch and lift frog eliminate traditional vertical interface with the wheel and switch point. Both track technologies have been designed for set-out tracks, low volume or seasonal sidings, and heavy haul applications, such as grain elevator usage.
Progress Rail's Lift Frog meets AAR's plate "C" equipment diagram for above rail clearance. Requirements include a shimmed high guard rail on the turnout side and frog gauge plates. Shimming enables the axle to remain parallel when negotiating the turnout. The Lift Frog is available in No. 9, 10 and 11 frog sizes for 5 ½- or 6-inch rail bases.
Meanwhile, the Vertical Derail product is designed to replace traditional double switch point derails. When in the open position, the derail serves as straight rail and the switch point does not come into contact with the wheels. By eliminating the traditional vertical interface between the wheel and switch point, the Vertical Derail reduces maintenance and component replacement, company officials said.
voestalpine Nortrak Ltd.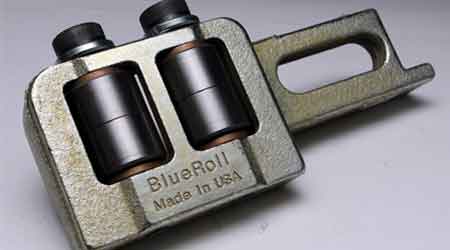 voestalpine Nortrak
voestalpine Nortrak officials said they are "committed to providing the most comprehensive portfolio of special trackwork systems" and are "focused on optimizing the manufacturing processes to be more responsive to customer needs for shorter lead times."
For example, investments in new technology at the company's Decatur, Illinois, manganese and ductile iron foundry are "adding efficiencies" to an already vertically integrated supply chain, they said. And it contributes to a steady flow of castings through precision machining and fitting into trackwork that is being delivered to customer projects throughout North America, company officials added.
Meanwhile, Nortrak has added to its line of BlueRoll point rollers this year. New products include the Extreme Duty BlueRoll, which is designed for demanding service environments. It consists of dual hardened steel rollers with sealed needle bearings.
The original Standard Duty point roller was introduced several years ago to facilitate smooth switch point movement and required no ongoing adjustment. Thousands of the devices have been installed and have an "excellent performance history," company officials said. The Standard Duty BlueRoll features glass reinforced nylon rollers fit into a ductile iron casting, which replaces the tie plate in the case of a retrofit to an existing installation.
In 2016, the company added the Heavy Duty BlueRoll, which incorporates a steel tire around the roller.
All three models are Buy America-compliant, and because they share the same envelope size, they all use the same housing.
Nortrak officials said the company has "embraced the system concept" and launched a comprehensive line of rail fastening products to complement its concrete tie and special trackwork production — including bonded direct-fixation fasteners for both standard and trackwork applications.
In addition, Nortrak — as the exclusive partner of Getzner USA — markets a wide range of resilient products aimed at reducing impacts on the track infrastructure, including non-bonded fastening systems, under tie pads, ballast mats and under plate pads used to extend the life of trackwork components.
Vossloh North America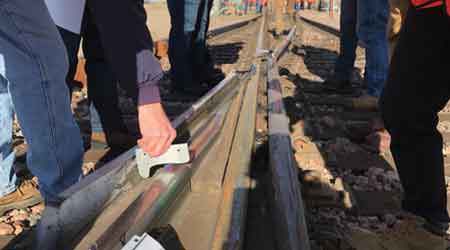 Vossloh North America
Last year, Vossloh North America partnered with Transportation Technology Center Inc. in Pueblo, Colorado, to test the advanced lift frog prototype.
The focus of the project was to modify the turnout to eliminate the high-force spike produced by the wheel flange when entering the flange-bearing frog, and to make the wheel contact continuous on the main route.
"So far, the results are better than we originally expected as the diverging line shows improved wheel contact compared to the original lift frogs," said Jeremie Meiss, Vossloh North America's chief engineer.
Manufactured by the Cleveland Track division, the newly elevated lift frog provides the required wheel ramping by using external vertical bends in the wing and heel rail of the frog. As a result, it offers a safe operation of a train at the turnout point at a higher speed as per the Federal Railroad Administration guidelines, company officials said.
Since the ramping is external to the frog body, the outside rail on the diverging route is elevated as well as the frog to generate parallel ramps and maintain a level wheelset — which is crucial for trucks with rigid frames, company officials said.
Other advantages include the frog's extended lifespan and the need for only one casting. The straight mainline running rail is unbroken and 1:40 canted to allow for ease of installation and a smooth, continuous wheel contact path throughout the mainline side.
Email comments or questions to pat.foran@tradepress.com.
---
Keywords
Browse articles on
special trackwork
Atlantic Track
L.B. Foster
London Trackwork
Progress Rail
voestalpine Nortrak
Vossloh North America
Contact Progressive Railroading editorial staff.