Newsletter Sign Up
Stay updated on news, articles and information for the rail industry
Rail News Home
MOW
October 2018
Rail News: MOW
Severe weather, proposed tariffs generate uncertainty among tie suppliers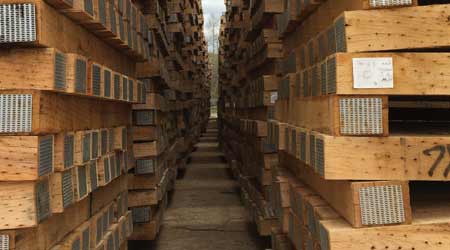 By Daniel Niepow, Associate Editor
By many accounts, 2018 has been an unusual year for the wood crosstie market. Although the U.S. economy picked up a bit this year, wet weather conditions haven't been favorable for sawmills. Plus, there's some uncertainty about supply in the tie market amid the looming threat of proposed U.S. tariffs on Chinese goods.
"The problem on most everyone's mind in the hardwood sawmill business is China," said Jim Gauntt, executive director of the Railway Tie Association (RTA), although he noted that the Chinese economy is slowing. "Log exports have moderated as … indecision on tariff impacts have crept into the marketplace."
At the same time, wood-tie makers started 2018 with inventories below optimal levels to meet demand, he added. And demand in the commercial markets and among Class Is has remained strong.
"The issue is supply, or more specifically inbound untreated tie procurement, which is lagging the outbound treated tie shipment," Gauntt explained.
In addition, hurricanes Gordon and Florence likely will further crimp sawmill in-bound untreated ties, as East Coast mills need to wait for wood to dry enough for loggers to resume harvesting.
The numbers tell the story in clearer terms: In 2017, installation of new wood ties declined by 3.6 percent, and by 16.3 percent for other tie products, according to the Association of American Railroads. Through July 2018, wood-tie purchases were flat based on a 12-month rolling average compared with the same time period last year, according to RTA data.
In August, tie purchases fell 10.7 percent year over year to 2.25 million units, while production plummeted 15.2 percent to 1.7 million units, according to RTA's most recent market report. Year to date through August, production tumbled 20.3 percent to 11.7 million ties.
In emails with Progressive Railroading last month, wood-tie suppliers shared their concerns about the market's ups and downs so far this year.
For George Caric, vice president of marketing for wood-tie supplier Stella-Jones, 2018 has been a year unlike any other in his 30-plus year career in the treated wood-tie industry.
Growing pains
"We had a strong demand in the export markets," he said. "Hardwood logs exported to China has had a detrimental effect on our sawmills log availability that has reduced crosstie production. Overall tie inventories are at an all-time low."
At the same time, the strengthening U.S. economy and continued truck-driver shortages have led to a surge in railed shipments. While that's been a plus for rail traffic, it's curtailed tie installations and caused a drop-off in tie shipments to Class Is, Caric said.
"These issues proved to be great for revenues and a great turnaround for the railroads, but problematic for shipping crossties to projects," he added.
To further complicate matters, the price of hardwood timber has gone up due to a "tremendous appetite" for hardwood logs headed to China.
Still, Stella-Jones' commercial market is holding steady due to higher oil prices, while its bridge timber business remains strong. The company remains in full production for bridge timbers treated with copper naphthenate, which is used to preserve ties. And the demand for pre-plated crossties remains steady to support new capital projects.
"Overall for the balance of the year and into 2019, the industry will be looking forward to a dry fall to improve tie production to support the demand from the railroads," Caric said.
Leaders at wood-tie supplier Gross & Janes Co. have observed an uptick in tie demand, too. And that likely won't slow down any time soon.
"We foresee this trend continuing throughout 2019," said President Bill Behan.
In addition, the company has observed "significant improvement" in the demand for switch ties among its Class I customers.
Over at Koppers Inc., 2018 has been a challenging year, said John Giallonardo, vice president of Class I sales and North American operations.
"Competition from other markets for raw material has resulted in escalating tie prices and a shortage of supply," he said. "Log exports and a strong lumber market are two of the primary drivers impacting the tie industry this year."
Over the past year, the company's production capacity has remained consistent.
Going into 2019, demand appears to be solid, pending the recovery of the raw material market. And while Koppers has observed some "encouraging indicators" to that end, it's still too soon to know for sure how things will shake out, Giallonardo said.
Still, the company has at least one new venture that could help boost revenue. In late February, Koppers acquired tie disposal firm M.A. Energy Resources for $66.1 million. Koppers decided to move forward with the acquisition due to customer demand for tie disposal services.
"This acquisition further enhances Koppers' commitment to sustainability and creates a full cradle-to-grave model with our product offerings," said Giallonardo.
An appetite for concrete ties
While wood-tie makers have faced some uncertainty recently, concrete tie suppliers say 2018 has been a year of growth. Leaders at L.B. Foster Co. subsidiary CXT Inc. are predicting an uptick in Class I spending will lead to an increase in concrete tie purchases. That trend likely will carryover into 2019, said L.B. Foster President Steve Burgess.
With heavy-haul rail traffic on the rise amid a stronger North American economy, Class Is likely will maintain and perhaps even increase their infrastructure capital spending, he added.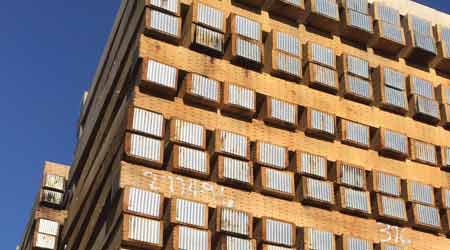 Gross & Janes co.
Plus, there's continued demand for concrete ties among transit agencies, especially in key markets in the western United States and Pacific Northwest. That demand stems from growing federal government support for transit projects in both the United States and Canada. The company expects that to yield a "very positive investment climate over the next couple years," Burgess said.
"Projects that have been in the pipeline are expected to come to fruition this year, and, as with the Class I segment, CXT expects that uptick in performance to continue, probably through 2020," he added.
While Burgess didn't delve into details about new products, he noted that the company's research-and-development efforts have included exploring new materials and designs.
"Our engineering team has ongoing programs to research improvements in concrete mix design to optimize product properties and advance sustainability," he said.
Meanwhile, CARR Concrete — L.B. Foster's subsidiary based in Waverly, West Virginia — has expanded its production footprint in the eastern United States. In 2017, CARR added a new concrete batch plant and expanded its production capacity. The company aims to leverage existing relationships with several transit agencies, short lines and Class Is east of the Mississippi River to offer other types of precast concrete products.
Boosting production
Eventually, CARR will introduce some of those products in the western United States via sister CXT facilities In Hillsboro, Texas, and Spokane, Washington.
Vossloh Tie Technology leaders are forecasting gradual growth for concrete-tie orders in 2019, too. So far in 2018, the company has registered growth over prior years. And while demand among Vossloh's usual Class I and transit customers hasn't been extraordinary, the company has expanded into new markets to keep revenue growing.
For instance, Vossloh is building a new facility to serve the Canadian Class I market, company officials said in an email.
In addition, the company's acquisition of Rocla Concrete Tie Inc. in January 2017 has had a "positive effect" because the combined company can provide more offerings to customers under the same umbrella, they added.
At concrete-tie supplier voestalpine Nortrak, cautious optimism appears to be the general sentiment. In 2018, the market for concrete ties has "modestly rebounded," said John Stout, vice president of rail fixation systems.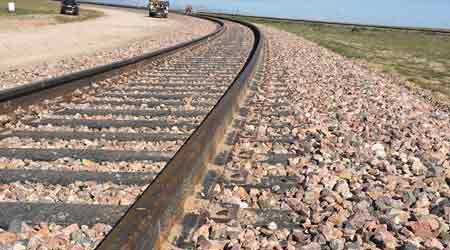 Evertrak
"We believe that trend will continue into 2019 as we forecast moderate growth as a result of increasing freight traffic and transit ridership," he said.
The company recently marked its 11th anniversary as a supplier of concrete turnout and standard speciality concrete turnouts and standard specialty ties for Class Is and transit customers. The products are manufactured at its Cheyenne, Wyoming, facility.
And on the R&D front, Nortrak is forging ahead in a number of new directions. At the Cheyenne plant, the company over the past year built a repeated load test center aimed at developing new fixation system technology for slab, concrete and composite tie systems. In addition, the company has reached a North American marketing and distribution agreement with Getzner USA to serve freight railroads. Joint projects are underway to help reduce wear and tear on special trackwork, ties and ballast, and to extend customer maintenance intervals.
During track tests, the companies found that Getzner under-tie pads can reduce ballast contact pressure by up to 90 percent compared with non-padded concrete ties, Nortrak officials said.
"We have installations in track for Class Is and transit customers throughout North America," said Shaun Morgen, voestalpine Nortrak's senior engineer of fixation systems. "Getzner's new manufacturing facility in Decatur, Illinois, has enabled our team to meet Buy America requirements for most products and respond much more quickly to customer needs."
While the company anticipates a higher utilization rate at the Cheyenne facility, there are no plans for significant capacity expansion since the company still has "ample capacity to meet a reasonable upturn in the market," said Chief Executive Officer Dave Millard.
More interest in composite ties
Meanwhile, Nortrak is banking on a new business prospect: composite ties. In November 2017, the company and NICE Rail Products launched the Evertrak™ 7000 composite tie following several months of customer input, research and testing. This year is Evertrak's first in production. [Editor's note: Evertrak LLC is the operating company wholly owned by NICE Glass, and has an exclusive marketing and distribution agreement with voestalpine Nortrak.]
"Demand grew from potential to actual as we brought the Evertrak 7000 through validation tests to market," said Evertrak President Matt Moore. "With initial tests successfully completed, we're producing ties for long-term track tests and installation, and performance validation with Class I, short line and transit customers."
As demand shifts from validation to mainline renewal, Evertrak is forecasting a 10- to 20-fold increase in volume by 2019's end, he added.
The company expects demand for its Evertrak 7000 ties to exceed several million ties per year, particularly for installations involving high-moisture environments, grade crossings, turnouts and yard tracks.
Production began at the company's St. Louis facility, where Evertrak produced ties for the Transportation Technology Center Inc., Class Is and short lines across the United States.
"Demand has been steadily increasing as railroad owners recognize the value in a crosstie that performs like new wood, yet is impervious to moisture and decay," Moore said. "We expect 2019 to include significant expansion in new production lines, new tie lengths and new global markets."
Meanwhile, LT Resources Inc. — which serves as American TieTek's marketing and sales representative — this year has been processing orders for a variety of composite-tie applications, including maintenance and new construction projects.
For LT Resources, 2019 business prospects are looking "very good," said President Linda Thomas.
And this year, orders have remained steady. TieTek is working on orders for several applications, including maintenance and new construction work for government facilities, various transit projects, bridge work conducted by short lines and regionals, and expansion efforts at chemical plants and manufacturing facilities. The company even has been working on some orders for tourist railroads, Thomas said.
"American TieTek is positioned well to serve the needs of the Class Is as they increase their use of composite ties in high-decay areas and heavy-haul applications," she added.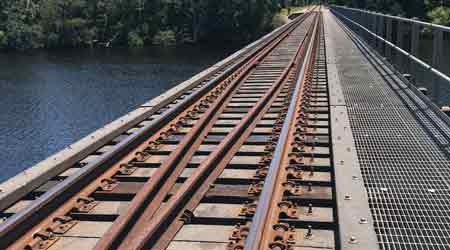 LT Resources Inc.
On the product-improvement front, TieTek plans to offer pre-drilling and pre-plating for its ties to better meet customers' needs. And that's in addition to current services such as custom-sized and dapped-bridge ties.
Composite-tie maker Axion Structural Innovations also is reporting a slight increase in overall sales this year compared to 2017. In addition, the company has increased production, and has plans for more production capacity to meet current and anticipated demand over the next two years.
"We expect to have a strong close to the calendar year that includes completing a major contract for a northeast-based transit [project]," said William Jordan, senior vice president of commercial development.
What's more, the company anticipates greater composite crosstie demand over the next two years based on the general increase in demand from railroads around the world.
Going forward, the company aims to launch products in additional industries, said Jordan. Plus, with its ongoing partnership with Baylor University in Waco, Texas, Axion is advancing process controls as it lays the groundwork for the development of more tie offerings targeted toward specific rail applications.
A word about steel
Like its concrete-tie counterparts, NARSTCO has seen an incremental increase in demand among Class Is. But the supplier also sees opportunities for steel ties and turnouts among industrial rail customers as they begin major projects. In addition, North American port and petrochemical markets have been strong and remain a "key area of success," said Matt Violin, senior director of sales and marketing.
And the company's outlook for 2019 is positive, too.
"We expect continued opportunities to assist customers by providing our solutions that lead to significant cost savings over time," Violin said, adding that the company's products can support the development of new port terminals and industrial facilities throughout North America.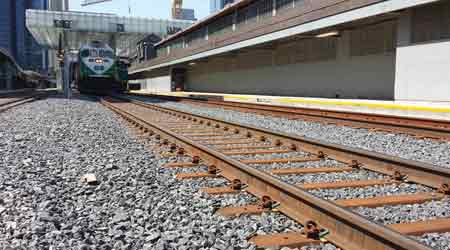 NARSTCO
NARSTCO's ties are produced from recycled steel, which can last longer, and are easier to install, according to the company.
Late last month, RailWorks Corp. announced that it finalized an agreement to acquire NARSTCO for an undisclosed amount. NARSTCO will continue to operate independently as it works with its existing customer base.
For NARSTCO CEO Anthony Musa, the acquisition marks a "growth opportunity" for the company, he said in a Sept. 25 news release.
And tie-makers of all stripes are welcoming any new opportunities for growth amid a changing, uncertain marketplace.
Email questions or comments to daniel.niepow@tradepress.com.
---
Keywords
Browse articles on
crossties
crosstie market
wood ties
concrete ties
composite ties
Railway Tie Association
RTA
Jim Gauntt
tariffs
Chinese tariffs
Stella-Jones
George Caric
Gross & Janes Co.
Bill Behan
Koppers Inc.
L.B. Foster Co.
CXT Inc.
Vossloh Tie Technology
Rocla Concrete Tie Inc.
voestalpine Nortrak
Getzner USA
LT Resources Inc.
Axion Structural Innovations
NARSTCO
Contact Progressive Railroading editorial staff.